Your "live" sports experience redefined with 5G
From "frictionless" shopping for merchandise to the Multi-View experience, 5G and sports are coming together to create the highly personalized experience of fans' dreams.
Full Transparency
Our editorial transparency tool uses blockchain technology to permanently log all changes made to official releases after publication. However, this post is not an official release and therefore not tracked. Visit our learn more for more information.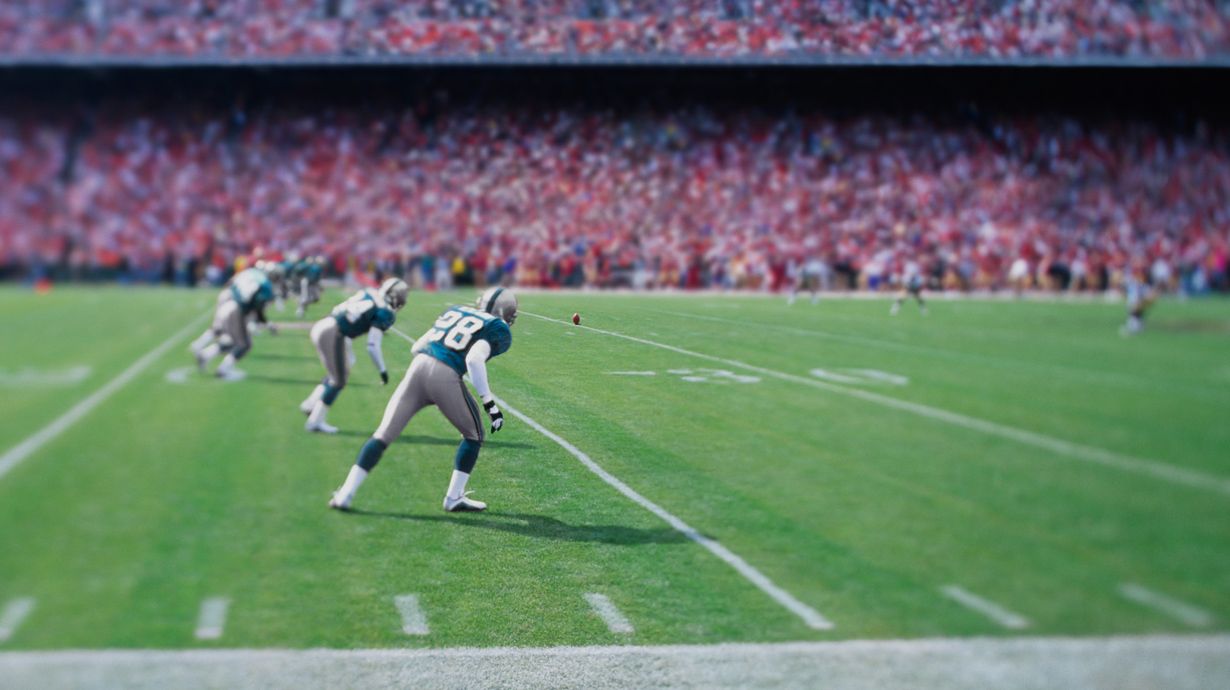 For decades, sports enthusiasts had more or less agreed on the best way to watch live sports: in a loud, packed stadium, united with thousands of similarly passionate fans.
Recently, it has been more difficult to find a consensus. With technology fueling a dynamic at-home experience, and with fans ever more interested in real-time tracking of scores and stats—or even streaming multiple games at once—interest has been rising for a more immersive, 21st-century way to catch a game at the stadium.
5G and sports are now coming together to deliver a solution. Thanks to Verizon's 5G Ultra Wideband, available in select areas, the highly personalized in-person sports experience fans have been waiting for is quickly approaching. As Verizon 5G Ultra Wideband coverage expands and 5G adoption increases, users will be able to experience a secure, reliable connection that offers great speeds, massive capacity and low latency. That will mean good things for everyone, and sports fans can find plenty to get excited about.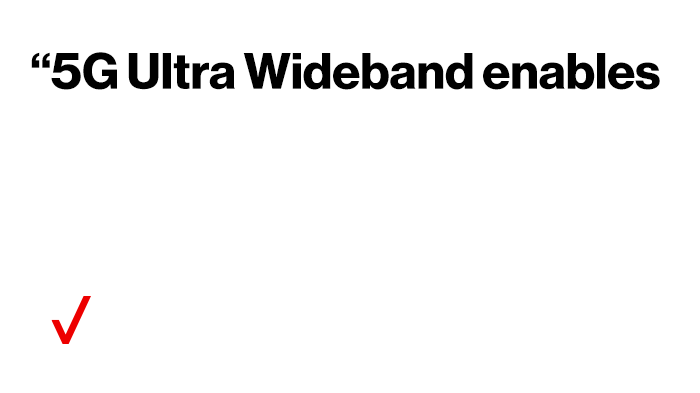 With fans back in stadiums and the Big Game right around the corner, 5G Ultra Wideband enables endless possibilities for a second-screen experience while attending live games—and, going forward, could shape stadium operations in a way that makes navigating a crowded stadium more seamless.
5G Ultra Wideband: built for crowded stadiums
We've all experienced it: You're enjoying the vibe at a concert, have just found your seats at the stadium, or are walking through a crowd of people in a big city, when you encounter network connectivity issues. Suddenly, it's difficult to text updates to friends, post photos or video to social media, or stream digital content like news clips or live sports.
"At stadiums where you're packing 70,000 or 80,000 people into a confined area, connectivity has been a challenge for years," says Eric Nagy, director of sports partnerships and innovation at Verizon. "So when you look at 5G and its characteristics, it really fits in nicely when it comes to stadiums. When you are connected to 5G Ultra Wideband in such a crowded, tight area, you can still get outstanding performance and do things that those around you can't."
5G Ultra Wideband's high performance should transform not only stadiums but the operations of retail stores, restaurants and even cities. For an enterprise, it could create a safer factory floor and many other benefits.
5G Ultra Wideband connectivity has many immediately promising applications for fans. While watching the game in person, they'll be able to easily keep up with statistics and win probability, pull up in-game stats on the game they're attending or even stream additional games on their mobile device. It also opens the door to entirely new and innovative ways of experiencing the game.
That's why Verizon created the 5G Multi-View experience, a dynamic, personalized mobile streaming experience, available in select stadiums, that allows fans to view seven camera angles at once, choose replays from any angle and stay connected to family and friends with a selfie cam. On select 5G-enabled phones, the experience gets a boost from AR-overlays of stats like top plays and win probability. Get a better sense of it in this recent episode of Inside Verizon:
We're likely only scratching the surface when it comes to melding live sports with real-time data. The folks at ShotTracker, a Verizon Ventures portfolio company, have built real-time capabilities that utilize sensors on the ball, on each player and around the arena or field. By tracking activity through these sensors, coaches get access to live analytics that can inform decision-making, and players can learn from their successes and failures.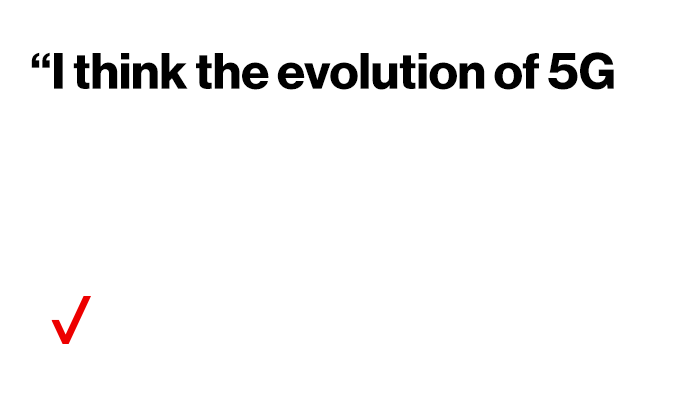 Most dynamic of all may be the impact on the fan experience, says Davyeon Ross, co-founder and president at ShotTracker. Not only does live data-sharing enable broadcasters to show fans value-add diagrams like shot maps or up-to-the-second stats, but the future could be headed for an experience that fans can more easily personalize, both at the game and at home. ShotTracker's technology can allow isolated cameras to follow individual players, and as streaming technology improves, fans may one day be able to personalize who they're viewing on the court or field at any given time—perhaps up to several streams at once.
"Our data is connected to the video, so we could make it so that if you're home, you could configure it and say, 'hey, I want to choose what view I want to see. I want a 'Zion Cam' or maybe I want this pylon view that's available,'" Ross says, referring to cameras attached to an individual player or pylons around a stadium. "Historically, broadcasters have controlled what we see as consumers. I think the evolution of 5G is not only in-stadium, but outside of stadiums. It's going to empower and amplify those solutions to allow a certain level of personalization that will come in the future."
An evolving fan experience
For fans, the partnership of 5G and sports can completely transform the "live" experience.
One area likely to benefit greatly is stadium operations. In the future, fans may be able to opt-in to enter the game with ticketless, hands-free entry or quickly grab snacks, beverages or merchandise by paying with touchless sales options rather than using a card or phone. A first step in that direction, a Verizon 5G-powered store offering "grab and go" checkout, recently opened at Hard Rock Stadium in Miami.
"I visited our 'frictionless' store in Miami," says Nagy, "and I walked in and walked out within 30 seconds buying the merchandise that I needed."
Wayfinding through augmented reality can allow fans to potentially see wait times for bathrooms, concession lines or exit gates before they get up from their seats. Missing the action to grab refreshments has always been a downside of the in-stadium experience.
Other innovations have yet to be envisioned. And even with the progress, Nagy says Verizon will continue to take in fan input and shape the stadium experience moving forward. His team is studying, for instance, how fans interact with the Multi-View experience. "Is this something that you use when you're going out for a break to grab a beverage and want to stay up to date with the game? Or is it something you're going to use in your seat when you're sitting 20 rows back from the field?" Nagy asks. "We're exploring that right now, and we take a lot of feedback from fans."
Changing how teams track and improve
Beyond the fan experience, 5G is making a profound impact on the sporting world.
During the Phoenix Suns incredible rise to the NBA Finals last season, the team had a secret weapon beyond its talented team and savvy coaching staff. Verizon 5G and advanced analytic tools helped the Suns reveal otherwise hidden insights. The team used 150 HD cameras, sensors, nodes and 3D force plates to capture computer-aided motion analysis, player and ball tracking, and shot tracking. It then leveraged 5G Ultra Wideband connectivity to tie it all together into a single integrated system.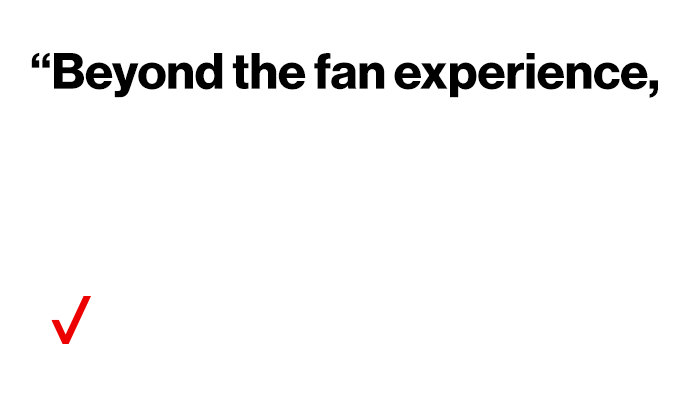 But it's not just the basketball court where coaches are beginning to understand what 5G connection can mean for instant analysis—teams across almost every sport have started to buy in. Nagy says a recent use case with the NHL allowed for testers to point their 5G device, using an AR app running on Verizon's 5G Edge with AWS wavelength, at any player on the ice and see real-time stats overlaid in AR, such as player speed, time on ice and historical stats.
"There could be a world where you have models written so you can detect certain defenses, and then you could get suggestions on what you do to counteract that," Nagy says. "Could that be the future? I don't know. I think the key is that the technology and 5G will help enable that."
Learn more about what the future holds with 5G Ultra Wideband.