5G Future Forum accelerating 5G and Edge Compute solutions around the world
Hosts world-first experience, 'Music over MEC-Cross Operator Jam Session' showcasing the impact 5G and Edge Compute will play in the evolution of music collaboration
Full Transparency
No Updates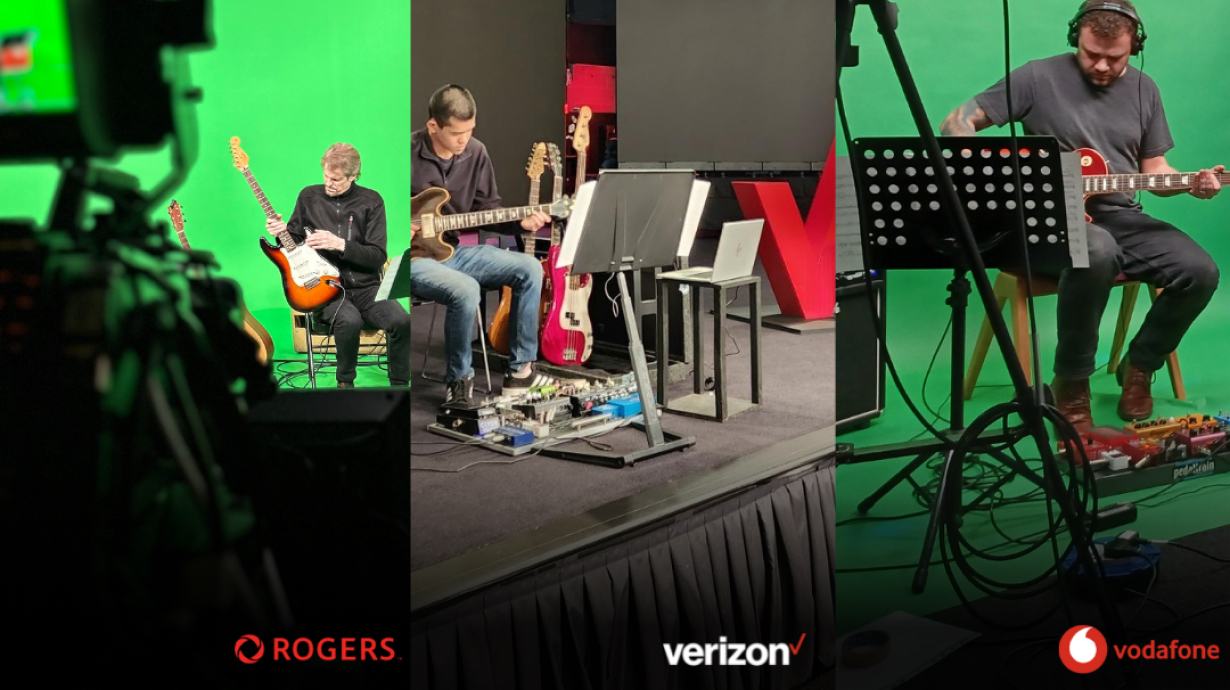 BARCELONA, SPAIN - Today, the 5G Future Forum (5GFF) will lead a first-in-the-world demonstration that is expected to change the evolution of music collaboration. Using the 5GFF Edge Discovery Service (EDS) API, which enables devices to identify and connect to the Mobile Edge Compute (MEC) site providing the lowest latency closest to them, the performance will showcase the value of the interoperability of the EDS API, leveraging Open Sesame's audio platform to sync guitar players across New York, USA (Verizon), Toronto, Canada (Rogers), and London, England (Vodafone). This experience is being made possible with Open Sesame's SyncStageTM, powered by Amazon Web Services (AWS), Rogers, Verizon and Vodafone and will feature a musical arrangement by Carl Verheyen, ranked One of the World's Top 10 Guitarists by Guitar Magazine.
The event will be held at noon CET at Mobile World Congress Barcelona 2023 in Theater 1, Hall 6.
"SyncStage with 5GFF opens up a wide range of use cases allowing collaboration to be borderless across music education, music collaboration, live performances, gaming and the metaverse, bringing humans together," said Julian McCrea, Open Sesame, Co-Founder. "For our SyncStage use case, we did three rounds of technical feasibility with our three 5GFF partners over an eight week period, consistently iterating to improve latency, jitter and packet loss. This required a lot of coordination with each telco partner's product and technology teams. The fact that the 5GFF is set up to do this and work in an agile manner is critical to the project's success."
In another showcase of the 5GFF EDS API, 5GFF member KT Corp. will be demonstrating 5G MEC federation use cases at the KT booth (Hall 4, 4A60). Attendees will virtually visit a Korean apparel shop, experiencing an 8K 360 VR shopping application deployed on the closest edge server selected by the EDS API.
In the future, federated 5G MEC is expected to expand to various B2B services such as smart factories.
"Today's demonstrations of the Edge Discovery Services API, accompanied by the publication of our 'Building the 5G Future: Exploring Developer and Telecom Partnerships' white paper, highlight the incredible progress the 5GFF is making towards its mission to accelerate real-life 5G and MEC deployments around the world," said John Nitti, SVP, Strategy, New Business and Partner Development for Verizon.
"Instant global music collaboration that doesn't miss a beat is finally being realised through 5G and edge computing," said Jennifer Didoni, Head of Cloud, Edge and Mobile Private Networks Portfolio for Vodafone Business. "As the first operator to launch MEC across multiple European countries, we are bringing essential applications and services closer to the customer. Now, working with the 5GFF and our global partners, we will speed up the adoption and availability of these new APIs globally."
"Innovation is a big part of our company's DNA and as a founding member of the 5G Future Forum, Rogers is proud to work with our global partners to accelerate the delivery of 5G and mobile edge compute technology in Canada and around the world," said Ron McKenzie, Chief Technology and Information Officer, Rogers Communications. "Today's 'Music Over MEC' jam session demo is a powerful example of how 5G and mobile edge compute will transform how we communicate and collaborate around the world."
The 5GFF is inviting ISVs globally who either currently use 5G MEC or have 5G MEC utilization in their roadmap to apply for the 5GFF MEC Acceleration Program (MAP). MAP is designed to expand and interconnect the global MEC ecosystem by partnering and engaging with developers whose applications leverage 5G.
The benefits to ISVs through close interaction with the world's leading telcos include the ability to influence and provide feedback during the 5GFF API development process, the opportunity to conduct API demos on the world's largest stages, and the chance to gain support in enhancing and tailoring offerings to meet the needs of telco customers. ISVs can learn more and apply for the 5GFF MAP program at 5gff.org/5g-map/.
About the 5GFF
The 5G Future Forum (5GFF) consists of America Movil, Bell Canada, KT Corp., NOS, Rogers and Telstra, Verizon and Vodafone, taking on the challenge to solve for seamless MEC interoperability across global telecom networks. The Forum creates the governance structure and develops both technical and commercial work streams to enable the global delivery and deployment of 5G MEC solutions. The 5GFF's partnership-focused approach enables operators to drive reach and scale, while empowering members to jointly innovate 5G cutting edge applications and use cases.
About Open Sesame Media, Inc.
Open Sesame Media is a B2B venture providing low latency synchronized audio to application developers via its patented SyncStageTM audio platform. In short, we 'sync' a group of users at extremely low latency to enable 'real time' online audio collaborations.