Available now: Verizon's interactive annual report
Available now: Verizon's interactive annual report
Media contact(s)
Bob Varettoni
908.559.6388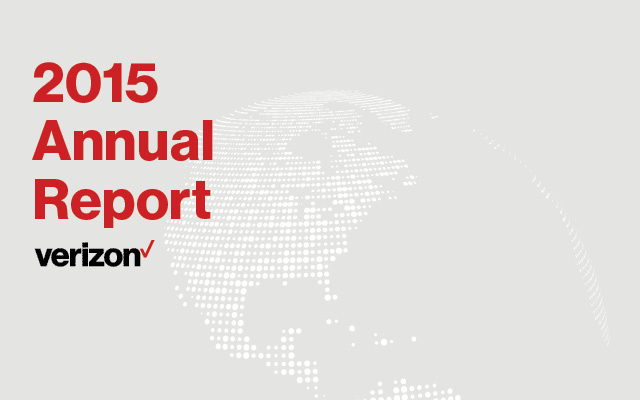 Verizon today published its 2015 annual report, 2015 corporate responsibility supplement and 2016 proxy statement.
Verizon's interactive annual report includes Chairman and CEO Lowell McAdam's letter to shareowners, as well as a 3-minute video of Lowell discussing how the company is positioning itself for future growth. The interactive annual report also includes an easy-to-view section of financial highlights, with charts.
Annual meeting & proxy
Verizon's annual meeting website provides shareholders with information about Verizon's upcoming 2016 annual meeting in Albuquerque, New Mexico. Among other things, you can view the meeting agenda, including the management and shareholder proposals, and an explanation of how shareholders can vote.
The interactive proxy site is not intended to be a substitute for reading Verizon's 2016 proxy statement, which includes information required by the SEC. Verizon encourages shareholders to read the proxy statement in full before voting, which can be done online.
View a brief video of Verizon's independent Lead Director Fran Keeth discussing governance at Verizon.
2015 corporate responsibility supplement
The company's interactive corporate responsibility supplement includes stories about how:
Verizon creates innovative solutions
Verizon delivers on the promise of the digital world – one student at a time
The Internet of Things creates even more opportunities
Technology is essential to a low-carbon future
When purpose is aspirational, employees can achieve great things