Why I Gave My Fifth Grade Daughter a Basic Phone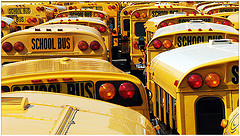 This school year, my fifth grader began riding the bus for the first time. As silly as it may seem, the bus added a new dynamic that sparked a discussion between my husband and I as to whether we should give her a wireless phone. What if the bus is late? What if the bus breaks down? What if she gets on the wrong bus?
All these "what ifs" were enough for us to take the plunge and get our daughter her first wireless basic phone.
We purchased an LG Exalt™, a reliable basic phone that allows her primarily to talk and text. I anticipate we'll get her a smartphone soon enough. But for now, a basic phone serves our purpose. It gives our daughter a chance to prove she's responsible enough to carry a wireless device.
Just in case she's not responsible enough, I invested in Verizon Wireless' Total Equipment Coverage, which protects the phone if it's lost, damaged or stolen. Additionally, I signed up for the FamilyBase™ service so I can monitor and control her activity, including how, when and with whom she talks and texts. I can even set limits on usage for data, messages, calls and purchases.
I've always stressed to anyone who's asked me when's a good time to give your child a wireless phone that for each family it's different. For my family, this was the right time. I can't put a price on the added safety and security a wireless phone will provide her.
Do your kids carry wireless phones? If so, what was the reason you decided to give them devices?
For more Verizon Wireless news, subscribe via RSS feeds in the right rail.