Celebrating Cultural Diversity With Free BHM Open House at Baltimore's Reginald F. Lewis Museum
Celebrating Cultural Diversity With Free BHM Open House at Baltimore's Reginald F. Lewis Museum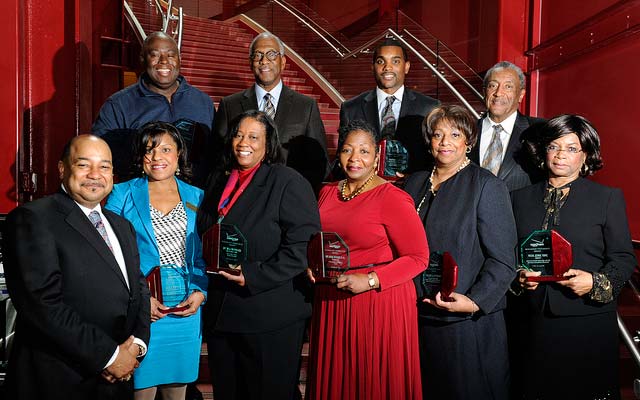 For the fourth consecutive year, Verizon has hosted its Black History Month open house at the Reginald F. Lewis Museum in downtown Baltimore. And each year, the event grows with more and more adults and children pouring in for a free full day of museum tours, educational activities and entertainment.
The Reginald F. Lewis Museum is a leading resource for information and inspiration about the lives of African-American Marylanders – from the state's earliest history to the present and the future. During Verizon's open house, there were free educational gifts for the first 200 children, laptop giveaways, food, fun and more.
"At Verizon, diversity is as much about good business practice as it is the right thing to do," said Tabb Bishop, Verizon's vice president of Mid-Atlantic government affairs. "Verizon serves some of the country's most diverse markets. So, diversity always has been a part of our culture and an integral part of our business strategy.
In a special noonday program, Verizon recognized key Marylanders in the areas of community service, education and healthcare. Recipients of the 2013 Verizon Community Innovator Award included:
Anne Arundel County
Alycia A. Marshall, Ph.D.

, interim chair of the Mathematics Department of Anne Arundel Community College
Baltimore
Michael E. Cryor

, president of The Cryor Group

Marietta A. English

, president of the Baltimore Teachers Union and American Federation of Teachers – Maryland

Rev. Debra Hickman, M. Div.

, president and chief executive officer of Sisters Together and Reaching (STAR)

Harold Reid

, executive director, Liberty Road Business Association
Calvert County
Joy Hill Whitaker

, chief development officer of the Boys & Girls Club of Southern Maryland
Charles County
Joan Jones

, president of Bel Alton High School Alumni Association Community Development Corporation
Montgomery County
Traviss A. Green

, chief technology transition officer of Lockheed Martin Information Systems and Global Solutions
Prince George's County
Earle Gumbs

, president of Marlow-Hillcrest Heights Civic Association

Thurman D. Jones, Jr.

, president of the Patriots Technology Training Center
Verizon also joined the Maryland State Conference NAACP to present Community Champion Awards to local NAACP branches.
"Black History Month is a great opportunity for us to celebrate and honor those individuals who had made a significant contribution and commitment in the past, and those who continue to make a difference today," Bishop said.
Other guests at this year's open house included Maryland Senator and President-Elect of the National Black Caucus of State Legislators Catherine Pugh; Maryland Delegate and Chair of the Legislative Black Caucus of Maryland Aisha N. Braveboy; Maryland Attorney General Douglas F. Gansler; and Bishop Douglas I. Miles, co-chair of Baltimore United in Leadership Development. The Baltimore City College Choir also performed during the special recognition program at noon.