Cincinnati Apps to Make Your Baseball Experience a Home Run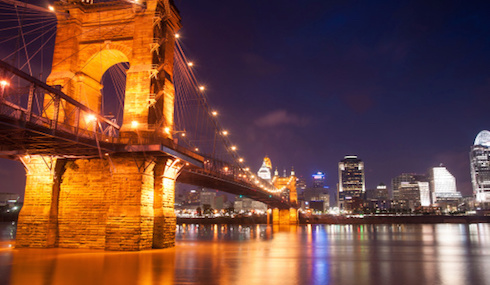 We're in the heart of baseball season, and that means it's time for the biggest game of the season. This weekend, baseball fans from across the country will be traveling to Cincinnati, OH to cheer on their favorite athletes and take part in the festivities. If you're making the trip, we've got the scoop on Cincinnati apps and cool ways to use your tech during your visit to the Queen City.
You're going to want to have your phone ready for photo ops because the city is dressing up: mustache style. Decorative mustache benches have been placed in front of Cincinnati landmarks. Cincinnati's Fox 19 mapped them out for you to find.
You can also find some life-size photo frames. And heck, even buildings are getting in on the mustache fun.
When you're not at the games, you're going to want to explore the city. We'll start with Downtown Cincinnati – where the action is! The Downtown Cincinnati, Inc. app has great location-based suggestions on where to eat, shop and play with helpful maps for finding parking and public transit. It even provides great recommendations for tours around town and hotels.
To get out and enjoy the (hopefully) beautiful weather, check out the Cincinnati Parks app, where you can locate outdoor areas throughout the city. Whether you want a ride on Smale Riverfront Park's carousel or to go hiking in Mt. Airy Forest, this app will help you find the perfect afternoon hangout spot.
With so many visitors, there's bound to be a little bit of traffic. Try the Ohio Traffic Cameras app to pick the least congested route home or back to your hotel. And if you'd rather not deal with the traffic, check out Bus Detective for public transportation options.
Don't forget your ESPN, MLB or Team Stream app to keep up with what matters most: the game!
Now go get your 'stache on.
For more Verizon Wireless news, subscribe via RSS feeds in the right rail.