To celebrate Disney's new movie "Wish," Verizon debuts interactive AR experience with Toys for Tots
Full Transparency
No Updates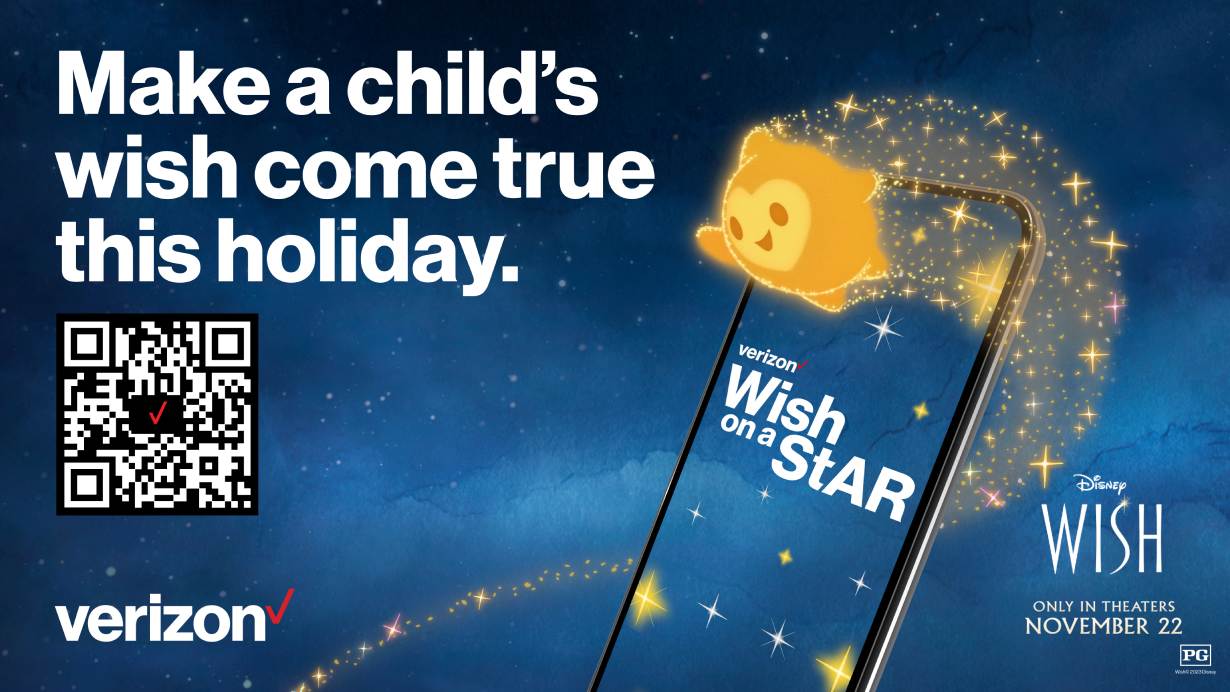 NEW YORK - Verizon today announced the launch of its innovative venture, "Wish on a StAR," a web-based AR experience. In collaboration with Toys for Tots, Verizon's new initiative comes just in time for the holiday season and the release of Disney's epic animated musical comedy, "Wish," only in theaters November 22. The interactive "Wish on a StAR" experience is available today through December 1 and will help make holiday wishes come true for underprivileged children in local communities nationwide.
Crafted by Verizon, "Wish on a StAR" uses the power of AR to help children in need this holiday season. Available in both English and Spanish, participants can access "Wish on a StAR'' via a QR code or link from their mobile device, allowing them to select their nearest location to help children in their own community. Users can scan the night sky through their phone, revealing a constellation of stars, each representing the heartfelt holiday wishes of children. By simply tapping on a star, users have the power to make a donation directly to their local Toys for Tots chapter, spreading the joy of the holiday season. In addition to creating an AR experience that helps connect users directly to their local chapters, Verizon will also make a monetary donation to Toys for Tots.
"The 'Wish on a StAR' experience goes beyond technology; it's a heartfelt endeavor to brighten the holiday season for children nationwide," said Kristin McHugh, SVP of Marketing and Creative at Verizon. "We are excited to celebrate Disney's all-new movie 'Wish' and collaborate with Toys for Tots, enabling us to craft an engaging, personalized AR experience that fosters a stronger connection between users and their community, while also helping to transform children's wishes into a reality this holiday season."
In addition, in celebration of the theatrical release of Disney's "Wish" on November 22, customers who made eligible purchases at participating Verizon retail stores between November 11 to November 12 received up to four tickets to an advanced screening of "Wish" on November 18th.  
"In celebration of our all-new musical comedy, 'Wish', we are thrilled to collaborate with our great partners at Verizon on this innovative and impactful initiative," said Lylle Breier, EVP of Partnerships, Promotions, Synergy, and Events at Disney.
"We are very pleased to announce our collaboration with Verizon as part of the 2023 Marine Toys for Tots Campaign as well as team up with them on this venture," said Lieutenant General James Laster, U.S. Marines (Retired), President & CEO of the Marine Toys for Tots Foundation.  "The 'Wish on a StAR' AR experience will expand the reach of Toys for Tots enabling us to help make even more wishes come true for children in need this holiday season."
For more information on "Wish on a StAR" and to participate in the AR experience, please visit https://wishonastar.app/.