#EightPeat: PC Mag Readers Again Rank FiOS Tops!
#EightPeat: PC Mag Readers Again Rank FiOS Tops!
The first time is often a charm.  Back to back wins can be flukes.  Three-peats turn heads.  So what do you call an #EightPeat?
When it's the eighth year in a row in which your Internet service rates atop the PCMag.com annual Reader's Choice Award, you call it a huge honor. 
Not only did FiOS Internet earn the highest overall satisfaction rating in the well regarded magazine's annual survey of its readership, but it secured the highest ratings in many other key categories as the chart shows.
For overall satisfaction, FiOS Internet earned a score of 8.8 on a 10 point scale as compared to the average 7.5 rating of all cable providers as shown in the chart.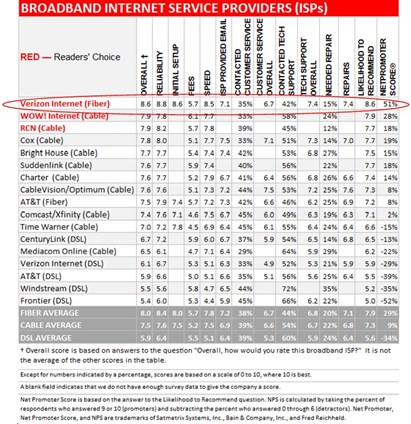 For stats hounds, you'll see that FiOS Internet also received the highest marks in the categories of reliability (8.8), initial setup (8.6), speed (8.5), satisfaction with technical support (7.4) and repairs (7.4).
In addition, FiOS Internet earned the top honor of being the broadband service consumers would most likely recommend to a friend or colleague (8.6) and blew away the field in the Net Promoter score.
We regard PCMag.com readers as some of the most knowledgeable, technologically sophisticated and deservedly demanding bunch as it relates to how they measure broadband performance.
As we've said for years, we believe that the biggest differentiator for FiOS Internet as compared to cable-modem based providers is our all fiber-optic network.  Since imitation is the most sincere form of flattery, we know why many competitors have attempted to position their networks as being just like FiOS, but the reality is they don't replicate what we offer.
Our investments help us to deliver America's fastest, most consistent and most reliable Internet service.  Our claims are strong:
Fastest: Last year, we introduced our 300 Mbps FiOS Internet service that represents our fastest consumer broadband speed.  As of the end of the first quarter, 27 percent of our FiOS customers were using 50 Mbps or faster service.  In fact, nearly 60 percent of new FiOS Internet subscribers added during the first quarter chose FiOS Quantum speeds of 50/25 Mbps or faster.
Most consistent: This year's survey results once again affirm what our customers tell us about FiOS Internet having fewer outages and delays even during the most active Internet service time periods from 7 p.m. and 11 p.m. on weekdays.
Most reliable: Of all consumers who participated in the PCMag.com survey, more than half reported needing to have some technical support with their broadband Internet service provider.  However, only 42 percent – the lowest percentage among all ISPs rated – said they needed technical support with FiOS Internet.
We're already working hard to earn a nine-peat.  Soon, you'll be hearing exciting news about more enhancements that will make FiOS Internet an even more compelling choice.