Elderly in the Nation's Capital Prove You Can Learn Something New Every Day
Elderly in the Nation's Capital Prove You Can Learn Something New Every Day
Despite inclement weather conditions, more than 70 seniors in the District of Columbia ventured out to the Model Cities Wellness Center for an education, health and technology fair with Verizon.  Seniors obtained vital healthcare information, one-on-one training on how to navigate the features on a wireless device, tips for being safe on the Internet and information on emergency preparedness and discounted phone services.
Event partners included AARP-District of Columbia, the D.C. Department of Health (Resilient D.C. Initiative), D.C. Office on Aging and The Washington Home and Community Hospices.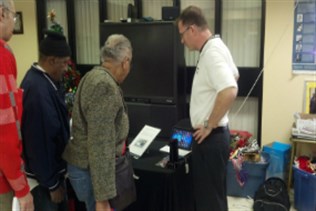 Seniors arrived with lots of questions and their cell phones in hand ready to learn more about the technology.  Members of Verizon's operations team displayed fiber-optic cables and fiber splicing equipment and discussed the benefits of fiber technology versus copper.  Verizon employees also were present to address customer service issues.