Verizon HopeLine Funds Van to Support "Seeds of Hope" in Bismarck, ND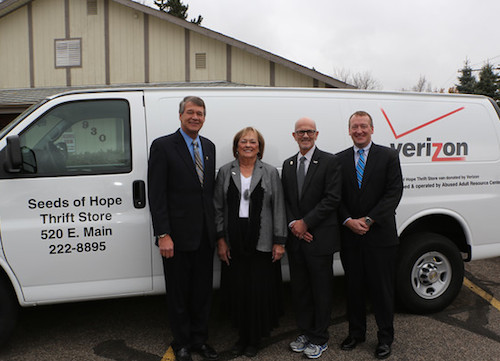 The Abused Adult Resource Center (AARC) serves victims of domestic violence and sexual assault within a seven county region in south-central North Dakota. Located in Bismarck, ND, the center developed about 20,000 adult, client connections last year alone.
On October 28, Cary Degenstein, Government Associate Director for Verizon Wireless, joined AARC Executive Director Diane Zainhofsky in presenting the keys to a 2014 Chevrolet cargo van that will aid the nonprofit agency's efforts in operating its unique Seeds of Hope Thrift & Gift Store. Thanks to strong community support, the thrift store is a vital resource, providing 21% of the operating income of the AARC. The van will be used to move store merchandise, as well as helping victims and their families move from AARC housing into their own homes.
"We are grateful to Verizon for the company's generosity and commitment to preventing domestic violence both in North Dakota and across the country," said Zainhofsky. "We are thrilled to have a new van to provide needed transportation services for our programs."
The $32,000 grant came from HopeLine from Verizon and was announced at AARC's Annual PULSE Community Luncheon where North Dakota Attorney General Wayne Stenehjem and Bismarck Mayor Mike Seminary were in attendance. PULSE, a community group focused on preventing violence in the Bismarck-Mandan area, stands for People United for Living in Safe Environments and is facilitated by AARC.
"Last year, an astounding 15,422 nights of shelter were provided, 26,000 meals were served and nearly 10,000 volunteer hours were donated," Zainhofsky said. "With this donation, we are able to continue helping those in the community who are truly in need."
We have supported domestic violence awareness and prevention efforts over the last decade, including in the Bismarck-Mandan area, through our award-winning Verizon HopeLine phone recycling program. For more information, visit: www.verizonwireless.com/hopeline.
For more Verizon Wireless news, subscribe via RSS feeds in the right rail.