How Mobile Technology Helps a Business Owner & Bride-to-Be Keep it all Together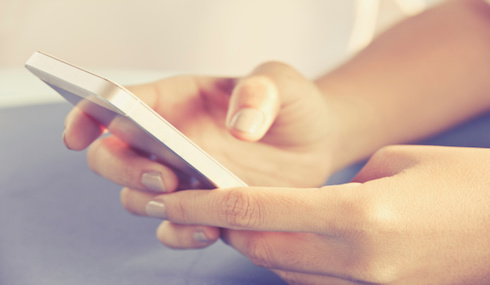 This is a guest post from Jessica Brown, the owner of J.Charlene Copywriting and blogger at In Pursuit of Simple.
In January, I walked into my apartment after a long day at work to find my boyfriend down on one knee among a sea of candles. A month later, I made the decision to leave my job in university alumni communications to pursue my freelance writing career. All of a sudden, I was freshly engaged and had the task of launching a new business in front of me.
There were moments when I worried I was in over my head. How can one person do all of this?
But the last few months have been a success thanks, in part, to the mobile technology I've been using to keep myself on track to build a successful business and get myself down the aisle!
I am a complete Type A bride, and I got off to a running start in planning our wedding. I first tried to get organized with a traditional paper wedding schedule book, but found that it wasn't really fitting our needs. I stumbled upon WeddingWire.com, and it completely changed my wedding game!
It took a few minutes for me to build our wedding website, which includes our story, the story of our proposal, photos of our bridal party, information about our ceremony and reception, and even a section where our guests can request songs online. Speaking of guests, I can manage our entire guest list through Wedding Wire, as well - even from my new Verizon Wireless Samsung Galaxy 6 with Verizon 4G LTE! The app allows me to make changes to our budget, guest list or website while I'm on the go. So when my future father-in-law made some suggestions of invitees to include, I wasn't scrambling to find a paper and pencil. I added them to the list right then and there.
My smartphone and laptop are both triple agents. They are tools I use to chat with friends on social media, run my copywriting business and update my blog.
The first step to getting my business off the ground was building my website. Luckily, my experience with the Web development industry made this a pretty easy step for me, but building the website is just the first step. Being a business owner means you have to be available to clients, whether via email at midnight or Facebook on your birthday. And then there are steps like sending deliverables, invoicing and reaching out to potential clients. Here are a few of my favorite tools for managing my business:
When I'm not writing, blogging, planning my wedding or watching HGTV, I work two part-time jobs to get me out of my home office and interacting with others. As you may imagine, my schedule is completely full most days, which requires a lot of organization.
I use Google Calendar as my primary calendar, which is great because it allows me to share my calendar and view the calendars of others. One of my part-time jobs is as a personal assistant to an author. It's incredibly helpful to be able to access my schedule and my boss' schedule from my smartphone, laptop or Samsung Tab 3 tablet at any time. I like to arrange my tasks and make lists in Google Keep or Wunderlist.
One piece of mobile technology I would suggest any business owner or bride-to-be use? Relaxation apps. When you live a hectic lifestyle or have a huge event coming up, it's important to take time for yourself and focus on the now. I consider relaxation to be part of my daily task list, and I am always using apps like Calm.com and Headspace.
My life may be hectic, but I wouldn't want it any other way. No one can do it all, but with a positive attitude and a full smartphone battery, you can do SO much!
For more Verizon Wireless news, subscribe via RSS feeds in the right rail.