How real Verizon engineers ended up in the new Google Pixel 2 Commercial
How real Verizon engineers ended up in the new Google Pixel 2 Commercial
At first, the email almost seemed fake or like it was meant for someone else. All three engineers felt it couldn't possibly be meant for them with the subject line "Employees for potential TV opportunity."
Little did Kristina Terao, Mercy Luhanga and Daniel Schmidt know that they would each audition and book a role in a new national TV commercial. Each would fly to LA and stand on set face-to-face with Silicon Valley star Thomas Middleditch. Three Google engineers also appear in the commercial and were selected by Google through a different process.
The search
Verizon conducted a nationwide audition for the three engineer roles via Skype. Scripts were sent in advance so they could practice.
"I had a few days to practice the script so I really did work on it," shares Schmidt, who lives in Wisconsin and went to the Milwaukee School of Engineering. Schmidt is a senior engineer focused on system performance, which means he is assigned a specific geography of cell sites and given an open-ended role of improving the network and optimizing that specific geographic footprint.
But the audition experience itself had a secret curve ball. Engineers were asked to improvise on the spot so the casting team could get a sense of how well they think in the moment — off-script. Middleditch, the star of the commercial, is known for going off-script to find a more organic moment, and working with him means being prepared for it.
"They really didn't stick to the script in the audition. I think they were trying to see what we would do without it even though I practiced it so often my three-year-old daughter Towera started to repeat my lines," says Luhanga who came to the U.S. from Malawi and received her graduate degree in computer science from Western Michigan University. Luhanga is a Sr. Radio Frequency Engineer, whose primary focus is designing new network solutions and upgrades to existing sites; expanding and augmenting the Verizon Network to optimize capacity and coverage.
"I practiced the script so often my three-year-old daughter Towera started to repeat my lines," says Luhanga.
In fact, the engineers didn't even know which lines they would be assigned until they arrived at the shoot. The improvisation centered around analogies because the ad spot uses some creative ways to explain the relationship between Verizon and Google engineers, as you can see in the final cut: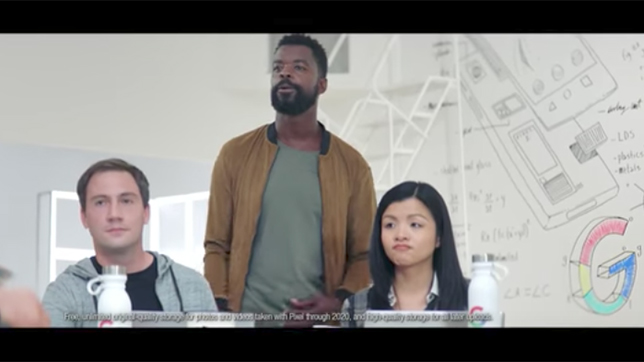 "I watch Silicon Valley so I was kind of speechless when Thomas walked on set. He was very nice and accommodating. And for different parts of the commercial he would always end it differently so it was fun playing off of what he said and incorporating our own reactions." says Terao who resides in Baltimore and studied electrical engineering at the University of Hawaii. As a Traffic Engineer, Terao studies network traffic and makes predictions so Verizon can plan network changes.
"I watch Silicon Valley so I was kind of speechless when Thomas walked on set," says Terao.
Engineering success
Although show business hasn't been on the radar for the three lucky Verizon engineers, each cultivated an early interest in math and science for a variety of reasons and opened doors to careers in engineering.
Schmidt has a relative who is an engineer for John Deere, and touring their research and development facilities as a young child sparked his interest. Terao's interest started with science and math in junior high school. Luhanga has always had an interest in Math and Science for as long she can remember, she wanted to be an example for her younger sister, to show that females can do great things in Math and Science.
Verizon engineers work tirelessly to deliver the best network possible for you. These are the real people giving everything they have so that the network is there for you, when it matters most.
Learn more about Google Pixel 2 mentioned in this article