John Stratton announces plans to retire.
One of the founding leaders of Verizon Wireless, John Stratton has delivered impactful contributions to bring the business to where it is today.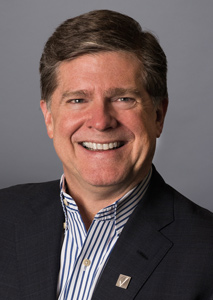 John Stratton, one of the founding leaders of Verizon Wireless, has announced his plans to leave Verizon by the end of the year. John has stepped down from his current role as Executive Vice President and President of Global Operations, and will support a smooth transition of leadership as a strategic advisor reporting to Lowell McAdam. 
It goes without saying that John has left his thumbprint on our business. With more than 25 years with the company and its predecessors, John has been at the forefront of our evolving strategy, helping to establish the strong foundation that we are building on today. He led some of our most creative and innovative efforts during the fastest growth period in our history, including the iconic, "Can you hear me now?" advertising campaign and the development of the Droid handset franchise. 
John has always led with a focus on our customers and employees, keeping the customer at the center of everything and making sure every V Teamer felt they were personally making a contribution to the business.  
Since 2015, he has been leading our global operations, with responsibility for overseeing and growing our established businesses, including Verizon Wireless, Verizon Enterprise Solutions, Verizon Consumer Markets, Verizon Business Markets, Verizon Partner Solutions and Verizon Connect – which together generate more than $120 billion in annual revenue and serve more than 120 million customers. Under John's leadership, Verizon has driven significant growth across our core businesses and accelerated our shift toward a digital-first model. 
John began his career at Verizon as a director of retail sales and operations at Bell Atlantic Mobile, a Verizon predecessor company. In the early 2000s, he held a number of senior leadership positions at Verizon, including Executive Vice President and Chief Marketing Officer of Verizon Communications and Verizon Wireless, before being appointed in 2010 to Executive Vice President and Chief Operating Officer of Verizon Wireless.
"John is a trailblazer and dynamic leader, who has partnered with me on many of the groundbreaking decisions that have positioned Verizon as a leader in our industry. He has used his innate ability to understand the needs of the customer to drive our strategy forward and deliver results for all of our stakeholders. His determination, drive and commitment to the business – along with his sense of humor – will be his legacy. John truly is a role model for the Credo. I know you all will join me in thanking him for all that he has done for our business, and we wish him the best as he starts his next chapter."
Lowell McAdam
"It has been an honor to be a leader at Verizon alongside so many brilliant and committed V Teamers – all of whom put the customer and our company first. I am incredibly proud of the strides we have made to position Verizon as the leader in customer service and on the forefront of next-generation technologies, including 5G. I know the Company will be in great hands with Hans as CEO, and I look forward to watching Verizon's continued success."
John Stratton