Leading two revolutions.
Nonny De La Peña battles gender bias as she brings VR to the masses via 5G.
Full Transparency
Our editorial transparency tool uses blockchain technology to permanently log all changes made to official releases after publication. However, this post is not an official release and therefore not tracked. Visit our learn more for more information.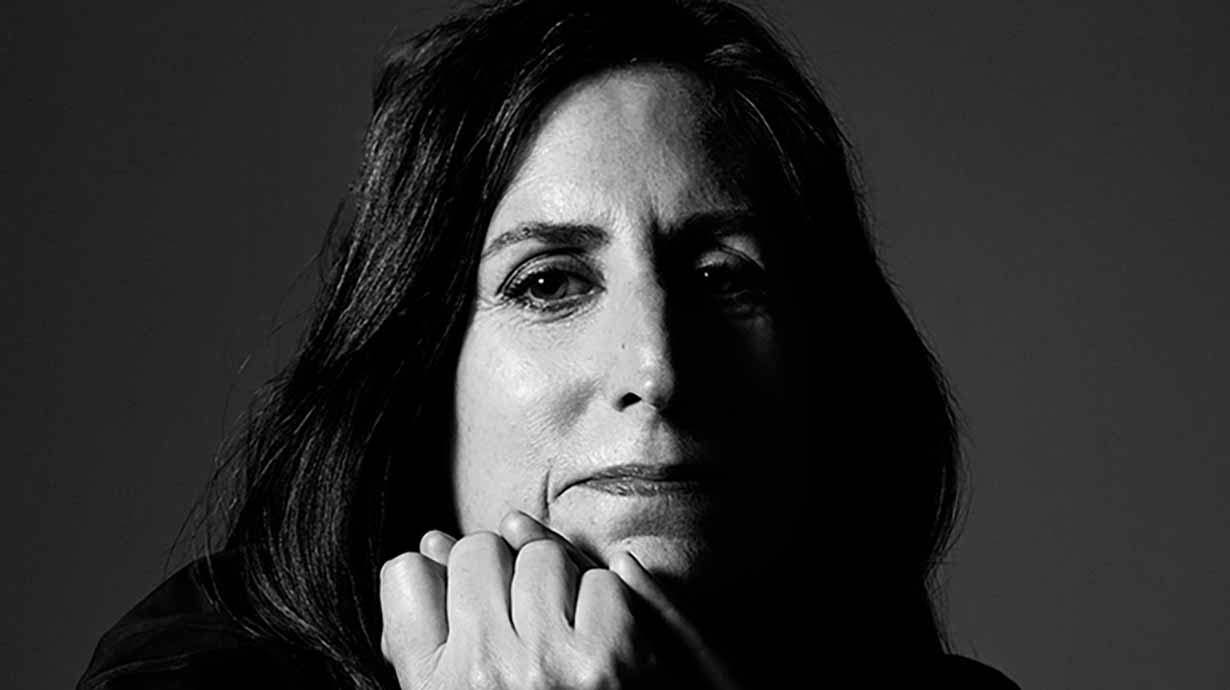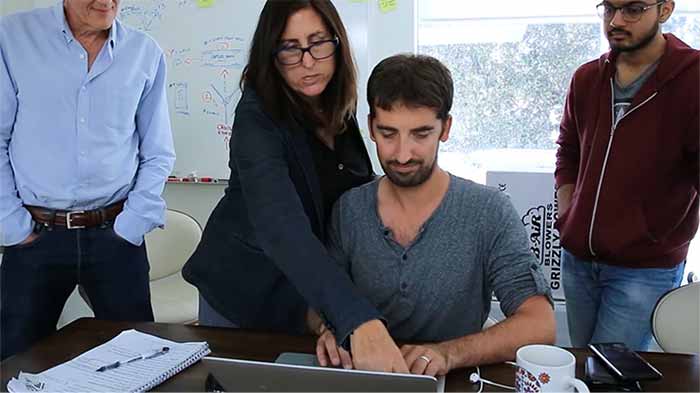 There are a lot of cool nicknames in the world, but it's hard to beat "Godmother of virtual reality."
That's what people have been calling video pioneer and journalist Nonny De La Peña ever since she premiered the first-ever virtual reality (VR) documentary at the Sundance Film Festival in 2012.
When I connected with Nonny recently via video call, she was, like many of us, working from her home office/garage, a return to her startup roots. She said she had mixed feelings about her nickname. "On one level, it's nice. I got it because the same journalist kept hearing from different filmmakers that I had introduced them to VR filmmaking. But it's also sad because it shows that there were so few women around that I could immediately be called the godmother. There wasn't much competition."
Setting her fears aside, she followed her vision to the edges of what was possible with video technology at the time. Five years later, her VR film "Hunger in Los Angeles" put audience members in line at a Los Angeles soup kitchen. It was the beginning of a powerful new form of content — immersive journalism, a term coined by Nonny — and the start of her digital media company Emblematic Group
Over the next nine years, Nonny's team has grown to include award-winning journalists, inventors, video specialists and developers. But despite being a seasoned tech entrepreneur, Nonny has continued to face gender-based headwinds. "I would say 90% of my contracts and career moves forward over the years have been because one of the decision-makers was a woman. If I go into a meeting and there's a woman there, I know I have a chance."
The facts back her up. "Last year, only 2% of venture capital went to female-led startups. I know we've had the Me Too movement, and that's great, but frankly, I don't care. We need to be getting our fair share of the funding."
Nonny used to blame herself. "Do I speak with a high note at the end of a sentence, like I'm asking a question? Maybe I've been doing it so long that it's ingrained in me. But I've realized the bigger problem is not the way women talk as much as the way men listen. Men need to listen differently."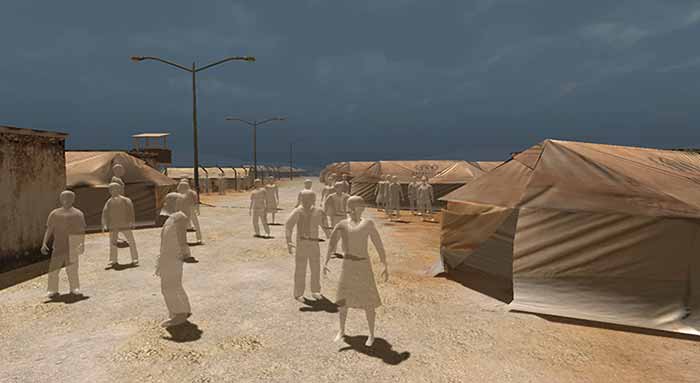 Despite these hurdles, she and her team continue to push the boundaries of virtual and augmented media experiences. Among the firm's current projects is a VR game for Oculus called "Trashed!" in which the player emulates rock 'n' roll stars with a mission to wreck hotel rooms.
On the more serious side of things, another Emblematic project will recreate the world of a World War II U.S. internment camp as seen through the eyes of a Japanese- American by bringing his drawings to virtual life. You also may have seen — or rather, experienced — Project Syria, in which audience members find themselves on the streets of Aleppo scrambling for shelter during a rocket attack.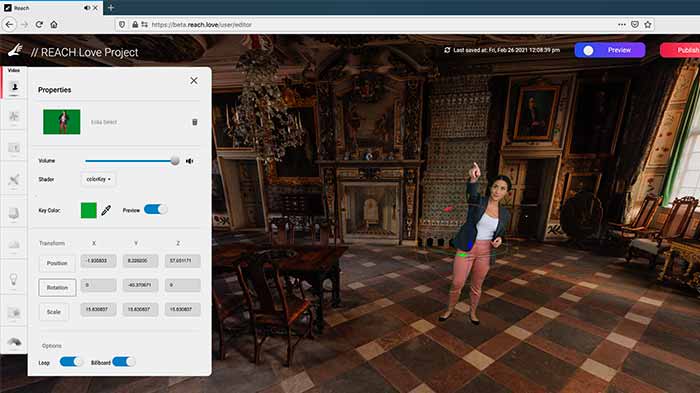 But today, Nonny is most excited about Emblematic's latest VR breakthrough. REACH Love is a platform that lets anyone create and distribute "volumetric" (three-dimensional) VR on the web, no coding skills required, just an active imagination.
To show the simplicity and power of the platform, Nonny helped me build a virtual world on Firefox in under a minute by clicking a few buttons. "Who do you want to be?" Nonny asked. A whale. She quickly added a photo-realistic avatar of herself and an animated blue whale grabbed from the web. She set both in a rocky three-dimensional terrain with lighting and sky that we could change in real time. I knew my 11-year old daughter would love to play with this. I could see the possibilities for DIY home movies and team business meetings. Imagine fun, customizable Zoom call backgrounds but in realistic 3D.
Then our internet connection slowed, the whale froze and Nonny got irritated. "Ugh. This is why we need 5G."
When asked if 5G will make an impact on the immersiveness of VR and AR, Nonny can't answer fast enough: "1,000 percent." She believes a combination of 5G and other advancements will play a role in the coming VR and AR revolution. The faster data speeds will allow for photo-quality resolution of people and objects. Edge computing will allow the heavy lifting of data crunching to be done near the home or office while the headset remains light and wireless. The latest smartphones, already equipped with 5G and LIDAR camera capabilities, will be able to map and remap a person's room in three dimensions in real time. Nonny's excitement is palpable. "5G will be transformative."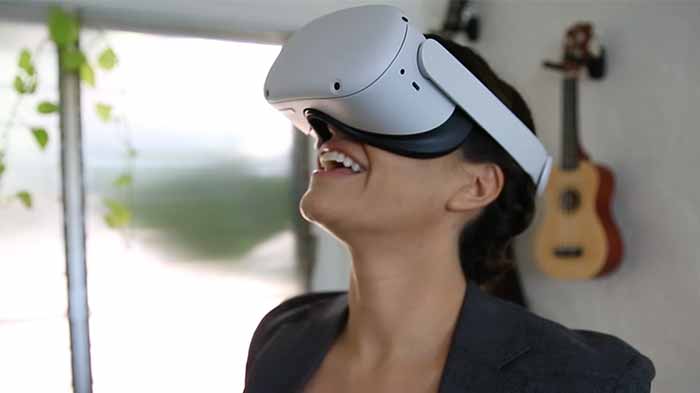 She has another big reason to be optimistic about VR today. "I know amazing women in this space. And even now, with all of the problems with tech companies, it's a really open space. With the advent of things like 5G there are so many opportunities. And women bring different sensibilities. That adds value. It makes hiring them worth it."
As for Nonny, she'll keep pushing forward. "My journey has been brutal. I've seen men that I introduce to the medium raise tens of millions of dollars. Then again, I've also seen some of those companies fold and I'm still here. It's a testament to my passion and the people who work with me."