Learning to #LoveThyEnemy & Boost Teens' Confidence in Online Communities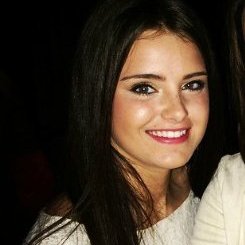 The pen is mightier than the sword, and the keyboard plus 4G LTE technology is faster than both. With lightening speeds and ubiquitous access, we consume information about both friends and strangers that affects how we view the world and ourselves. Is much of that experience positive? Of course.
But to make it even better, Grace Ehemann, a high school senior living in Cincinnati, is leveraging online communities for #LoveThyEnemy, a movement she created to erode self-shaming, or what Grace terms self-bullying. Through technology, #LoveThyEnemy is spreading positive messages about loving oneself while serving as an outlet for others to share their stories all across the country.
This is a guest post from Grace. In addition to leading the #LoveThyEnemy movement, she is a volunteer tutor for children who don't speak English as a first language and also volunteers with children on the autism spectrum. Grace previously contributed a story to our blog about teens and social media safety.
Most people think teenagers have it easy. The biggest responsibilities they have are getting an A on the chemistry quiz, passing their driver's test, or simply buying the perfect dress or tuxedo for the "most important night in the teenage years."
Concerns for a teen only stretch as far as picking a college, breaking off a relationship, or not being invited to the biggest party of the year. We are all happy-go-lucky kids who listen to our music too loud, argue with our parents too much and overall, have everything together in our little, perfect lives. We were taught everything we needed to know about who we were and who we were expected to be.
Wrong. The truth is, most of us don't know what we are doing. We have no idea why a simple mean comment from an acquaintance leaves such a hurtful impact on us. We don't know why our bodies look that much more disgusting every time we look into the mirror.
We can't figure out why the other players excel in athletics when we work just as hard. We aren't satisfied with the adequate grade point average we worked so hard to receive. We don't understand why covering up our faces and bodies from the world makes us feel that much more comfortable.
We can't explain the days when our minds refuse to let us get out of bed or be happy. We fail to realize that we aren't alone, even when the loneliness drives us to isolate ourselves even more. And above all, we end up hating ourselves for everything that we believe we are not.
This "self-bullying" as I have titled it has taken over the lives of many teenagers and adults. Having struggled with this inevitable misery for years and watching one too many of the people I love also deal with it, I decided it was time for a change.
That's when I challenged myself and the rest of the world to one of the hardest tasks a human can master…learning to love myself. I created this movement to encourage others to find strength and peace within themselves.
LoveThyEnemy is an anti-bullying campaign fighting the biggest enemy in a person's life: their own mind. The mind that tells them they are not good, beautiful, intelligent, strong, capable, athletic or kind enough. It is up to us to fight against those lies and overcome the insecurities we are ashamed to expose.
Before we can love everyone else, we must learn to love ourselves. LoveThyEnemy supports everyone and encourages them to unmask their fears and flaws in order to rebuild a healthy mind.
Our website shares stories to inspire others to create testimonials about how they overcame the adversity of letting their insecurities control and abuse their lives. We invite everyone to join us on our journey to defeat the self-inflicted pain caused by our own minds and to open ourselves up to the reality of just how amazing we all are. We all are special and different in our own ways, and we must learn to accept and embrace those qualities we are all blessed with.
With this campaign, I have expanded the challenge of overcoming insecurities and doubts all over the country. Using the website I designed, our multiple social media accounts and the trending hashtag #LoveThyEnemy, anyone willing can join the movement toward loving yourself.
Thanks to the support of thousands and the inspiration of countless brave men, women, girls and boys, I am proud to be an advocate for the fearful and to be venturing on my own journey to happiness. I hope one day I am able to have the privilege of saying self-bullying is a problem of the past. Until then, we must all understand that we cannot truly love others until we learn to love ourselves.
For more information on the LoveThyEnemy campaign, please visit www.lovethyenemy.org or follow the campaign on Twitter, Facebook or Instagram.
For more Verizon Wireless news, subscribe via RSS feeds in the right rail.