Leominster, Massachusetts Welcomes FiOS to Town
Leominster, Massachusetts Welcomes FiOS to Town
Local, state officials help Verizon opens its 12th FiOS retail store in The Commonwealth - Photo on Right, (L-R): Elaina, Mayor Wong, Angie, Mayor Mazzarella, and Joan David - representing the office of Representative Stephen DiNatale
Dozens of local residents, including community leaders, state officials, and two mayors, turned out for the recent grand opening of the Verizon FiOS retail store in Leominster, Mass.
Attendees learned firsthand about some of the unique features and benefits of FiOS TV, demonstrated on an entire wall of TV monitors called the "FiOS Exploration Zone." They also heard from Leominster Mayor Dean Mazzarella, Fitchburg Mayor Lisa Wong, and other local and state officials who welcomed the Verizon team to town.
Angie Klein, vice president of consumer and mass markets for Verizon, served as host of the ceremonies and offered her thanks to those who welcomed the new Verizon team. "The main focus of our grand opening is to celebrate the community we serve and we are very proud to be here," said Klein. "Verizon is committed to being here in Leominster for the long haul."
Also participating in the event were Joan David, representing State Representative Stephen DiNatale's office, Yasmin Loft and several ambassadors of the North Central Mass. Chamber of Commerce and  Donata Martin, executive director of the Boys & Girls Club of Fitchburg and Leominster, who received a $2,500 donation from Verizon.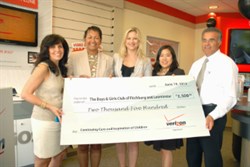 Photo Above (L-R):  Elaina Mango - Verizon Director, Donata Martin - Executive Director of the Boys and Girls Club of Fitchburg and Leominster, Angie Klein - Verizon Vice President, Mayor Lisa Wong of Fitchburg, and Mayor Dean Mazzarella of Leominster
The new Leominster store is Verizon's 12th FiOS retail store in Massachusetts. It was opened so that local consumers can experience the many advantages FiOS offers over traditional cable TV services. FiOS is a 100 percent fiber-to-the-home network connection that provides advanced and interactive TV, blazing-fast Internet and crystal-clear telephone service. FiOS TV is available in 112 communities in Massachusetts, including Leominster and Fitchburg.
FiOS customers can also visit the new store to conduct such business as upgrading services, picking up and dropping off equipment, and receiving help from the six new local employees who staff the Leominster store, including manager Deborah Fraser.
"We are just blown over by the warm welcome we have received here in Leominster," said Fraser. "The hospitality the residents have shown us has been so genuine and so generous. We already feel like part of the community and we're ready to go to work to show everyone how FiOS can greatly enhance their daily lives."