Full Transparency
Our editorial transparency tool uses blockchain technology to permanently log all changes made to official releases after publication. However, this post is not an official release and therefore not tracked. Visit our learn more for more information.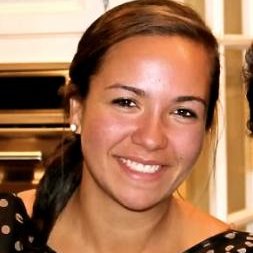 Alissa McCarthy is a human resource intern at Verizon. She is a rising junior at Cornell University, studying Industrial and Labor relations with a minor in business. Over the next few weeks, Alissa will share her day-to-day experiences, surprises, and learnings that she encounters during her internship at Verizon. In the following post, Alissa expresses her typical thought process before starting a day at work.
While responding to a few emails the other day, one really caught my eye. It read, "This is Bonnie, a friend of your mom. Come down to the cafeteria if you have a minute." During our meeting, I noticed how Bonnie was impeccably put together, wearing a black dress and a beautiful knee-length jacket that just brushed her prosthetic leg.
Verizon's Diversity & Inclusion Conference
I realized she was a keynote speaker at Verizon's annual Diversity and Inclusion conference, an event where thousands of employees come together to celebrate and discuss how we can continue infusing diversity into everything we do. Verizon's Chief Talent & Diversity Officer, Madga Yrizzary, led the conference which included keynote speeches and panel discussions from notable leaders and diversity workers.
She quickly confirmed my suspicions.
"That's a shame you didn't get to see me speak in-person at the conference," the woman said to me. "Let me give you my card anyway." My jaw dropped as she pulled a photograph out of her bag. Years ago my mother gave me the same picture, explaining that the woman in it has an incredible story that would inspire me when I was stuck in a rut. The photograph showed a one-legged skier dressed in Team USA attire. The card was signed, "When you fall, always get back up – Bonnie."
"You're Bonnie St. John!" I exclaimed. I told her the photograph hung above my desk for years, how much it inspired me, and how excited I was to see her.
When you fall, always get back up
Watching Bonnie's keynote online, I was impressed by her talent and determination. Aside from winning three medals in the Paralympics, she also studied at Harvard University and the University of Oxford, worked at IBM and the White House, and started her company called Blue Circle Leadership. I believed that a woman with these credentials had never failed. But I was wrong.
In her keynote, Bonnie said each new phase of life comes with a fresh set of challenges. During the 1984 Winter Paralympics, she would have been the number one skier in the world if she hadn't fallen during the race. She told us that the racer who won also fell, but got up faster. Bonnie said, "people fall down, winners get up. But sometimes the gold medal winner is just the person who gets up the fastest."
Falling is less painful when you have help getting up
I believe this idea is imperative to the success of any job, especially my internship at Verizon. I was excited before starting my internship in the HR department, but also somewhat unprepared for the tasks that lay ahead. Whether it's sharpening my communication skills, learning new problem solving techniques or figuring out how to best manage my time, I failed many times before learning how to do something correctly. In addition, my work is much more dynamic thanks to the help of my peers, my superiors and the incredible people I've had the opportunity to meet. Especially the incredible woman whose photo hangs above my desk.