Full Transparency
Our editorial transparency tool uses blockchain technology to permanently log all changes made to official releases after publication. However, this post is not an official release and therefore not tracked. Visit our learn more for more information.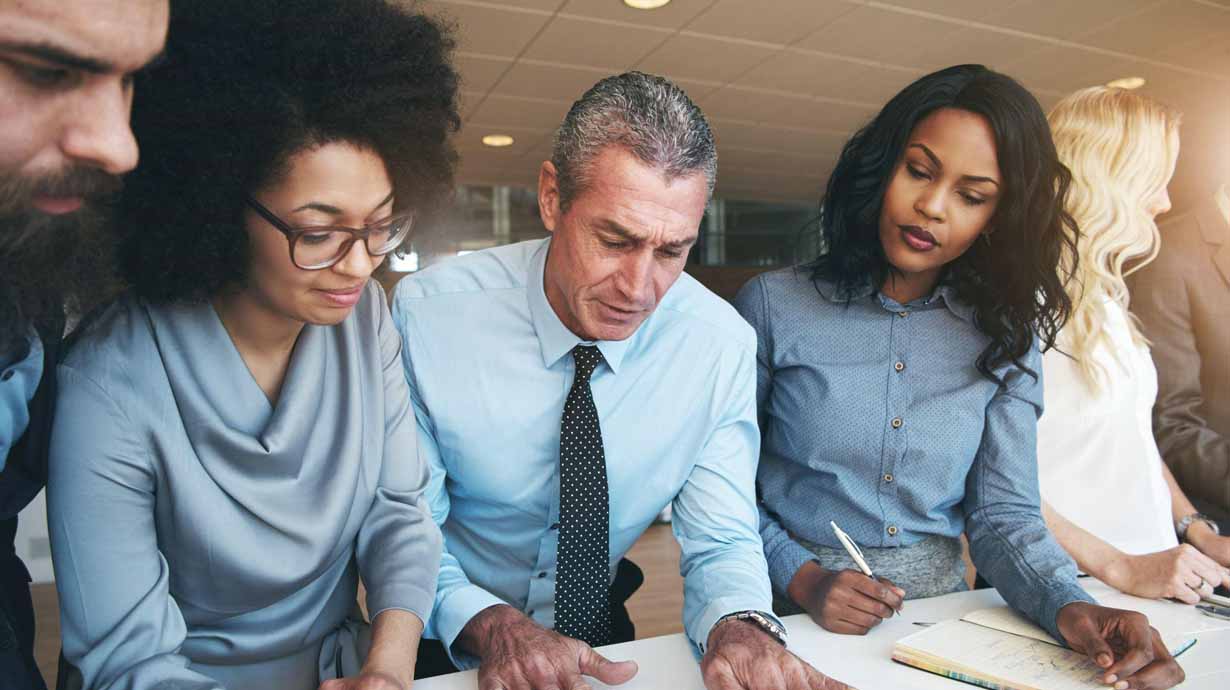 Diversity, equity and inclusion (DE&I) are essential for securing business success now and in the future. Increasing diversity across characteristics such as race, nationality, gender, age, sexual orientation, gender identity, and disability plays a key role in increasing creativity, innovation and empathy in organizations, which will be vital skills for the future of work. But, despite calls and many great efforts to improve DE&I, people continue to be excluded from work and opportunity. This represents huge lost potential for those individuals, the businesses they could be serving, and most importantly, our societies and economies.
Systemic biases in society influence the kinds of work and future opportunities many workers from underrepresented communities have access to. This impacts workers' overall wealth and income security, and plays a part in further perpetuating social inequalities. For example, in the U.S., the median net wealth of black families is about one tenth of the median net wealth of white families. With lower median net wealth and less employment security, people of color have been disproportionately impacted by the pandemic. In the U.S., 58% of Hispanic and 53% of Black households lost employment income as a result of the pandemic, compared with 39% of white households, according to analysis by Harvard University. Hispanic workers were the least likely among all racial and ethnic groups in the U.S. to have jobs that allowed them to work from home, according to a study by Urban Institute's Health Reform Monitoring Survey (HRMS), exposing them to higher health and unemployment risks.
Businesses are losing out from this imbalance. According to research by McKinsey, there is a correlation between higher profitability and gender and ethnic diversity. Diverse teams repeatedly outperform others. In 2019, the companies that scored highest for ethnic and cultural diversity had a 36% higher profit than the lowest scoring companies, according to McKinsey's research. The U.S.'s GDP would increase by $25 billion if organizations hired just 1% more people with disabilities, according to analysis by Accenture, and by $5 trillion over the next five years if the country tackled key areas of discrimination against African Americans, according to Citigroup.
Change can be simple
Increasing DE&I in companies is not only the right thing to do – it's a business challenge, which requires business solutions. This is where the opportunity is for businesses to excel. When we reframe the challenge of DE&I as a business case and present data that proves positive business outcomes, leaders can clearly see the need for urgent change.
Part of the challenge is that DE&I only recently became a priority for many businesses. In the tech industry, for example, most companies only began disclosing diversity data in 2014. But without data to show how increased diversity can help organizations thrive, many organizations don't know how to properly leverage it. Unfortunately, this can lead some organizations to inaction. When there's inaction, change has no chance. Inaction then becomes a vicious cycle. To break this cycle, we need more hard data to make the case that DE&I is good for business.
For many of us, the value of DE&I is something we understand as important from a social justice standpoint. Seventy-five percent of organizations surveyed by Deloitte from across 47 countries say DE&I is now a priority. Collecting data on how DE&I is impacting organizations' bottom lines can help us build on this current momentum and make sure DE&I is a business priority in the long term. And an increasing number of companies are now reporting their diversity data – over half of Fortune 500 companies reported ethnic or racial data in 2020. This is a great step in the right direction, but we need to go further. We need to start using that data to understand how diverse employees are positively impacting the organization and its bottom line. When more companies start to understand the connection between diverse teams and stronger business outcomes, diversity becomes a business imperative. That's when we can start to make change a reality.
Make inclusion a priority
Diversity is impactful only when combined with inclusion, and inclusive cultures are three times more likely to be high performing, according to research by Deloitte. We must start measuring inclusion, in addition to diversity, within an organization. Many companies already have the tools in place that will help them do this. For example, qualitative research to get employee feedback can be an excellent way to better understand inclusion within an organization. Measuring business outcomes is another – what businesses need to do in addition is measure how diverse and inclusive teams are contributing to these business outcomes. If we can get a handful of companies measuring this impact, then we can support the business case and bring more and more companies on board.
To truly understand how inclusive and equitable an organization is, we must look at the entire employee journey. We need to ask questions like: once candidates from underrepresented communities are hired and onboarded, what happens to them? How do they advance through the company? What projects and teams are they assigned to?
Too often, these employees simply get tired of waiting. Thirty-nine percent of respondents to a Deloitte survey said they would leave their current company for a more inclusive one, and 23% said they had already left. This impacts the long-term talent pipeline, reducing or precluding diversity in the most senior positions. Eighty-four percent of executives in the U.S. are white, according to data from Mercer.
To leverage diversity, we must differentiate it, which means moving beyond talking about diversity in general terms. We need to ask questions like: what are women in our organization doing? What are people with disabilities doing? Are people of color working on high-profile teams and projects? For example, evidence suggests that diverse teams may be better than homogenous teams at creating novel ideas, correcting faulty thinking, and considering a wide range of variables. Leveraging this kind of impact would be valuable in all aspects of business, including but not limited to launching a new product; troubleshooting; planning for the future; and responding to crises. Diverse and inclusive teams therefore have a vital role to play in helping the companies they work for deliver on their core capabilities and better serve their customers.
Collaboration for change
For the last six months, I've been working with business leaders, academics and thought leaders through the Future of Work initiative, led by Verizon and Xynteo. Together we've been developing actions for business leaders to accelerate a positive future of work. I've been part of a working group on lost potential and a key topic we've been discussing is how to improve data collection to drive industry accountability on DE&I and worker wellbeing.
Now it's time for us to put those ideas from the working group into action and experiment to find out what does and doesn't work. By collecting data that indicates how diversity contributes to the wellbeing of an organization and building the business case, we can give organizations some concrete ideas to react to. Some companies may be reluctant to engage at first, but it will give us feedback about the data and the opportunity to iterate and improve upon it. Ultimately, the companies who say "yes" to DE&I will be the ones who succeed in the future of work.
I would love to collaborate with a group of companies who share the same willingness to experiment and produce research that helps us take DE&I forward into the future. With the right measurement systems, I believe we can make the business case for DE&I and leverage the lost potential in our society, building more diverse workforces and inclusive workplaces. Now is the time to begin and help secure a positive future of work for all.
This is part three of a five part series on the Future of Work initiative