Meet 3 women whose careers are flourishing at Verizon
Meet 3 women whose careers are flourishing at Verizon
"Working together, we're unstoppable."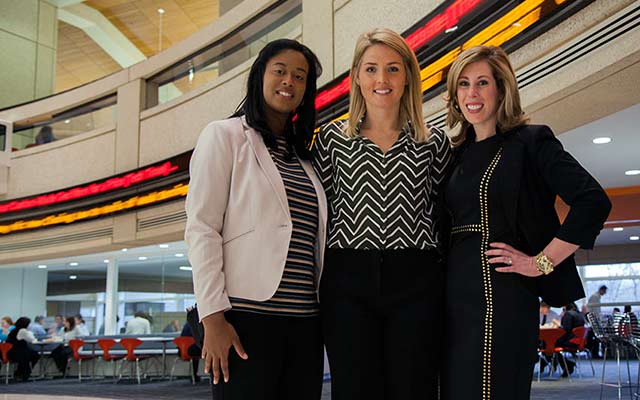 Amanda, Brittany and Lauren are three Verizon employees whose career trajectories are fast on the rise.
Each one of them has taken advantage of Verizon's leadership programs to learn new skills, network with other employees, find mentors and gain support along the way.
That support is crucial, because while women in the U.S. are increasingly making strides toward more senior leadership positions, according to a recent Pew report, women are still lagging behind in corporate leadership roles. So it's important that companies like Verizon make it a priority to offer resources that help women employees develop leadership skills, find mentors and navigate their career paths with confidence.
We asked each one of these women to share the secrets to their success.
"When you open yourself up to an organization that wants you to succeed, you're opening the door to people and resources that will challenge the way you think, sharpen your skills and support you throughout every stage of your career."
Lauren Tilstra, a manager of executive communications, joined WAVE, the Women's Association of Verizon Employees, right after she started working at Verizon three years ago. Earlier this year she decided to ramp up her involvement and joined the WAVE Global Board - organizing global programs like panel discussions with senior leaders. These programs allow Verizon employees across the world to connect and gain valuable career advice from each other and from the top of the house. "When you join an organization like WAVE," she explains, "you open yourself to a network that wants to help you succeed. It's a tremendous resource." Lauren compares it to the benefits of a book club: "You can read a thousand books, but if you don't have someone to share your perspective with, then you're not really getting the full benefit of the content." "That's what WAVE does, it brings passionate people together to learn, share ideas and collaborate. It's simple- when women at Verizon put their heads together, it benefits not only those who lean in, but also our customers and our bottom line." Tilstra says.
"You have options that help you to choose your career path."
Brittany Lintelman loves to play volleyball, so when her job at Verizon moved her from New Jersey to California, she headed straight to the beach. "Everywhere I move, I use it as my 'in' with people," she says.
Now residing in New Jersey and working in Basking Ridge as the Senior Manager for IT Global Clearance, Brittany doesn't have a typical day: the only thing that stays constant is the engaging conversations between the IT development, legal, and security teams. She graduated from the Verizon Leadership Development Program two years ago. As part of the VLDP, Brittany was given the opportunity as a new hire to rotate through different technology positions (and, typically, geographic locations) over a period of 3 years, and as Brittany explains, the program provides leadership experience, sets a very high standard for job performance, and matches new hires with senior leadership. "You meet a lot of people, you work on different technology teams," and, most important to Brittany, "you have options that help you to choose your career path." In her five years at Verizon, she's had six jobs, just the kind of post-grad career she was looking for: one with different experiences, different challenges, and best of all, different volleyball courts.
"What makes me excited about this conversation is that we're going to keep it real."
"I'm a storyteller," Amanda Langhorne says, describing her work as a senior analyst of data analytics. "I tell the story of what's going on at Verizon." By managing insights, Amanda can tell other Verizon teams what they need to know about their customers and their work. As the co-director of programs and professional development at WAVE, she's telling Verizon employees the stories they need to know about all the opportunities Verizon offers. "What makes me excited about this conversation is that we're going to keep it real. I think that's something women, and anyone, regardless of gender, wants to know: how to make the most out of our jobs, but still have that work-life balance." Most of all, Amanda wants new employees at Verizon to know that this is a company where you can be bold and confident, and Verizon's employee resource groups are a key part of that atmosphere. WAVE, she says, "lets our voices be heard. We're working together, and with that, we're unstoppable."