Mobile users in 461 cities today get 50 percent faster peak speeds at no extra cost. Introducing Verizon LTE Advanced
Full Transparency
Our editorial transparency tool uses blockchain technology to permanently log all changes made to official releases after publication.
More of our content is being permanently logged via blockchain technology starting [10.23.2020].
NEW YORK – Verizon announced today it has launched LTE Advanced technology to bring 50 percent faster peak wireless data speeds to more than 288 million people in 461 cities from coast to coast. Verizon LTE Advanced hits all the major cities, and covers loads of less-served places including highways, interstates, country roads and rural America. So customers don't need to stay in one place to get great high speed connections, they can use their mobile devices to actually be mobile and head to the places they work, vacation and want to go.
"Our customers just received a major network enhancement for no additional cost," said Tami Erwin, head of operations for Verizon's wireless unit. "Verizon LTE Advanced works like a turbocharger on an engine. Speed boosts kick in when you need it most, with big data use.  That's when you get the big peak boost of Verizon LTE Advanced."
Verizon LTE Advanced uses software that combines multiple channels to speed mobile data over the network more quickly than ever before. The result is 50 percent faster peak speeds in cities nationwide for Verizon customers using one of the 39 LTE Advanced-capable phones and tablets already on Verizon's network – including top-selling Samsung Galaxy S6 and S7 smartphones, Moto Droids and Apple iPhones. As new devices from Apple, Samsung, LG and other manufacturers are introduced, they will be LTE Advanced-capable right out of the box.
Customers with a phone or tablet with LTE Advanced capabilities and the most recent software will benefit from these enhancements without effort or additional costs. There are no extra plan costs, no settings to change, no indicators to check.
How it works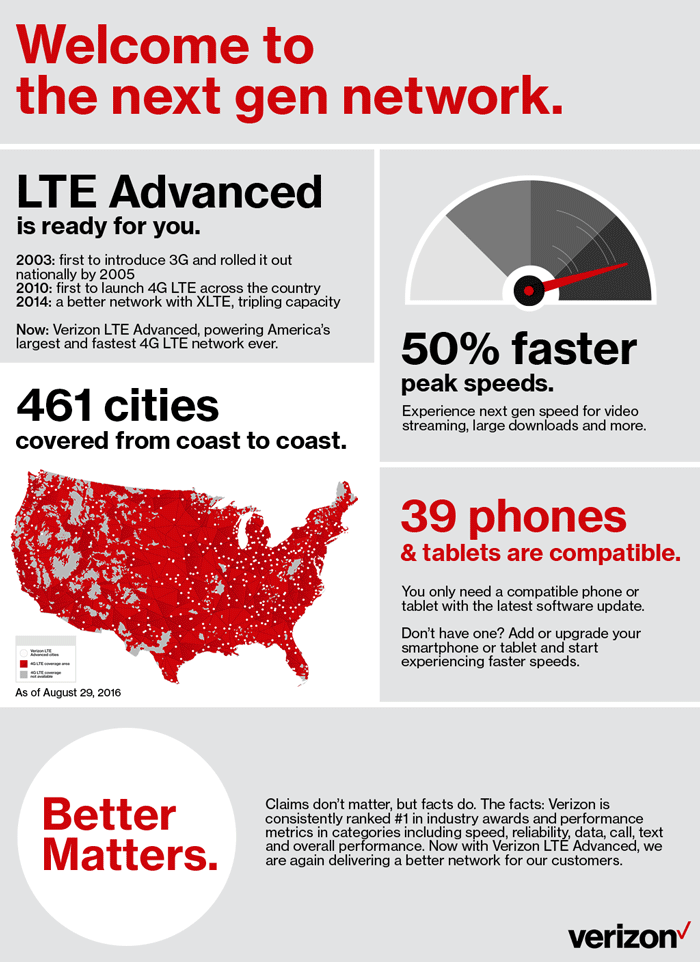 Advanced uses software to combine two or three bandwidth channels into one larger channel to send data sessions over the most efficient route to completion. This technology is called carrier aggregation and uses a combination of 700 MHz, AWS, and PCS spectrum.
"Verizon LTE Advanced means your data session moves more quickly over the best network," said Nicki Palmer, Verizon's chief wireless network engineer. "Imagine a road with multiple lanes in which, once you pick a lane, that's the lane you drive in. That describes our award-winning 4G LTE network. Continuing the metaphor, Verizon LTE Advanced allows cars to change lanes efficiently and flawlessly, balancing the flow of traffic and getting drivers to their destinations more efficiently. That means blindingly fast data transmissions when you need it most."
LTE Advanced currently uses a combination of two-and three-carrier aggregation. Customers will continue to enjoy typical download speeds of 5 – 12 Mbps, but two-channel carrier aggregation has shown peak download speeds of up to 225 Mbps, far exceeding the current speeds being experienced by wireless data networks nationwide. While the speeds of two-channel carrier aggregation provide a leap forward, three-channel carrier aggregation provides even greater efficiency. Verizon engineers deploying three-channel carrier aggregation have experienced speeds greater than 300 Mbps.
In 2003, Verizon was the first wireless company to launch 3G, bringing it from coast to coast by 2005. In 2010, customers across the country were first to experience the newest mobile technology - 4G LTE. "With Verizon LTE Advanced, we're bringing the next generation of wireless technology to the market, coast to coast," said Palmer. "We're already in 461 markets and we're already underway deploying three-channel carrier aggregation."
Verizon provides the best customer experience, built on the nation's most award-winning network. Today's announcement of Verizon LTE Advanced technology in 461 cities on the Verizon network coast to coast, increasing peak speeds by up to 50 percent at no additional cost, adds even greater value. Verizon's network is the most award-winning network for its speed, consistently reliable performance, and hundreds of thousands of square miles more 4G LTE coverage than the next-closest competitor.
Current devices that are Verizon LTE Advanced-capable include:
Apple iPhone 6
Apple iPhone 6 Plus
Apple iPhone 6s
Apple iPhone 6s Plus
Apple iPhone 5 SE
Apple iPad Pro
Apple iPad Pro 9.7
Apple iPad Air 2
Apple iPad Mini 4
Asus Zenpad Z8
Blackberry PRIV
HTC 10
HTC Desire 626
HTC One M9
LG V10
LG G4
LG G5
Microsoft Surface 3
Motorola Nexus 6
Moto X
Moto Z Force Droid
Moto Z Droid
Motorola Droid Turbo 2
Motorola Droid Turbo
Netgear MHS AC791L
Novatel MiFi i6620L
Novatel MiFi USB620L
Samsung Galaxy S6 Edge Plus
Samsung Note 5
Samsung Galaxy S6
Samsung Galaxy S6 Edge
Samsung Galaxy S7 Edge
Samsung Galaxy S7
Samsung Galaxy View
Samsung Galaxy Tab S2
Samsung Galaxy Tab E 8.0
Samsung Galaxy Note 7
Sony Xperia Z3v
Sony Xperia Z2 Tablet
Verizon LTE Advanced marketing campaign
The Verizon LTE Advanced announcement is supported by a broad mass and social media campaign, including a new television ad that premieres tonight at shortly after 8:30 pm ET across major television networks including ABC, CBS, CWN, FOX and NBC.
LOCAL MARKET CONTACTS:
Carolyn Schamberger, 847.204.4282, carolyn.schamberger1@verizonwireless.com
Andrew Testa, 908.626.8339, andrew.testa@verizonwireless.com
Kate Jay, 678.339.4828, Kate.Jay@VerizonWireless.com
Steve Van Dinter, 847.706.1791, Steven.VanDinter@verizonwireless.com
Jeannine Brew, 972.444.5233, jeannine.brew@verizonwireless.com
Meagan Dorsch, 303.694.8990, Meagan.Dorsch@VerizonWireless.com
Heidi Flato, 925.279.6545, heidi.flato@verizonwireless.com