Movie Picks Perfect For Ringing In 2015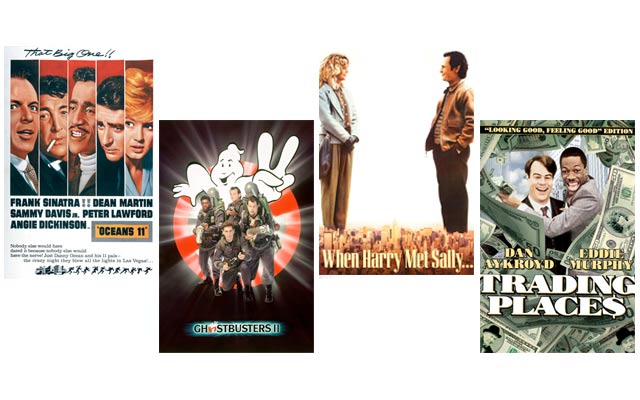 Some will be staying home, some will be heading out, but either way most can expect to be making the couch home base at some point during the ringing in of 2015. Below, you will find films fit for the occasion. All of these are set during New Year's Eve/Day and there's a little something for all movie buffs in this list.

Here's to a happy and healthy New Year!
Ocean's Eleven
1960 | 127 mins | TV-PG
A thief and 10 war buddies plan to rob five Las Vegas casinos at once. Star-studded cast includes Frank Sinatra, Dean Martin, and Sammy Davis Jr.
---
Ghostbusters II
1989 | 104 mins | PG
They're back! Four years removed from their previous adventures, the former Ghostbusters are under a restraining order, and have fallen to hosting cult cable talk shows (Bill Murray's Dr. Peter Venkman) and entertaining at children's birthday parties...
---
Sleepless in Seattle
1993 | 105 mins | PG
Tom Hanks and Meg Ryan star in an enchanting romance about a widower whose son convinces him to find new love and the woman who answers his call. With Bill Pullman, Ross Malinger, Rob Reiner.
---
When Harry Met Sally
1989 | 95 mins | R
Is it impossible for men and women to be true friends? The film chronicles this dilemma through the eleven year relationship between Harry (Billy Crystal) and Sally (Meg Ryan).
---
Trading Places
1983 | 112 mins | R
highly respected businessman and a wise-cracking street bum are forced to trade places as part of a degenerate bet between two monarchs of Wall Street. Starring Eddie Murphy, Dan Aykroyd and Jamie Lee Curtis.
---