Never too many cooks in the kitchen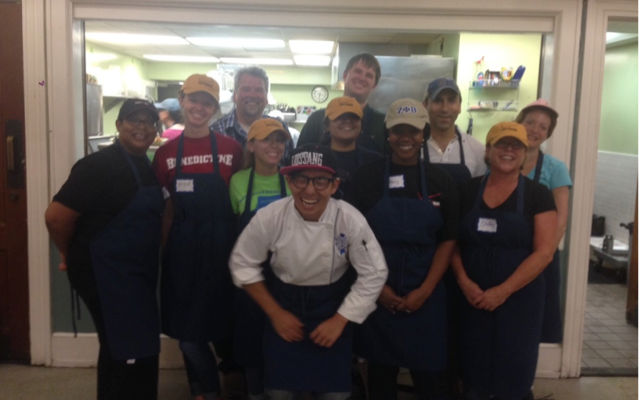 This is a guest post from Brigid Ueland, an intern working with Verizon's DC communications team this summer.
"When you're walking behind someone, yell 'behind'" the chef explained. "If you're walking with knives, it's 'sharp behind'. If you have something hot in your hands, it's 'hot behind'. Then you can giggle, because I totally do." Chef Tae is the Manager of Kitchen Operations and Volunteers at Miriam's Kitchen, a nonprofit that has provided meals, case management and mental health treatment to individuals in need over the past 30 years in Washington, DC. Chef Tae was instructing my group of first-time volunteers on kitchen safety, while simultaneously showing me how to slice beets. He was fast, smooth and all the slices were uniform in size. Me? Not so much.
The kitchen was crowded, which was what prompted the safety lecture. Recently, five Verizon interns, along with a handful of Verizon employees, joined the regular kitchen staff to help prepare a weeknight dinner at Miriam's Kitchen. It all made for quite the cacophony of "Behinds!" and its various comic iterations throughout the evening.
Miriam's Kitchen is more than just an urban outpost for those of our fellow citizens dealing with life's challenges to get a warm meal. The Kitchen is focused on establishing meaningful relationships with chronically homeless individuals. Think of the meal as just the first course. Beyond a hot, healthful meal served every weeknight, Miriam's Kitchen is focused on both short-term and long-term assistance and enablement. It connects their client base with social services support, permanent housing, and ensuring their clients have the necessary support to remain in that housing. Each year, they provide high-quality social services – and good meals – to more than 4,300 guests and clients.
Through Verizon's sponsorship of a dinner shift each month, members of the public policy office worked in the kitchen to help prepare and serve meals to its guests. Verizon's Shelley Robinette, who volunteers at least once a month, enjoys working the drink table out in the dining room. "I love talking with the guests while I serve them and hearing their stories. It's a very fulfilling and poignant experience."
On this night the menu was sausages, mushroom risotto, green salad, beet salad (which is where my slightly lopsided slices ended up) and a blueberry cake. Nearly 100 were served by some of the Verizon volunteers. Jennifer Jimenez, an intern in the public policy office, worked dinner service and found the experience both heart-warming and eye-opening: "Heartwarming because it was great to see and interact directly with those we were serving and sharing smiles and even laughter. Eye-opening because of the people we served. We would have never guessed they were deprived of the basic necessity and right to food if they walked past us on the street."
Our time there was also a reminder that despite many opportunities and resources our communities provide for those in need, there is always more to be done, even if it's just a gracious smile, a friendly conversation or a helping hand. For more information about Miriam's Kitchen, visit http://www.miriamskitchen.org.