New Verizon Wi-Fi connectivity to upgrade fan experience at Daytona International Speedway
Media contact(s)
Kyle Ragonese
732-236-3526
The high-speed internet service will be available in the grandstands, suites and other locations at the World Center of Racing
Full Transparency
No Updates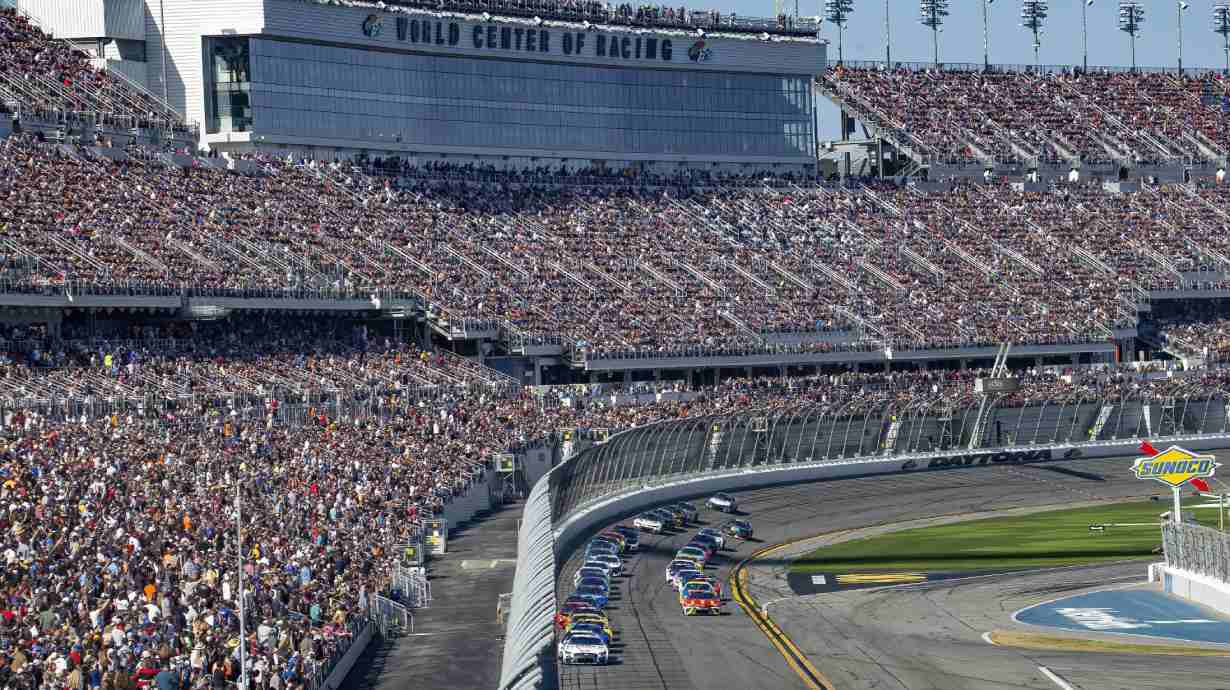 NEW YORK, N.Y. | DAYTONA BEACH, FLA. - In advance of the 65th running of the DAYTONA 500, Daytona International Speedway announced new Wi-Fi connectivity, provided by Verizon, will be available to fans while in their seats at the World Center of Racing, allowing their mobile devices to work as efficiently and quickly as the cars on the track.
The Verizon wireless internet at The World Center of Racing will be free to all guests, just in time for the 65th running of the DAYTONA 500 and Speedweeks Presented By AdventHealth. The Wi-Fi connectivity is available at the gates, in the concourses, suites, clubs, tower roof and across the entire mile-long grandstands, listed under the name #Daytona_GuestWifi.
"The new Verizon Wi-Fi option is a fantastic addition for our fans here at Daytona," said Daytona International Speedway President Frank Kelleher. "It's a great way for our guests to capture and share their memories at this year's sold-out DAYTONA 500 with friends and family, and to stay connected on all things racing while at the track."
The deployment at Daytona International Speedway builds off the existing partnership between Verizon and NASCAR, with Verizon serving as the Official Wireless Telecommunications and 5G Mobility Partner of NASCAR. Currently, through the partnership, Talladega Superspeedway, Richmond Raceway, Darlington Raceway, and Martinsville Speedway have Wi-Fi enabled options for fans at the venue with seven more NASCAR-owned racetracks including Daytona International Speedway to come.
Those new installations are part of a recent initiative, in which 12 NASCAR-owned racetracks will be provided with Verizon Wi-Fi for their guests, including Daytona International Speedway. Fans will now have more reliable internet to research their favorite drivers and teams, share photos and videos, and connect with their friends and family, all while watching The Great American Race.
"Best-in-class connectivity is critical for organizations ranging from the Fortune 500 to some of the world's largest venues," said Massimo Peselli, CRO, Global Enterprise & Public Sector, Verizon Business. "Redefining the on-site fan experience continues to be one of the most transformative use cases of our network and we are excited to partner with Daytona International Speedway and Extreme Networks to support one of the world's biggest sporting events."
To execute a deployment of this scale, Verizon undertook a 12-month project installing more than 450,000 feet of cabling to meet the needs of a venue as dense as the Daytona International Speedway. NASCAR's U.S. speedways are some of the largest sports venues based on fan capacity. Understanding the large scale of the deployment at Daytona International Speedway, Verizon tapped Extreme Networks, the official technology partner of NASCAR, to utilize their hardware – nearly 2,100 Extreme access points (APs), making it one of the largest U.S. venues with outdoor Wi-Fi.
Fans can document their entire week of excitement with ease and send all their captured content to their friends and family at home, with the brand-new Verizon Wireless internet connectivity available at the World Center of Racing.
The incredible racing action at Daytona International Speedway during Speedweeks Presented By AdventHealth begins with NASCAR Cup Series Qualifying Presented by Busch Light on Wednesday, Feb. 15, followed by Thursday's Bluegreen Vacation Duels. These two days of action will set the field for Sunday's DAYTONA 500.
Friday, the NASCAR Craftsman Truck Series returns to Daytona in the Next Era Energy 250, and Saturday's events include the ARCA Menards Series Race, and the NASCAR Xfinity Series' Beef. It's What's for Dinner 300. The racing festivities come to a close on Sunday, Feb. 19, with the highly anticipated NASCAR Cup Series season opener – the 65th running of the DAYTONA 500.
Fans are encouraged to reserve their place in history during Speedweeks Presented by AdventHealth by logging onto DAYTONA500.com or by calling 1-800-PITSHOP. Additionally, fans can buy or sell reserved seats for the DAYTONA 500 by visiting SeatGeek, the Official Ticket Marketplace of NASCAR.
Fans can stay connected with Daytona International Speedway via daytonainternationalspeedway.com, on Twitter, Facebook and Instagram, as well as the NASCAR Tracks App, for the latest speedway news.
---
About Daytona International Speedway
Daytona International Speedway is a state-of-the-art motorsports facility and was awarded the SportsBusiness Journal's prestigious Sports Business Award for Sports Facility of the Year in 2016. Daytona International Speedway is the home of The Great American Race – the DAYTONA 500. Though the season-opening NASCAR Cup Series event garners most of the attention – as well as the largest audience in motorsports – the approximately 500-acre motorsports complex, also known as the World Center of Racing, boasts the most diverse schedule of racing on the globe. Some of the exciting racing events include January's Rolex 24 At DAYTONA and Roar Before The Rolex 24, February's DAYTONA 500 and Speedweeks Presented by AdventHealth, March's Bike Week At DAYTONA Presented By Monster Energy, featuring DAYTONA Supercross and the DAYTONA 200, the August Coke Zero Sugar 400 weekend, and much more. The Speedway grounds are also used extensively for other events that include concerts (Welcome to Rockville, Heroes Honor Festival, etc.), sporting events (DAYTONA Soccer Fest, CLASH DAYTONA, etc.) civic and social gatherings, car shows, photo shoots, production vehicle testing and police motorcycle training.
About NASCAR 
The National Association for Stock Car Auto Racing (NASCAR) is the sanctioning body for the No. 1 form of motorsports in the United States and owner of 16 of the nation's major motorsports entertainment facilities. NASCAR sanctions races in three national series (NASCAR Cup Series™, NASCAR Xfinity Series™, and NASCAR CRAFTSMAN Truck Series™), four international series (NASCAR Brasil Sprint Race, NASCAR Mexico Series, NASCAR Pinty's Series (Canada), NASCAR Whelen Euro Series), four regional series (ARCA Menards Series, ARCA Menards Series East & West and the NASCAR Whelen Modified Tour) and a local grassroots series (NASCAR Advance Auto Parts Weekly Series). The International Motor Sports Association™ (IMSA®) governs the IMSA WeatherTech SportsCar Championship™, the premier U.S. sports car series. NASCAR also owns Motor Racing Network, Racing Electronics, and ONE DAYTONA. Based in Daytona Beach, Florida, with offices in eight cities across North America, NASCAR sanctions more than 1,200 races annually in 12 countries and more than 30 U.S. states. For more information visit http://www.nascar.com and www.IMSA.com, and follow NASCAR on Facebook, Twitter, Instagram, and Snapchat ('NASCAR').
About Extreme Networks
Extreme Networks, Inc. (EXTR) is a leader in cloud networking focused on delivering services that connect devices, applications, and people in new ways. We push the boundaries of technology leveraging the powers of machine learning, artificial intelligence, analytics, and automation. 50,000 customers globally trust our end-to-end, cloud-driven networking solutions and rely on our top-rated services and support to accelerate their digital transformation efforts and deliver progress like never before. For more information, visit Extreme's website at https://www.extremenetworks.com/ or follow us on LinkedIn, YouTube, Twitter, Facebook or Instagram.
Extreme Networks, ExtremeAnalytics, ExtremeCloud and the Extreme Networks logo are trademarks or registered trademarks of Extreme Networks, Inc. in the United States and other countries. Other trademarks shown herein are the property of their respective owners.