Northern California Wildfires update: Verizon takes next step with airborne mission for cell site inspections
Full Transparency
More of our content is being permanently logged via blockchain technology starting [10.23.2020].
Verizon and American Aerospace Technologies, Inc. (AATI) conducted aerial reconnaissance on Oct. 15 using a specially equipped aircraft to get a better view of cell sites in areas of northern California threatened by raging wildfires.
A manned Cessna 210 aircraft, operated by AATI, carried its InstiMaps™ mapping and imaging technology, which employs high-resolution cameras and thermal imaging sensors that can penetrate smoke-filled skies. The data and imagery was captured and rapidly uploaded using Verizon's 4G LTE network as backhaul, beginning in-flight, to deliver the data to the cloud.
These images help the network team assess if any cell site locations could be endangered by advancing wildfires, or if any repairs are needed to operating cell sites. Verizon's network teams have improved service for customers and first responders by adding temporary solutions and additional capacity to cell sites for traffic demands and to provide overlapping coverage from other cell sites.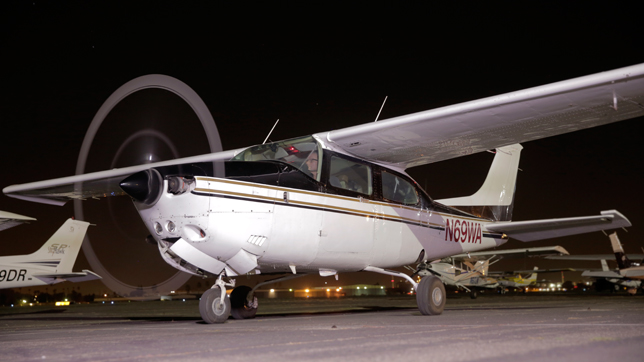 Cessna 210 aircraft, operated by AATI post-flight 
"Our team is working `round the clock to make sure customers and first responders stay connected. While there is still work to do, 99% of our network is in service throughout the impact areas," said Brian Mecum, vice president, Network Operations, West for Verizon. " We believe these flights are the first-of-its kind commercial use by a U.S. wireless company of mapping and imaging technology in a disaster response situation."
The flight from Buchanan Airport in Concord, covered a 2,000 square mile area (from Vacaville to Middleton to Cloverdale) in the vicinity of the Central and Southern LNU Complex Fires.
The flight using advanced airborne sensor technology is part of Verizon's disaster-recovery toolkit using manned and unmanned aircraft and other types of drones in disaster recovery efforts. Verizon and AATI together are developing Verizon's advanced airborne LTE services, and have previously demonstrated a "flying cell site" technology in emergency management exercises with first responders.