Nuestras Voces Unidas: Celebrating Hispanic Heritage Month at Verizon
"Use this month as an opportunity to talk about your heritage – to be proud. Our diversity makes us stronger, not weaker."
Full Transparency
More of our content is being permanently logged via blockchain technology starting [10.23.2020].
Every year, Americans observe Hispanic Heritage Month from September 15 to October 15 by celebrating the many contributions made by the Hispanic community in the United States. We kicked off Hispanic Heritage Month here at Verizon with our annual celebration. This year's theme is All of us: Nuestras Voces Unidas — Our Voices United, which is all about how we can unite and bring our voices together for greater understanding and impact.  
We were joined by special guest Claudia Romo Edelman, a global advocate who is focused on unifying and empowering the Latinx community, as well as a panel of V Teamers who share a passion for serving our Hispanic market. 
Hispanics currently make up 18% of the U.S. population and are quickly growing. With so much diversity within the group, Edelman highlighted the power that the Hispanic community has to unite as one and make a difference. "Those different origins are the flavors of our community, and we should embrace it as opposed to focusing on our differences," she said. "To get out there and feel the power we have together, we first need to unify." 
In closing, the activist and founder of the We Are All Human Foundation left V Teamers with three powerful calls to action.
1. Take a look in the mirror and see the true beauty of the Hispanic community. Look at the numbers and recognize how powerful Hispanics are when united. 
2. Burst the bubble. Resist the temptation to focus on our differences and instead, focus on the common factors that unite us. 
3. Speak up. Use Hispanic Heritage Month as an opportunity to speak up about your culture's beauty and identity. But most importantly, speak up because our community needs more role models. 
Following Edelman's keynote, a panel of V Teamers took the stage to discuss the cultural dynamics and opportunities for our Hispanic customers. The panel discussion, moderated by our Hispanic Support Organization Employee Resource Group, featured V Teamers across different business areas who are dedicated to serving the Hispanic market.
Read the story on Inside Verizon.
We need to be seen, heard and valued for who we are because we are makers, not takers. We are successes, not failures. Hispanic values are American values and the promise of Hispanics is the promise of America.
V Teamers making a difference in the Hispanic community.
Jarvis C. is a nine-year V Teamer in account management for Business, Consumer and Government Operations. In his downtime, Jarvis volunteers with La Amistad, Inc. whose mission is to empower members of the Latinx community in Atlanta, Georgia, through academic and life-enrichment programs.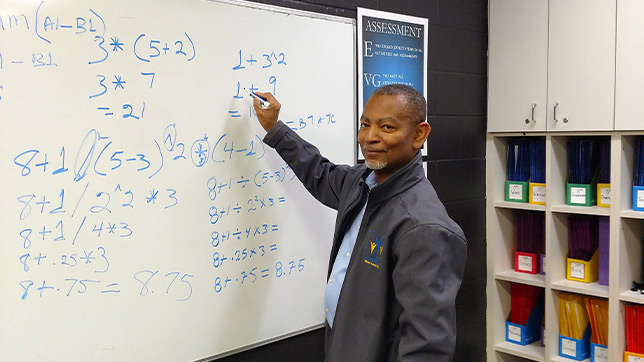 As a teacher in La Amistad's "English for a Successful Living" (ESL) program, Jarvis goes beyond to give students a strong foundation in both English and technology. His personal cause is to bridge the digital divide between English and PC skills. 
In addition to volunteering as educators for La Amistad, Jarvis and his wife also co-founded a nonprofit aimed at teaching adults basic computer skills. They aim to help members of their communities gain these essential skills so they can benefit from improved employment opportunities.
I'm committed to helping my community not fall behind nor let English be a barrier. I love what I do and as far as I'm concerned, I'm just getting started.