Respect Privacy, Safeguard Data and Enable Trust This Data Privacy Day
Respect Privacy, Safeguard Data and Enable Trust This Data Privacy Day
By Michael Kaiser, executive director of the National Cyber Security Alliance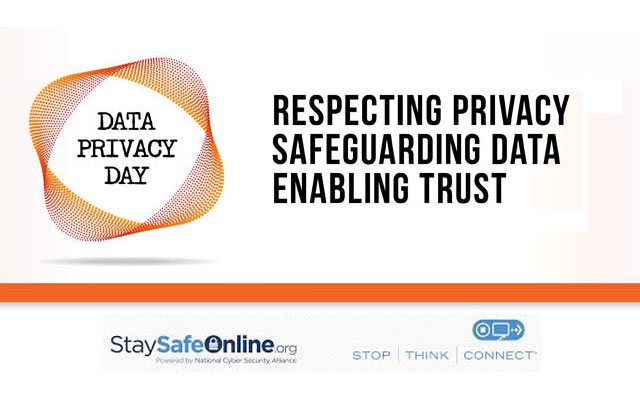 Jan. 28 marks the 8th annual Data Privacy Day, an international effort centered on "Respecting Privacy, Safeguarding Data and Enabling Trust."
Data Privacy Day's goals are to:
Raise awareness and educate consumers to better understand how their personal information may be collected, and the benefits and risks of sharing personal data.
Empower consumers to express their expectations for the use, protection and management of their personal data.
Inspire consumers through concrete, simple and actionable tips to more actively manage their online lives.
Encourage and motivate consumers to consider the privacy implications of their online actions for themselves and others.
Encourage businesses to be data stewards by being open and honest about how they collect, use and share personal information and clearly communicating any available privacy and security controls.
In the expanding online and digitally connected world, privacy is gaining more and more attention. While the average American consumer is beginning to understand the far-reaching value of their personal information, consumers also continue to express concerns about their privacy online. In 2013, the National Cyber Security Alliance convened a Privacy Messaging Development Committee comprised of 35-plus members from civil-society, nonprofits, government and industry. PMDC created research-based tips to encourage and motivate consumers to consider the privacy implications of their online actions for themselves and others, and we recently completed and released these tips, which are available on the Data Privacy Day page.
Check out some of the ways you can get involved this DPD and all month long:
Become a Champion. Have your organization show its support of Data Privacy Day by becoming an official DPD Champion. Many colleges and universities have already done so. It's free and only takes a minute to sign up.
Share privacy resources. Print privacy tip sheets to display around the home computer or office and other public gathering places like libraries and community centers.
Discuss privacy with your family. Have a privacy talk with your family, reminding everyone not to overshare personal information online. Discuss other tips for using mobile devices and social networks responsibly. Use Data Privacy Day resources to guide the conversation.
I encourage you to check out and share our new privacy tips, our Privacy Tips for 2015 infographic and our Privacy is Good for Business infographic and learn how you can update your privacy settings on your online accounts. Follow the #DPD15 hashtag on social media to stay up to date on upcoming privacy events and information.
Verizon is an NCSA board member company and has been a great partner in our efforts to promote a safer, more secure and more trusted Internet. Thank you for supporting NCSA and helping raise awareness of the importance of data protection and stewardship. We look forward to celebrating DPD with you this year and for years to come.