Full Transparency
Our editorial transparency tool uses blockchain technology to permanently log all changes made to official releases after publication. However, this post is not an official release and therefore not tracked. Visit our learn more for more information.
In this multi-part series, we've asked young inventors under the age of 21 to tell their stories of what inspired them to start creating, how they found success and what they hope for the future.
Who: Ritha Burgos, 17, from Astoria, Queens, NY
My innovation: I was part of a team at The Young Women's Leadership School of Queens that programmed and choreographed The Digital Dance, in which students created a performance by combining dance, coding, graphic design, animation and film.
My origin story: Our class wanted to show that there's a gender gap of girls in STEM. We also wanted to collaborate between groups that have different passion points. In particular, we saw that dancers at the school like me don't get much exposure to technology. This performance allowed dancers to see what can be done with programming.
I'm in coding class but more excited about dance. When I was offered a position as a lead dancer in this digital project, I knew it would allow me to learn about technology in ways I can use in my career. Technology is a growing profession and we wanted everyone involved in the production and the audience to experience its creative potential. About 50 students — from our school's technology class, multicultural club and dance program — worked together to create The Digital Dance.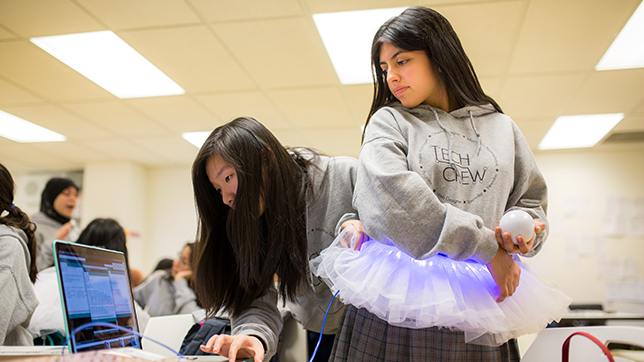 Dancers wore skirts with programmable LED lights that reacted to music and movements.
Bringing the idea to life: The performance was part of a two-week intensive program The Young Women's Leadership School does every year. For two weeks, we stopped all of our classes and just focused on this project for eight hours a day.
First we started with a story, which began as a girl waking up into a digital world and finding new pieces of technology as she continued dancing. We decided to incorporate the Sphero, which is a programmable robot shaped like a ball. The main dancer took the sphere to different cultures. At our school, we have people with 66 different cultures, and we wanted to represent that diversity in The Digital Dance. International styles such as salsa, ballet and Bollywood were all included.
Since the Spheros and dancers are moving simultaneously, we had to choreograph the dancers and program the robots to move in sync. That took a lot of practice and adjustment and reprogramming. If the dancers made a wrong step or the Spheros didn't move correctly, the students could trip over or bump into the robots. The dancers and programmers needed to work together because we needed to know if the coders could smoothly incorporate the Spheros into the dancers' moves.
The dancers also wore skirts with programmable LED lights that reacted to the music and movements. Graphic designers made projected backdrops for the stage. Shadows on the background enhanced the live dancers. We also had light-up boxes that were part of the stage props.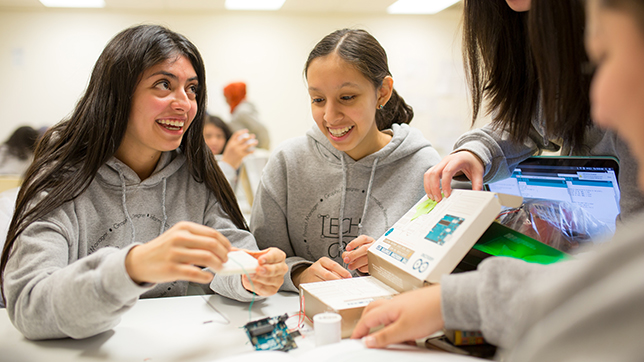 Ritha Burgos wanted to show that there's a gender gap of girls in STEM, so she helped design a performance by combining dance, coding, graphic design, animation and film.
At first we had just one simple idea, but as things progressed we came up with new ideas and ways to exhibit everyone's skills. We performed the dance five times, and whenever we did it in a new space, the robots needed to be reprogrammed.
What I'm doing now: I'm a senior and looking at colleges. The Digital Dance helped me decide on a major. I want to do media and arts management, which includes a lot of technology.
We need more: School programs like the Digital Dance that introduce technology to students who aren't aware of its possibilities.
Why we need more:  Such innovative programs allow students to see what can be done with technology, offering them new creative tools and career opportunities.
Read more essays by young inventors
Learn more about how the Verizon Foundations supports them through Verizon Innovative Learning