V Teamer Adebola Taiwo is making an impact
Helping students pursue their college dreams.
Full Transparency
More of our content is being permanently logged via blockchain technology starting [10.23.2020].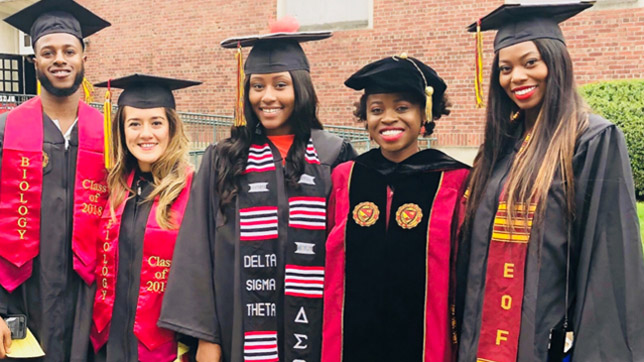 V Teamer Adebola Taiwo's parents instilled in her and her siblings the importance of education to their success. As a graduate of Bloomfield College and currently a Financial Planning Analyst for Verizon, her career path wasn't easy. Adebola postponed her studies twice since she was unable to afford tuition, but she was still determined to finish. By 2009, she graduated with a degree in accounting with the help of an admissions counselor who secured two last minute scholarships that kept her enrolled.
Adebola wanted to share her inspirational story as a way to assist aspiring students, especially those unable to afford tuition to pursue their higher education dreams. Shortly after graduating, she funded a $1,000 scholarship that was awarded to a student in need. From that first act of kindness, the scholarship has grown through the support of Bloomfield College and matching grants from the Verizon Foundation. The foundation works to support the communities we serve through our employees' passion to give back.
"I am devoted to charity and get great satisfaction seeing others progress," says Adebola. "I feel I'm making an impact. I have a passion to help others as a mentor, financial supporter and advocate for disadvantaged students. I'm grateful for the support the Foundation has given me.
Today she has awarded over 30 scholarships to deserving students, devotes countless hours each week as a mentor, serves on the Bloomfield College Board of Trustees, chairs its Student Affairs Committee and works with the Alumni Association. As the Chair of the Student Affairs Committee, she learned that some students were forced to face homelessness once each semester ended. That prompted her to initiate a support program with the help of the college that allowed homeless students to continue living in the dorms over the summer. Through her efforts, she created a food distribution program and has helped transitioning students seek permanent housing after graduation.
As a mentor, Adebola shares this advice, "Keep your grades high, get some type of work experience, join professional organizations and seek out mentors and sponsors." Her most impactful advice to students, "Always give back. Change the world. If you want things to be different you can be the person who makes it change.
Learn more about making an impact at Verizon.