Verizon customers make up 60% of Super Bowl LVII attendees
Game day data usage spikes 57% over 2022
Full Transparency
No Updates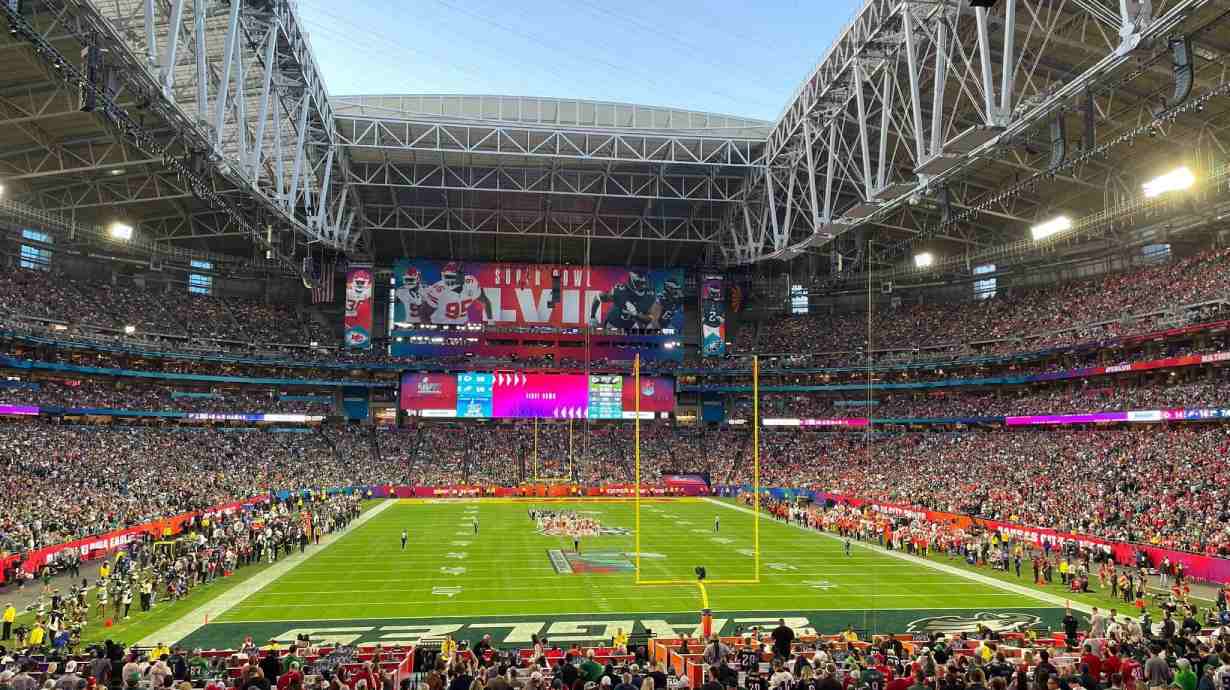 NEW YORK – Verizon customers shared the championship game's biggest moments, consuming a record amount of data on Verizon's network in and around State Farm Stadium in Glendale, Arizona.
Game day facts
60% of the 67,827 attendees used Verizon's wireless network, equivalent to the 2022 game.

On game day, Verizon fans used 47.8TB of data in and around the stadium, the equivalent of a single user binge watching HD video for more than three years.

The data usage by Verizon customers was up 57% over the 30.4TB used at Super Bowl LVI in 2022.

The biggest spikes of wireless data usage occurred during:

The halftime show

At kickoff with fans streaming video and web browsing

Verizon customers benefited from super-fast speeds in the stadium1:

Peak: Download speed 4,200Mbps, Upload speed 324Mbps

Median: Download speed 2,300Mbps, Upload speed 71Mbps

Verizon's team of 100 engineers, nearly 2X the size of an NFL team roster, staffed Verizon's Network Command Center 24x7 to help ensure a reliable network experience for fans, first responders and public safety teams.
"Verizon customers shared their in-game experiences like never before," said Phillip French, Vice President of Network Engineering for Verizon. "The record amounts of data shared, with super-fast speeds, was made possible by the work of our engineers and technicians who worked to ensure our customers had the best possible network experience while at the game."
Verizon invested more than $100 million in network upgrades and enhancements in and around State Farm Stadium and the greater Phoenix area over the last few years in preparation for Super Bowl LVII and to support the community for years to come. Phoenix residents, tourists, public safety agencies and businesses throughout the Valley area will benefit from Verizon's network investments long after the clock runs out on Super Bowl LVII.
In 2022, Verizon deployed 5G Ultra Wideband in many parts of the greater Phoenix area, adding coverage and capacity to serve customers throughout the Valley and neighboring cities like Tempe, Chandler and Scottsdale. In addition to enhancing mobile service, these network upgrades  enabled Verizon to offer wireless home and business internet to the area, providing customers with additional choices for fixed broadband service.
Throughout State Farm Stadium, Verizon's customers were served with a sophisticated, state of the art in-building network, enabling game-changing performance for fans to capture and share every important moment of the game when connected. In total, there are 490 5G nodes in the stadium, 1400 4G and 5G antennas under the seats throughout the stadium and eight MatSing balls, including four above the 50 yard line and four in the end zone. Additionally, around the stadium and in the Westgate Entertainment District across from the stadium, there are 90 4G nodes and 180 5G nodes for additional coverage and capacity. Read more about all of Verizon's enhancements in State Farm Stadium and the surrounding Phoenix area.
---
1 Measurement results are based on umlaut testing of 260 to 270 samples per network operator during the actual game including half time show.