Verizon to deliver Virtual Network Services to support digital transformation of enterprises
Media contact(s)
Nilesh Pritam
659-277-9048
Full Transparency
Our editorial transparency tool uses blockchain technology to permanently log all changes made to official releases after publication.
More of our content is being permanently logged via blockchain technology starting [10.23.2020].
NEW YORK – Delivering on its Software Defined Networking and Network Functions Virtualization strategy, Verizon Enterprise Solutions is launching Virtual Network Services that will enable enterprises to transition to a virtual infrastructure model, providing greater agility and on-demand resources.
Available immediately around the globe, the new services will be delivered as-a-service fundamentally transforming the network into software-based solutions running on open platforms—a significant departure from how network services are provisioned and consumed today. Driving this change is digitization of business, IP communications, Internet video, and mobile to cloud.
Verizon's Virtual Network Services will enable clients to essentially operate a "living" network that can be changed quickly to address the number of company locations and users, bandwidth required by application, and application use by employee to enable a secure, high performance and efficient network.
The new services will provide a range of business and technical benefits to enterprises including:
Business
Agility: Improved time to market through reduced hardware deployment and rapid software provisioning.
Reduction in total cost of ownership: On-demand, flexible pay-as-you-go pricing model along with reduced hardware requirements.
End-to-end management: Fully automated and managed orchestration platform to enable Virtual Network Function (VNF) service chains (a range of services deployed simultaneously using the same platform) via a Web portal with point-and-click simplicity.
Flexible service tiers: Features and functionality consumed as needed.
Technical
Flexibility: Multiple network functions/vendors supported on same platform/universal customer premise equipment.
Dynamic scaling: Capacity to meet the needs of businesses with hundreds or thousands of locations.
Rich technology partner ecosystem with world-class vendors: Initial service release includes Cisco, Juniper Networks, Fortinet, Riverbed, Palo Alto Networks, and Viptela.
Rapid and easy service deployment: Use of self-service portals to rapidly enable the order and deployment process.
"The way in which network services are delivered is going through an unprecedented shift—the biggest we've seen since the broad adoption of MPLS," said Shawn Hakl, vice president of networking and innovation, Verizon. "Today the network is transitioning to a virtualized model using similar technology that drove the disruption in the data center market. With our new solution set, enterprises will be able to balance agility, performance, cost and security necessitated by the growth of mobile-to-cloud applications and the Internet of Things."
Traditional networks no longer offer businesses the agility required to successfully compete
Traditional networks worked well when market demands on enterprises were less dynamic, but businesses today have to be more innovative and agile. Yesterday's networks have become increasingly more complex and operationally difficult to manage over time. Most don't allow applications to scale as quickly as required which can lead to lengthy and painful deployment cycles.
In addition, today's networks need to work harder to keep up with increased bandwidth demands. In fact, industry analyst firm IDC predicts digital transformation will drive connectivity levels 50 percent higher across all industrial sectors in 2016 alone*.
Virtualized networks are ideal for enterprises with distributed organizations with multiple remote locations; aging networks requiring a hardware refresh; restricted or decreased capital expense budgets and early technology adopters looking for new innovative ways to propel their business.
"Virtualized services are the way of the future," said Nav Chander, IDC Research Manager, Enterprise Telecom. "As a global networking leader, Verizon is out front with its global launch of Virtual Network Services. Their vision, strategy and service deployment are right on point. I expect others in the industry to follow suit."
Verizon to offer three deployment models for virtualized services
Verizon will offer three models to clients for deploying virtualized services including: premises-based universal customer premises equipment (CPE), cloud-based virtual CPE services (available Fall 2016) and hybrid services where clients can mix premises-based and cloud-based deployment models to meet their individual business and technical requirements.
Verizon's initial Virtual Network Service packages are: Security, WAN Optimization, and SD WAN services, and include: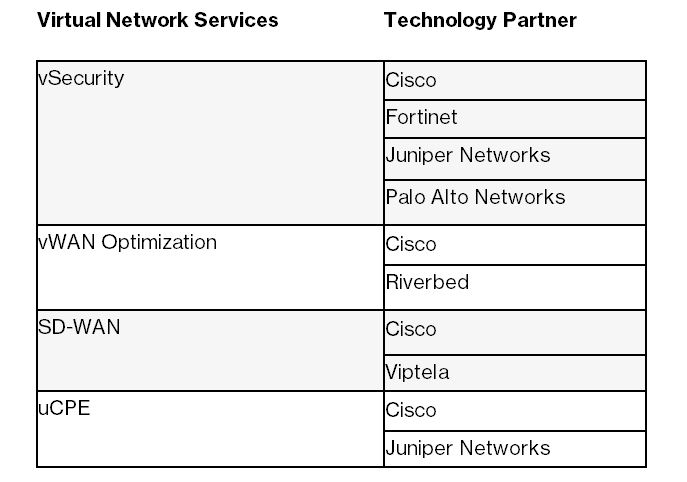 Verizon's new services can be delivered across public, private and wireless networks from Verizon or other service providers, or a combination of multiple providers across multiple networks.
To help clients plan for and deploy Virtual Network Services, Verizon's professional services staff can help clients with a networking assessment and networking design for their implementation.
For more information, visit here.
* IDC: Digital Transformation Obstacles and How to Overcome Them, July, 2016
Technology Partner Quotes
Yvette Kanouff, senior vice president and general manager of Cisco's Service Provider Business: "Innovative service providers such as Verizon are leveraging technology to virtualize, automate, secure and scale their networks to meet growing customer demand and drive profitable business outcomes. We are very pleased to partner with Verizon on its Virtual Network Service offering.  We believe our open network architecture delivers a unified approach to network virtualization, automation and orchestration—and ultimately helps Verizon continue to lead in creating new opportunities for their clients."
Matt Pley, vice president, Carrier & Service Providers, Fortinet: "From IoT to cloud environments, the enterprise network continues to evolve as customers transition to digital businesses requiring security that can adapt and scale on-demand. As part of Verizon's Virtual Network Services, the Fortinet Security Fabric will provide enterprises with open, adaptive virtual security and actionable threat intelligence, turning network protection into a driver of business insight and agility."
Jonathan Davidson, executive vice president and general manager, Juniper Networks Development and Innovation: "As one of the first networking vendors to embrace software disaggregation, Juniper Networks is excited to support Verizon on its quest to help enterprise customers capitalize on transitioning to a virtual infrastructure model. The industry has seen the benefits of virtualization and how it has changed the way we consume and provision services; this agility is now available to enterprise customers through managed service offerings, enabling them to fully experience the advantages of the cloud with fewer complexities.  Juniper's proven reputation for delivering open platforms for SDN and NFV is evident and we're proud that Verizon has selected our Cloud CPE solution as the foundational platform for Virtual Network Services when deployed at the edge, while also offering our industry-leading virtual security and routing functions as options that provide Verizon's enterprise customers with the ability to run secure, high performance and efficient virtualized networks that can handle business-critical services and operations."
Terry Ramos, vice president, Business Development, Palo Alto Networks: "We are pleased to support Verizon's initiative to deliver best-in-class virtualized network services. The integration of Palo Alto Networks Next-Generation Security Platform with Verizon Virtual Network Services will enable customers to adopt a breach prevention-oriented approach to cybersecurity via flexible and automated software solutions delivered by Verizon."
Phil Harris, chief strategy officer, Riverbed Technology: "As a leading global service provider, Verizon is on the forefront of delivering the next generation of communication, Internet and cloud-based services to their clients. Deploying these services across advanced NFV-based infrastructures is the key to the scalability and agility demands of Verizon's digital enterprise customers. Riverbed is deeply invested in the migration toward digital services with our portfolio of visibility, optimization and control technologies. We're tremendously excited about the strategic partnership we have developed with Verizon and how we are continuing to extend this alliance with the deployment of the SteelHead as a key capability within Verizon's Virtual Network Services platform."
Amir Khan, chief executive officer, Viptela: "Viptela's joint deployments with Verizon in Fortune 500 companies has helped us establish a leadership position in the emerging SD-WAN space and penetrate global markets. Our platform's ability to seamlessly integrate with Verizon's existing networks and infrastructure is enabling large global enterprises to cost-effectively add bandwidth and more easily integrate cloud, mobile and virtualization technologies into their IT environments."