Verizon Earns Top 100 Spot in 2013 InformationWeek 500
Verizon Earns Top 100 Spot in 2013 InformationWeek 500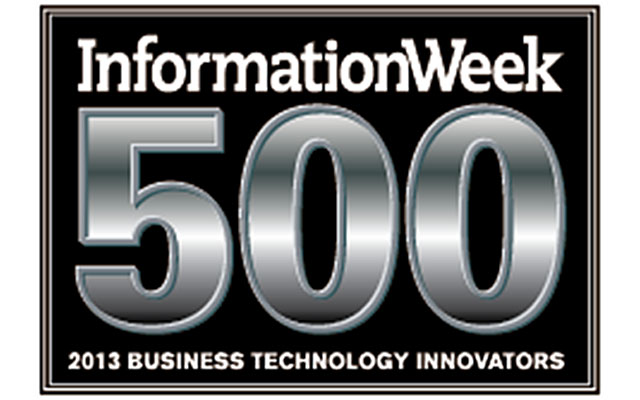 NEW YORK – For the 17th year, Verizon has been named to the InformationWeek 500, a list that honors the top technology innovators in the U.S. Recognized in the list's top 100 for innovative information-technology work, Verizon earned its spot for the company's Tech Tablet project. It uses mobile tools to enhance the ability of Verizon field technicians to provide a world-class service experience for the company's residential and business customers.
"Our IT team is focused on driving shareholder value by delivering innovative business solutions that produce a superior customer experience," said Roger Gurnani, chief information officer for Verizon. "We're honored to be recognized once again as an innovative technology leader."
The Tech Tablet is a 10-inch, rugged tablet that equips Verizon field technicians with state-of-the-art technology to provide customers with powerful answers. The mobile device leverages the Verizon 4G LTE network to deliver enhanced functionality including a comprehensive customer-specific view of historical transactions, a graphical view of the customer's in-home network, product demonstrations and on-site ordering.
Bob Mudge, president of Verizon consumer and mass business markets, said: "This new work tool is the result of technicians, front-line managers and fantastic IT partners collaborating to deliver an even greater customer experience. Putting at the technician's fingertips all the information needed for a job makes every customer-visit seamless."   
The companies on this year's list were announced at an awards ceremony at the 2013 InformationWeek Conference and Awards Gala, Sept. 8-10, at the Montelucia Resort & Spa in Scottsdale, Ariz.
"The theme of this year's InformationWeek 500 is digital business. It's a movement, rooted in data analytics, mobile computing, social networking and other customer‐focused technologies that are turning companies and industries on their ear," said InformationWeek Editor-in-Chief Rob Preston. 'Every enterprise is now a digital business -- or needs to become one fast. The companies in our ranking are leading the way."
Visit Verizon's website for more information about Verizon's recognition and awards.
Verizon Communications Inc. (NYSE, Nasdaq: VZ), headquartered in New York, is a global leader in delivering broadband and other wireless and wireline communications services to consumer, business, government and wholesale customers. Verizon Wireless operates America's most reliable wireless network, with more than 100 million retail connections nationwide. Verizon also provides converged communications, information and entertainment services over America's most advanced fiber-optic network, and delivers integrated business solutions to customers in more than 150 countries. A Dow 30 company with nearly $116 billion in 2012 revenues, Verizon employs a diverse workforce of 180,900.  For more information, visit about.verizon.com.
####