Verizon extends partnership with MetLife Stadium, New York Jets, New York Giants
Renewal includes major Verizon network upgrade for MetLife Stadium
Full Transparency
No Updates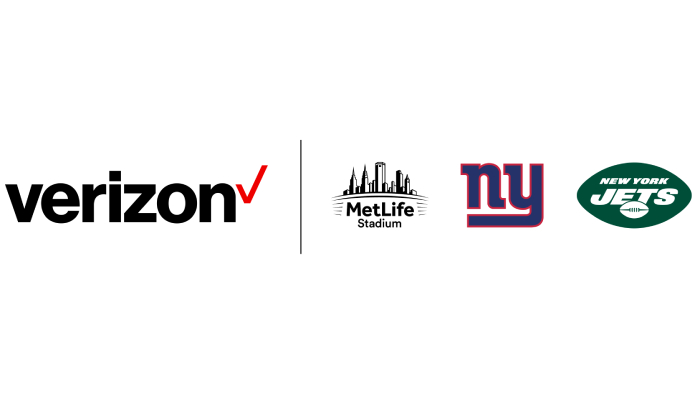 EAST RUTHERFORD, NJ – Today, Verizon announced a deal with MetLife Stadium, home of the New York Jets and New York Giants, to provide major network upgrades for 2024 and beyond to accommodate the exponential increase in data customers use during stadium events held throughout the year. Additionally, Verizon is extending their long-term cornerstone partnership with the Giants, Jets, and MetLife Stadium.
"As technology evolves, customers want to do more with their wireless technology at games, concerts and other events," said Lynn Cox, SVP of Access Engineering and Operations for Verizon. "When large crowds of people gather in a place like a football stadium, network resources can be strained. So we are very intentional about upgrading technology and infrastructure in places like MetLife Stadium to accommodate our customers' needs."
MetLife Stadium is having its busiest summer ever with over 1.2 million guests and a record 18 concerts. The excitement continues as the Stadium heads into the NFL season with back-to-back national night games – Giants-Cowboys on Sunday Night Football, Sept. 10 and Jets-Bills on Monday Night Football, Sept. 11.
"Creating a memorable, positive experience for everyone who comes to MetLife Stadium is a critical part of our mission," said Ron VanDeVeen, President and CEO of MetLife Stadium. "Verizon was a founding Cornerstone partner when the stadium opened in 2010 and we are excited to extend and expand on that partnership with this renewal. The Verizon upgrades will enhance the overall fan experience and our stadium operations, and are integral to attracting future major events such as FIFA World Cup 26™."
The unprecedented investment and network improvements at MetLife Stadium will be anchored by Verizon's new Distributed Antenna System (DAS), a wireless network of antennas throughout the stadium allowing for better performance and greater capacity to accommodate fans' needs.
The new DAS system will provide 4G LTE service and 5G Ultra Wideband service using Verizon's C-band spectrum designed for high capacity and wide coverage in addition to the 5G service it already offers in the stadium using its premium millimeter wave spectrum. It will cover the field, bowl, concourse (including the four gate entrances), all clubs/suites, and the ticketing areas. As part of the new design, engineers are also adding a performance enhancement technology that divides crowds into sectors like pieces of a pie. Each sector can be adjusted individually to handle wireless traffic. This technology gives Verizon engineers more leeway to adjust performance based on where customers move and how they use data inside the stadium.
With these network enhancements, customers will be able to do many more things on their mobile phones during games and events. From sharing their experience in the stadium to using their phones for getting refreshments, navigating the stadium, participating in fan experiences like sports betting, fantasy leagues and looking up players' stats, gaining entrance to the stadium and more, customers need a robust and reliable experience. That exponential increase in data carried into and out of the stadium will require upgraded fiber optic cable links. Fiber optic cables are used to connect the stadium to the rest of the network. Verizon is also increasing the capacity on the fiber connections in and out of MetLife so they can carry 10 times the amount of data.
NFL Sunday Ticket on Verizon
Verizon's long standing partnership with the NFL is only getting stronger, from delivering the best in-stadium fan experiences with our 5G Network to transforming on-the-field coach-to-coach communications. Now, Verizon is the only wireless carrier giving customers a limited time, exclusive "on us" promotion with an eligible phone purchase and Unlimited Plus plan, for every out-of-market Sunday afternoon game on YouTube and YouTube TV this season – that's up to $449 in savings. New Verizon mobile and home internet customers can qualify for NFL Sunday Ticket1 from YouTube and YouTube TV – the League's subscription package that includes out-of-market Sunday afternoon regular-season NFL games (based on viewer's location) broadcast on FOX and CBS – on us.
---
1. NFL Sunday Ticket: Limited time only. Requires activation of 5G Home Plus or LTE Home Plus, or installation of Fios 1 Gig/Fios 2 Gig plan. Must activate eligible Verizon service and redeem offer w/in 60 days (beginning 8.11.23 via Verizon +play for 5G Home/LTE Home only) of purchase of eligible 5G Home/LTE Home service, or installation of Fios 1 Gig/Fios 2 Gig plan, or by no later than 12.13.23, whichever is first. Verizon reserves the right to charge back the value of the annual subscription if service is canceled before 2.29.24 or eligibility req's are no longer met. Cannot be combined with an existing NFL Sunday Ticket subscription. Up to $449 value applies to NFL Sunday Ticket season '23-'24 only. For Fios customers, after promo period ends, NFL Sunday Ticket subscription will auto-renew at the then current seasonal price unless you cancel; cancel any time. Offer available in the United States plus DC. NFL Sunday Ticket requires a Google account, a current form of payment, is only available where YouTube and YouTube TV are both available, and may be viewed on YouTube Primetime Channels and YouTube TV. Optional YouTube TV base plan subscription is not included with offer. One offer per eligible Verizon Account. Terms and embargoes apply. No refunds. Locally broadcast Fox and CBS games, Sunday Night Football on NBC, select digital-only games and international games excluded from NFL Sunday Ticket. Terms for YouTube Paid Service, NFL Sunday Ticket on YouTube, and YouTube Primetime Channels apply: https://www.youtube.com/t/terms_paidservice