Verizon MERIT hazmat team on standby to ensure network readiness in emergency situations
Team members are ready to respond with equipment and expertise in cases of hazardous material breaches during hurricanes, wildfires, train derailments, and airplane accidents
Full Transparency
More of our content is being permanently logged via blockchain technology starting [10.23.2020].
LITTLE ROCK, AR. – A specialized team of Verizon engineers called MERIT -- Major Emergency Response Incident Team – has just completed their annual training to ensure they are ready to deploy when necessary to protect Verizon's network assets and facilities during natural disasters or hazardous materials incidents. With the hurricane season in full swing, volcano eruptions, summer forest fires, and frequent events nationwide including train derailments and industrial fires striking, Verizon's MERIT team is prepared to keep people connected when they need it most.
"We understand that reliable communication is never more important than during an emergency when individuals need to reach critical resources and loved ones and when first responders need to communicate with one another quickly and consistently," said Kyle Malady, Chief Network Operations Officer. "As part of our emergency preparation and planning, we recognized the need for a specialty team, and so we created the communication industry's first hazmat team."
Founded in 1992, The Verizon MERIT team is comprised of over 30 technically skilled communications employees who are specially trained and certified to enter an area affected by a hazardous materials spill and complete critical network repairs. The members of Verizon's MERIT team have a wide variety of capabilities, including expertise in wireless and wireline telecommunications network equipment such as fiber optic cables, switches, routers, hubs, transmission equipment, customer premise equipment, wireless mobile assets, radio networks, and critical infrastructure such as AC/DC power, generators, and HVAC (heating, ventilation and air conditioning) systems.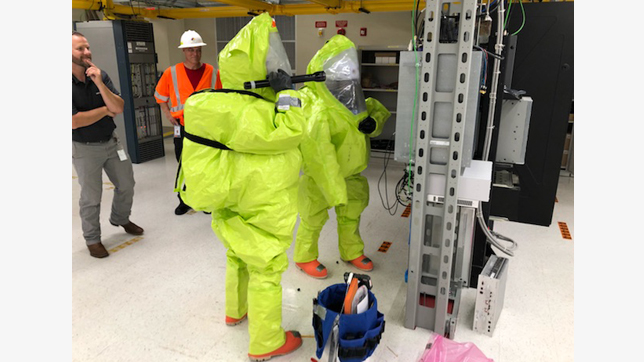 MERIT team members complete their annual training and are ready to protect Verizon's network assets and facilities during natural disasters or hazardous materials incidents.
Ongoing training keeps them safe and helps them get the job done
The team has been trained under Occupational Safety and Health Administration (OSHA) and National Fire Protection Association (NFPA) guidelines, the same certification guidelines used by major fire department hazardous materials teams in the U.S. MERIT team members, who are also trained in emergency response management, are qualified to operate at the highest operational protection level (Level A), which allows them to enter a contaminated zone, wearing fully encapsulated hazmat suits. The team uses multiple tools to detect more than 30 chemicals, biological and radiological containments.
An initial 80-hour training class and approximately 100 hours of annual refresher training are required by all MERIT members. All team members are trained in the Unified Incident Command System and receive annual physical exams. The team recently completed mandatory annual recertification training in Little Rock, AR.
"During all deployments, our top priority is safety," said Mike Cochran, Verizon MERIT manager. "We know we have a serious job to do to repair the network or enter a technical facility, and we take pride in getting that done for our customers. However, before we act on any operational needs we ensure the job can be completed safely."
MERIT team is equipped for success
As a self-contained hazmat team, MERIT participants bring all necessary tools and equipment to the emergency scene with them. Team members have custom-designed transport and support vehicles that are fully loaded and ready to deploy immediately. Additionally, the MERIT team has an onsite, climate-controlled mobile command center with workspaces, a conference room, communications equipment, TV monitors, external cameras, an on-board generator, area lighting and a weather station. The team also has hazmat equipment trucks with hazmat gear, communication equipment and an on-board generator, as well as a utility truck with remote camera systems, a breathing air compressor, and additional communications equipment.
"Whether it's building our network to withstand extreme weather conditions, running regular drills with our Crisis Response Teams, or ensuring our MERIT team is trained and ready to respond at a moment's notice, Verizon is ready to support our customers and first responders in any emergency scenario," said Malady.