Verizon response continues on Maui
Talk/Text/Data usage incurred from August 10 - 31 will be waived for Verizon customers on Maui; Verizon voice coverage restored in West Maui
Full Transparency
No Updates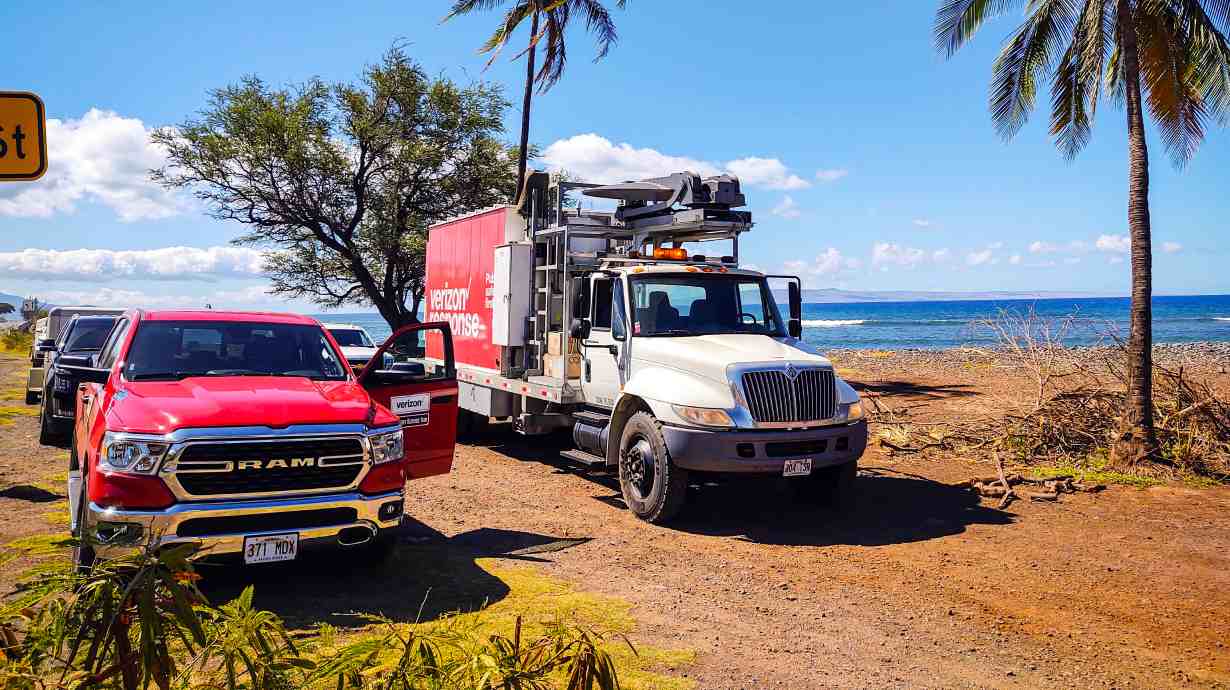 For media: we have b-roll, pictures and additional information on our emergency response equipment available at our Media Resources Center - https://www.verizon.com/about/news/media-resources
What you need to know:
Verizon extends unlimited call/text/data offer for Maui customers to August 31

Voice coverage has been restored in West Maui

Device charging stations have been set up at four evacuation shelters
HONOLULU, HI - With its ongoing response to the wildfires, Verizon is focused on helping customers connect with loved ones as they begin the long road to recovery.
Customer relief:
Verizon has extended its unlimited calling, texting and data offer for prepaid and postpaid customers who live on Maui from August 10-31, 2023. This will bring relief to the thousands of consumer and small business customers* who rely on their mobile devices now more than ever.
This includes all prepaid and postpaid consumer and small business customers with Maui billing addresses.
Verizon-owned prepaid brands including Straight Talk, Tracfone, Total by Verizon, Simple Mobile, Safelink, Walmart Family Mobile, Net10, GoSmart, and Page Plus announced that customers with Maui zip codes will have their service extended by one week, if their expiration date falls between 8/14 - 8/27.
Verizon is providing free device charging and bottled water to customers of any carrier at the Pu`unene retail store located at 80 Ho`okele Street, Suite 440, Kahului, HI 96732. Verizon representatives are available to help you with your mobile technology needs - particularly during this difficult time. To find a retail store near you, please visit: https://www.verizonwireless.com/stores/.
Network Update: 
Verizon voice coverage has been restored to West Maui, however, data service remains limited. Verizon continues to deploy satellite assets to existing cell sites in order to provide improved coverage and data capacity on the network.
The Verizon network team and their vendors have worked around the clock since the fires broke out to mobilize and activate emergency assets from Oahu and the mainland to Western Maui. Verizon deployed a COLT (Cell on Light Truck) in Lahaina on August 12 to replace coverage for the infrastructure damaged in the fires. In addition, the fiber optic cable that transports voice and data traffic from cell sites to the rest of the network was damaged by the fire. To replace the fiber transport, Verizon is utilizing a fleet of STEERs (Satellite Trailer Emitting Equipment Remote) to handle voice and data traffic moving to and from its existing sites outside of the fire zone in Western Maui. Restoring service to the existing cell sites with satellite backhaul re-enables full coverage, giving Verizon customers a better experience on the network.
While Verizon works to fully restore the network, there may be inconsistent and partial restoration of network coverage. Verizon recommends using text and call and to avoid data-heavy applications. 
For previous network updates, please see the August 14 news release.
Community assistance:
Verizon is providing free wireless device charging at the following American Red Cross shelters to assist shelter clients with their charging needs:
Mayor Hannibal Tavares Community Center, 91 Pukalani St, Makawao, HI 96768

War Memorial Stadium, 700 Halia Nakoa St, Wailuku, HI 96793

South Maui Community Park Gymnasium, 1501 Liloa Dr. Kihei, Maui, HI 96753

King's Cathedral Maui 777 Maui Veterans Hwy, Kahului, HI 96732
How you can help:
Text WILDFIRES to 52000 to make a one-time $10 donation to The Salvation Army

Text HAWAII to 90999 to make a one-time $10 donation to the American Red Cross
Supporting our First Responders:
The Verizon Frontline Crisis Response Team continues to provide mission-critical communications support to public safety agencies conducting emergency response operations in Maui at no cost to the supported agencies.
The team remains on site supporting federal, state and local emergency management teams and is coordinating communication needs and efforts with multiple public safety agencies operating in the region. The Verizon Frontline Crisis Response Team has deployed nearly 90 Verizon Frontline solutions including portable satellite assets, smartphones, routers, mobile hotspots and more in support of first responders operating in the region.
The Verizon Frontline Crisis Response Team provides on-demand, emergency assistance during crisis situations to government agencies and emergency responders on a 24/7 basis.
First responder customers with wireless priority service should utilize *272 when placing calls.
---
*Verizon small business customers include customers with 50 lines or less.