Leveling the playing field: Verizon and Riot Games host event for women in esports
Full Transparency
No Updates
Since partnering with Riot Games in 2020, Verizon has maintained a long-standing commitment to addressing barriers in diversity and representation within the gaming industry. This month, Verizon and Riot Games hosted the Verizon VALORANT Champions Tour (VCT) Game Changers Event, "Change The Game: Leveling Up Your Career In Esports," a live career panel and event celebrating women in esports at the Verizon 5G Lab in Los Angeles on November 4, 2022.
What is Verizon VCT Game Changers? Launched in 2021 in collaboration with Riot Games, the first-ever Verizon VCT Game Changers tournament took place, featuring 32 top women VALORANT teams competing for glory and a chance to win $50,000. The initiative has since expanded to provide mentorship to the next generation of women in the esports and gaming industry and provide them with tools, insights, and opportunities to grow their careers.
"For the next generation, working in video games and esports almost seems like a dream and it's important to let whoever is passionate about elevating this space know that there can be a spot for them at Riot, or wherever they hope to end up if they're persistent," says REL Hunt, Panelist and Marketing Creative Director at Riot Games. "It may not even present itself in a traditional way, and you may not come from what you believe to be a traditional background or education, but whether it be in design, marketing, or accounting, there is an avenue for anyone to come and contribute to this space that is revolutionizing the world around it."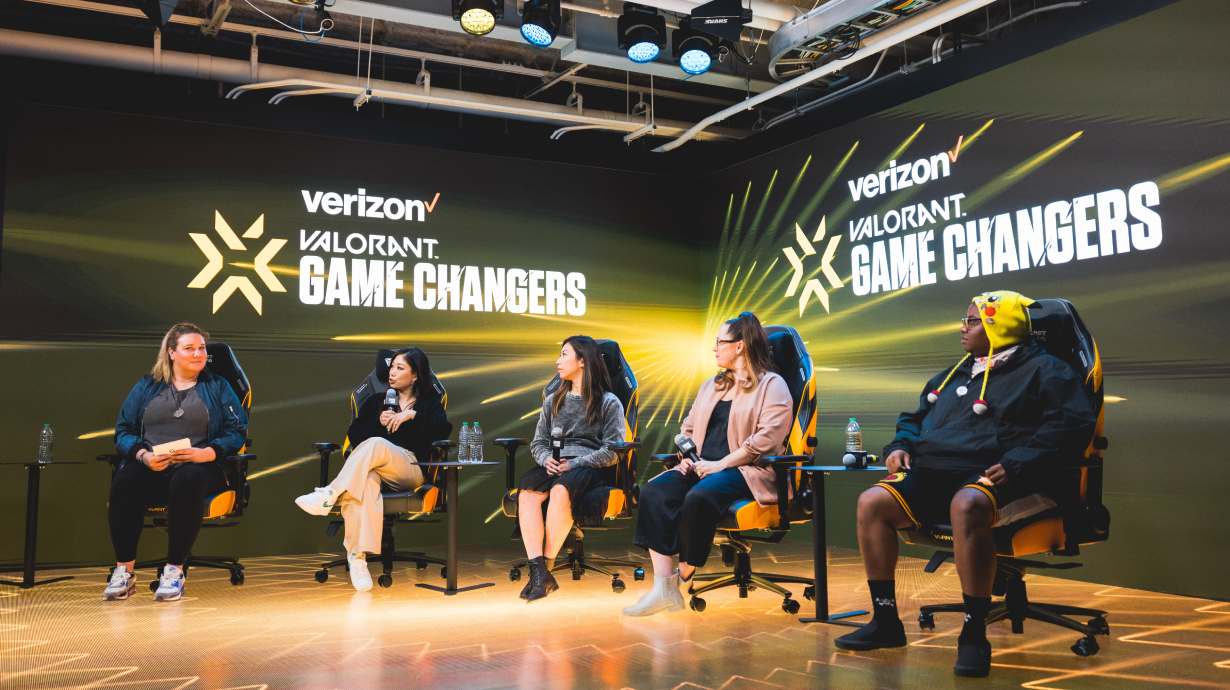 Photo by Shannon Cottrell and Tina Jo, courtesy of Riot Games
Though the number of female gamers across the globe continues to rise, the barriers to representation in esports remain prevalent. According to a recent study by Momentum Worldwide, 62% of female esports fans did not believe esports brands market to them. Another study conducted by Forbes found that at the top 14 global gaming companies, 84% of executive positions were held by men, and outside of the executive rank, only 24% of those working in the industry are women.
"If people are open to the change and want to be a part of the world we're all trying to build here - let's help them," said Jessica Hammond, Chief Culture Officer at Evil Geniuses, during the live panel.
The event featured leaders from top gaming organizations Evil Geniuses, Raidiant and Riot Games, who have dedicated their work to creating more inclusive career opportunities within the world of esports. Following the live panel, audience members and streamers participated in a brief raffle for a chance to win swag and engaged in an afterparty event where attendees had the opportunity to network with the panelists and other notable members of the gaming industry.
To hear more from the panelists and learn more about career opportunities in esports, check out the Valorant Twitch and YouTube channels.