Check and monitor your data usage.
We offer 5 ways to monitor and manage your voice, messaging and data usage.
Full Transparency
Our editorial transparency tool uses blockchain technology to permanently log all changes made to official releases after publication. However, this post is not an official release and therefore not tracked. Visit our learn more for more information.
More of our content is being permanently logged via blockchain technology starting [10.23.2020].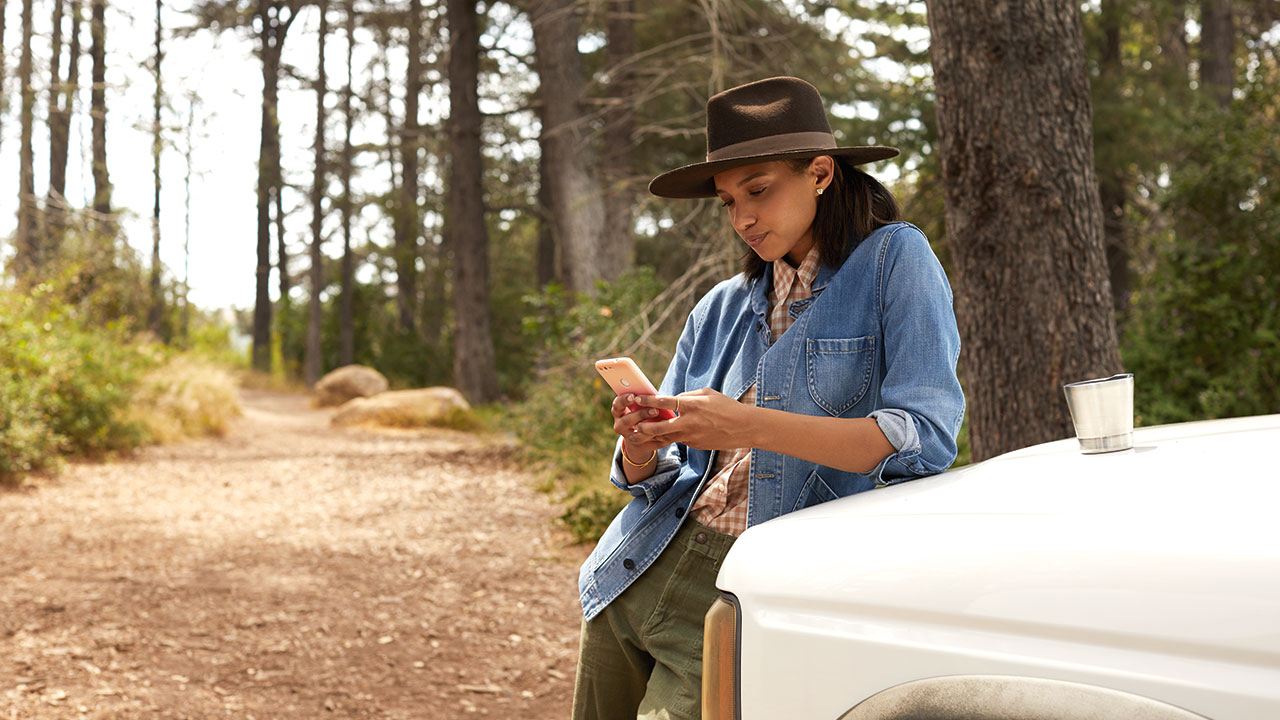 Some things are hard to keep track of. Like your cousin's birthday, or where you left your keys. Other things, like your wireless data usage, should be easy keep track of.
Whether you're trying to stay under your monthly data limit or keeping tabs on how family members spend time on their phones, it's important for wireless customers to be able to quickly and easily monitor and manage their usage.
That's why Verizon Wireless offers our smartphone and tablet customers five convenient tools to check how many minutes, messages and GB of data they've used. You can choose whichever option works best for you, whether it's logging in from your computer or tablet to check every so often or getting automatic text message alerts sent right to your phone.
Sign up for usage text alerts
Usage alerts are free and will automatically be sent to you by text message and email (if you provide a valid email address).
Alerts for the new Verizon Plan*, The Verizon Plan and The MORE Everything® Plan:

Alerts will be sent to all lines that are sharing when your account has 50%, 25%, 10% and 0% of your monthly allowance left. Additional alerts will be sent at 10% of each overage allowance. (*Alerts aren't sent for unlimited sizes.)

Individual Data Alerts: If you have usage based data pricing (i.e., a certain amount of data allotted to each line), the alerts will be sent to the Account Owner and the individual line at 50%, 75%, 90% and 100% of the monthly domestic allowance. Additional alerts will be sent at 90% of each overage allowance.
Voice and Messaging Alerts: If you don't have unlimited minutes or messaging, alerts will be sent when you reach 75%, 90%, 100% and 105% of your monthly domestic allowance 

Account Owners can also add up to 3 additional Verizon mobile numbers to receive text alerts and up to 3 additional email addresses to receive alerts.

International Welcome Text Messages: Upon arrival at your international destination, you'll receive welcome text messages. These free messages provide important information such as standard rates for voice, data and text messaging, as well as details on how to contact our 24/7 International Support team.
 Note:

If your line uses static IP or private network solutions, it won't be visible to the system we use to manage our data Usage Alerts. The data it uses won't be calculated as part of your account's data usage, so you may receive alerts that under-report your actual data usage. If you have the new Verizon Plan, The Verizon Plan or The MORE Everything Plan, you'll receive alerts based only on the data used by the lines without these services.

.
Dial #DATA and #MIN from your mobile phone
Here are two short codes that you can call from your mobile phone to receive voice, messaging and data usage information.
#MIN (#646): We'll send you a free text message with an estimate of the minutes you've used during your current bill cycle. If you stay on the line, we'll also provide the information verbally. Note: International calls aren't included. You can also select Option 2 messaging usage information or Option 3 for data usage information.
#DATA (#3282): We'll send you a free text message with an estimate of the amount of data and messaging you've used during your current bill cycle. If you stay on the line, we'll also provide this information verbally.
Check the usage meter in My Verizon or the My Verizon App 
This tool lets you monitor your usage online from your computer. It's a great way to quickly see how much you've used and how much of your monthly data allowance you have left. If you have an unlimited size* of the new Verizon Plan, you can also see how much Mobile Hotspot data you have left on each line.
The round usage data meter is in the My Usage section of My Verizon, and shows your data usage and days remaining in your current bill cycle. The page also shows your minutes and messaging, if applicable. Refer to these often to track how your usage compares to the limits in your plan.
If you're not near a computer, you can view the usage meters in My Verizon on your smartphone or tablet's web browser. If you have a compatible device, you can download and use the My Verizon app. Visit the My Verizon app page to download the app and learn more.
Estimate your data usage with the free data utilization tool
Data Utilization is a free online tool that helps you better understand how your device is using data. The Data Utilization tool divides your data usage into general categories, and it estimates your data usage in each category, including:
Web & Apps

Email & Messaging

Social Media & Networking

Maps & Navigation

Downloads
Account Owners and Account Managers are able to see the usage categories for the entire account or for individual devices on the account through My Verizon or the My Verizon app on compatible devices.
This tool is automatically included with your My Verizon account.
Sign up for Verizon Smart Family
For customers with children, Verizon Smart Family (formerly FamilyBase) can help you find the right balance between device time and family time. In addition to giving you the ability to track your child's location, Smart Family also lets parents:
Establish screen time restrictions

Block inappropriate apps and websites

Pause the internet – whether your child is on WiFi or using mobile data

Set monthly usage limits for calls, texts, data and purchases
To learn more about Smart Family, visit the Verizon Smart Family FAQs.
For more information, visit Tools for Monitoring Usage in Verizon Wireless Support.