Verizon's Dr. Ashok Srivastava Elected as AIAA Fellow
Verizon's Dr. Ashok Srivastava Elected as AIAA Fellow
Honored for Development of Algorithms to Extract and Fuse Information from Massive Heterogeneous Databases to Enhance Safety, Performance, and Reliability of Complex Aerospace Systems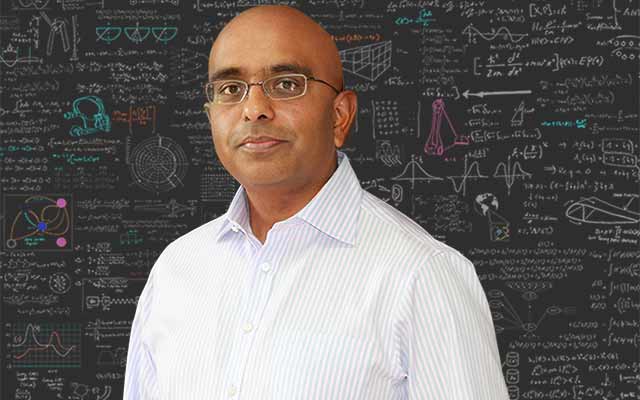 Reston, Va. – Dr. Ashok Srivastava, chief data scientist, Verizon, Mountain View, California, has been named a Fellow of the American Institute of Aeronautics and Astronautics (AIAA). Dr. Srivastava will be inducted on May 6 at the AIAA Aerospace Spotlight Awards Gala at the Ronald Reagan Building and International Trade Center in Washington, D.C.
AIAA confers the distinction of Fellow upon individuals in recognition of their notable and valuable contributions to the arts, sciences or technology of aeronautics and astronautics.   
"I am very honored to receive this award and want to acknowledge the numerous teams I've had the privilege to work with over the years," said Dr. Srivastava. "I'd like to thank my team members, mentors, teachers, and my family for the support and encouragement over the years. I view this award as recognition of the convergence of two major fields of study, aerospace and computer science in which I have had the good fortune to play a role."
"The titles of AIAA Fellow and Honorary Fellow are among the most prestigious honors in the aerospace profession," said AIAA President Jim Albaugh. "Each title is a mark of excellence and distinction, and recognizes extraordinary contributions to aerospace. AIAA congratulates the members of the 2015 Class of Fellows and Honorary Fellows on their selection."
Dr. Srivastava has pioneered the development of algorithms to extract and fuse information from massive heterogeneous databases to enhance safety, performance, and reliability of complex aerospace systems. He has applied his innovative data-mining and machine-learning algorithms to the huge sources of data being collected routinely from aircraft, radar systems, weather systems, and text reports to discover precursors to aviation incidents that could compromise the safety of the air-transportation system. His work has enabled an approach to aviation safety that is fundamentally different from, and which enhances, the currently used Flight Operational Quality Assurance program. Southwest Airlines, HP Aviation, EasyJet UK, Air India, TAP Portugal, The MITRE Corporation, and the FAA are among those entities that have adopted Dr. Srivastava's work.
"This year, as in every year, each of the nominees for AIAA Fellow stands at the top of our aerospace community in terms of their contributions to our profession, and that makes our selection process a particularly difficult one," said George Muellner, chair of the AIAA Fellows Selection Committee. "In the end, we picked 22 individuals whose work has been truly outstanding. We congratulate our Class of 2015 AIAA Fellows and we look forward to their continued roles in shaping the future of aerospace."
For more information on AIAA's Honors Program, or the AIAA Fellows Program, please contact Patricia A. Carr at 703.264.7523 or triciac@aiaa.org
About AIAA
AIAA is the world's largest aerospace professional society, serving a diverse range of more than 30,000 individual members from 88 countries, and 95 corporate members. AIAA members help make the world safer, more connected, more accessible, and more prosperous. For more information, visit www.aiaa.org, or follow us on Twitter @AIAA.