When every second counts: How Verizon IoT sensors help Barnegat Oyster Collective deliver fresh, safe seafood
Internet of Things technology is helping a small producer go nationwide — one intelligently tracked shipment at a time.
Full Transparency
Our editorial transparency tool uses blockchain technology to permanently log all changes made to official releases after publication. However, this post is not an official release and therefore not tracked. Visit our learn more for more information.
More of our content is being permanently logged via blockchain technology starting [10.23.2020].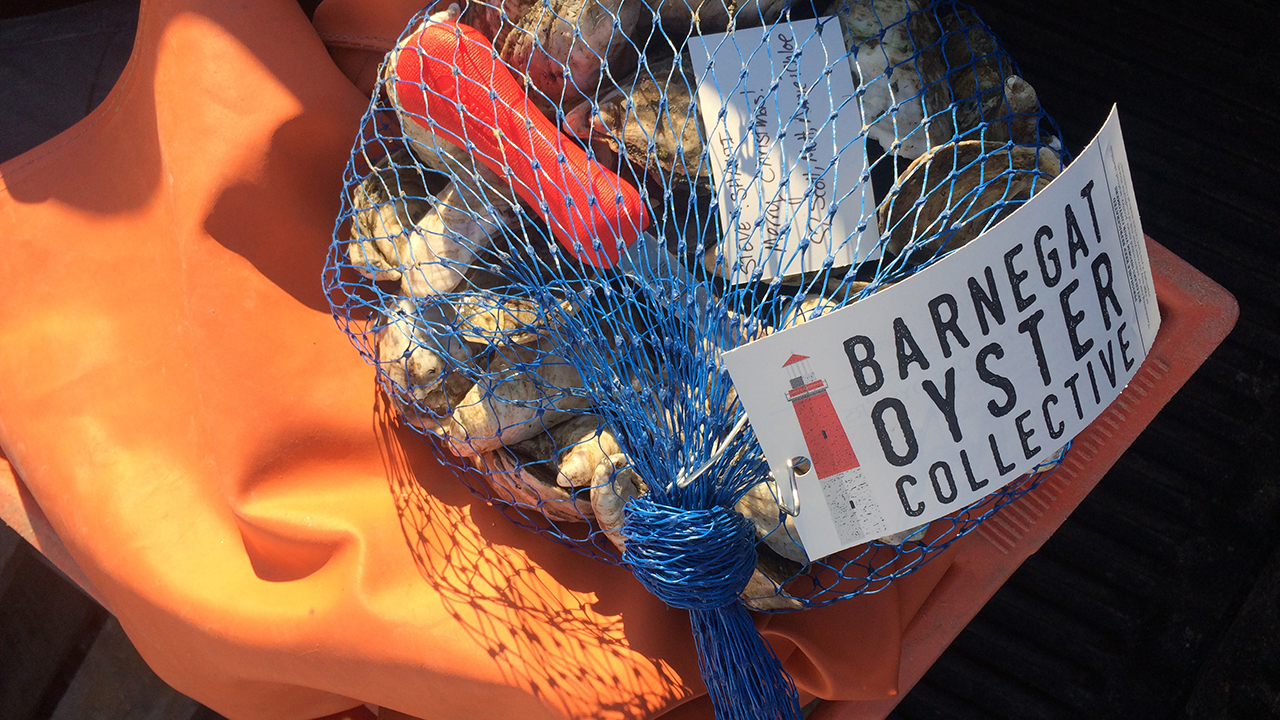 For Barnegat Oyster Collective, the holidays mean one thing: working overtime.
"We double the number of shipments we get out the door," co-founder Scott Lennox says.
Its Sampler Pack, containing four varieties of local oysters, two jars of dipping sauce and an oyster knife, is a hot seller in these closing weeks of the year, as shoppers scramble for unique and memorable gifts.
Lennox launched the collective along with fellow co-founder and co-owner Matthew Gregg early in 2017 as an outgrowth of the duo's Forty North Oyster Farm, the first company in 50 years to harvest aquaculture oysters from New Jersey's Barnegat Bay. The collective consists of Forty North and seven other local oyster cultivators using sustainable techniques to re-establish a vanished local industry.
Barnegat, Verizon's latest pilot-program partner, is not a household name — but Lennox and his partners are working to change that.
"For our product to scale, we needed to make sure our name was on par with the more prestigious names out there: the Prince Edward Islands, the Wellfleets, the Kumamotos," Lennox says. "We needed to give our products a local identity."
As soon as it gets pulled from the water, an unstoppable clock starts on an oyster's viability, quality and taste.
Scott Lennox, co-founder, Barnegat Oyster Collective
Identity is one thing, but delivering a quality product worthy of the collective's hard work is another. To help guarantee that their oysters would arrive at their freshest, Lennox and Co. turned to Verizon for a potentially transformative solution: Verizon IoT, or Internet of Things, sensors.
Keeping oysters cold
Once harvested, the race is on to get oysters safely to their final destination.
"As soon as it gets pulled from the water, an unstoppable clock starts on an oyster's viability, quality and taste," Lennox says.
Barnegat follows the FDA's Hazard Analysis Critical Control Point management system standards. These are designed to help minimize improper handling and reduce spoilage — forces that contribute to over $750 billion in annual global food industry losses.
The holiday rush adds to the logistical demands. Barnegat expands its shipping radius from 10 states to the entire country, relying on third-party carriers to treat their products with the care they require. And while Barnegat has been highly selective about the shippers it works with, its members wanted greater supply chain transparency — something a Verizon IoT sensor is precisely designed to help provide.    
The freshness solution
"Our company, at its core, is a distribution company," Lennox says. "Using third-party carriers is a big advantage, but we wouldn't be able to do it if it weren't for these sensors."
Verizon's IoT sensors enable tracking of the location and internal temperature of parcels in transit. At the oyster collective's packing point, a small but rugged device containing the sensor and a GPS beacon is placed in the box. The tracker sends mobile alerts to Lennox and other stakeholders he designates, informing them of any deviation from the desired temperature during the parcel's journey.
This level of transparency has not only given the collective peace of mind, but a more ambitious business model. "The urban and suburban areas really start to flourish this time of year," Lennox says. "Where we'd typically just drive to wholesalers and restaurants, we can now reach homes. That's a game-changer."
We're able to show the temperature and where it was at any moment. That's revolutionary.
Scott Lennox, co-founder, Barnegat Oyster Collective
From tracking to trust "Time and temperature are the two big keywords in our industry," Lennox says. "With this device, we're able to show the temperature and where the shipment was at any moment. That's revolutionary. It's great for the industry."
The information also benefits the customer. "With our customer base, trust is huge," Lennox adds. "Being able to show them in black and white that we are using this solution is great for building trust."
Through this pilot program, Verizon's IoT sensors are helping Barnegat Oyster Collective send a delicious, sustainable product from Barnegat Bay all over the country. Seller and customer both know that the product has been treated properly in transit and is delivered fresh, chilled and ready to be enjoyed.
"We're turning Barnegat Bay into an oyster destination," Lennox says, "and this is helping us achieve that goal."
How can a nickel-sized sensor help stop food poisoning? Watch our food safety video to find out how. 
For related media inquiries, please contact story.inquiry@one.verizon.com