Winner of 2020 Verizon / Unloc Young Entrepreneurs Challenge announced
Rowan Armstrong of BioLiberty wins £10,000 and business mentor package
Full Transparency
No Updates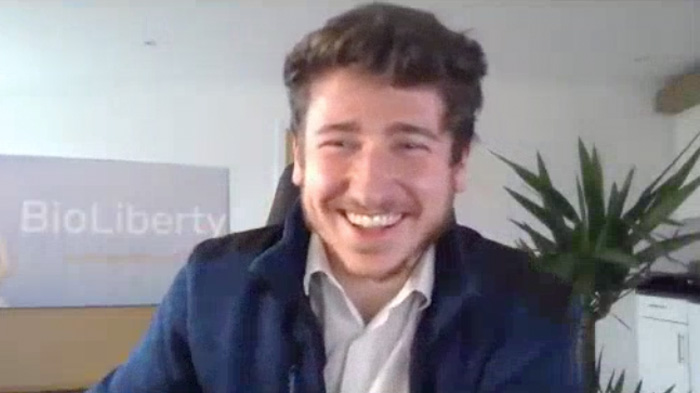 READING, U.K. - Rowan Armstrong of BioLiberty has been crowned the winner of the 2020 Verizon/Unloc Young Entrepreneurs Challenge. His company, which specializes in an assistive robotic glove for people suffering long term conditions such as MS and Arthritis, fought off strong competition from across Europe to win £10,000 of funding plus a business mentor package during the online grand final held on February 25. 
The Verizon/Unloc Enterprise Challenge aims to encourage and attract the business leaders of tomorrow. Competition this year was harder than ever, with the five finalists shortlisted from entries representing 18 European countries, demonstrating a wide range of innovative and dynamic business ideas. These ideas were pitched to a panel of expert judges and nearly 200 guests representing members of both the business and education sectors.
"After seeing all the finalists pitch, I was not expecting to be a winner," said winner Rowan Armstrong, founder of BioLiberty. "Every single one of the young entrepreneurs who presented were incredibly impressive. I am so delighted to win the funding - but more importantly, the support from Unloc and Verizon including mentorship and connectivity is going to be a game changer. I am just so glad we applied and I can't wait for this next chapter!"
In addition, and courtesy of One Young World, Rowan as well as runners up Imogen Maguire (PowerNow) and Jonas Kerber (Pina) also receive delegate passes to the organization's next Global Summit in Munich to be held in July, 2021. Delegates at the Summit are counselled by influential political, business and humanitarian leaders such as Justin Trudeau, Paul Polman and Meghan Markle, amongst many other global figures.
All four Young Entrepreneurs Challenge runners up each receive £1,000 of funding to invest in their start up business. The runners up are as follows: 
Tash Grossman - Slip - 'Digital Receipt Solution' (UK). An app using new technologies to eliminate the need for paper receipts, allowing the storage of all store receipts in one digital space and reducing paper waste.

Imogen Maguire - PowerNow - 'EV Charging App' (UK). A concept that allows electric vehicle owners to list their home charging points to other EV users to rent and use.

Jonas Kerber - Pina - 'Quantified Sustainable Forestry' (Germany). The digitalization of the manual process of forest certification to make it accessible to more forest owners, using remote sensing technology to accurately measure and track forest carbon stocks.

Tyrell Pantophlet - Plaex - Automatic Sorting Bins (Spain). A creation of waste bins that use cutting edge A.I to classify the waste, improving recycling rates, divert CO2 emissions and reducing the use of plastic.
"Entrepreneurship and creativity are key qualities that help inspire the independence, innovation and success of young people," said Dyanne Ierardo, Human Resources Director for Verizon in EMEA & APAC. "These entrepreneurs are the future generation of business leaders. I'd like to congratulate Rowan for his amazing business concept and many thanks to all of this year's finalists. The quality of entries was amazing and we can't wait to see our young entrepreneurs flourish in their future careers."
"This year the quality of the finalists exceeded all our expectations," said Hayden Taylor, Managing Director of Unloc. "The final was fascinating to watch as our young entrepreneurs gave insight into their innovation and ingenuity. It's truly remarkable to witness young change-makers in the making, and their awareness and willingness to tackle the issues they see in the world around them. Massive congratulations to Rowan, it was absolutely deserved and we can't wait to follow all of your progress!"
The panel of expert judges includes Kate Robertson (Founder of One Young World), Rod Edwards (Board Member at Unloc), John Williams (Marketing Director & CMO - EMEA, APAC & LatAm at Verizon Business), Val Agnew (Associate Director Global Accounts EMEA and Benelux Region at Verizon Business) and Chloe Swycher (Director of Marketing & Digital Innovation at The Queen's Commonwealth Trust).
A replay of the Grand Final is available to view here.
"Entrepreneurship and creativity are key qualities that help inspire the independence, innovation and success of young people...These entrepreneurs are the future generation of business leaders. I'd like to congratulate Rowan for his amazing business concept and many thanks to all of this year's finalists. The quality of entries was amazing and we can't wait to see our young entrepreneurs flourish in their future careers."
Dyanne Ierardo, Human Resources Director for Verizon in EMEA & APAC