Yahoo Finance adds Moomoo Inc as title sponsor of Berkshire Hathaway livestream
Full Transparency
No Updates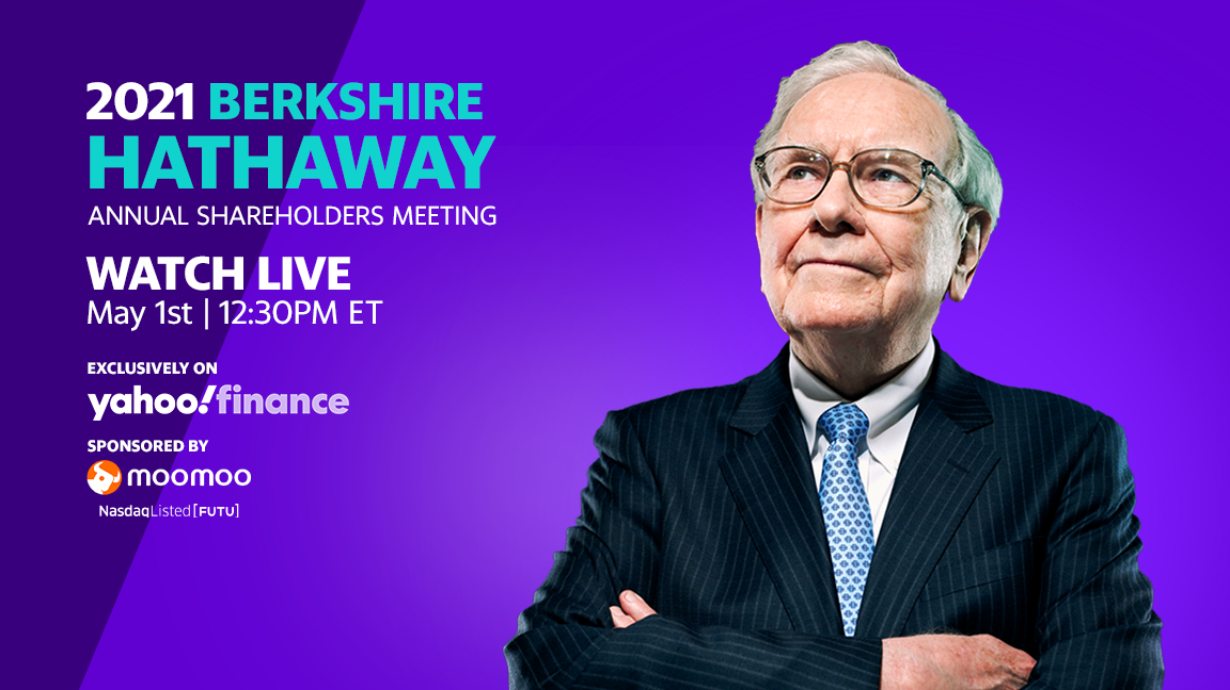 NEW YORK - Today, Yahoo Finance, the leading business and financial news brand, announced Moomoo Inc., a financial brokerage and wealth management platform, as the Title Sponsor of the 2021 Berkshire Hathaway Shareholders Meeting live stream event. Yahoo Finance will return, for the sixth consecutive year, as the exclusive live stream host of the meeting on Saturday, May 1st beginning at 12:30pm ET. Watch the live stream here: https://finance.yahoo.com/brklivestream.
Berkshire Hathaway's Annual Shareholders Meeting is a defining event for the business community as millions of people from around the world tune in to hear Chairman and CEO Warren Buffett, Vice Chairman Charlie Munger, Vice Chairman of Non-Insurance Operations Greg Abel and Vice Chairman of Insurance Operations Ajit Jain share their candid outlook on economic recovery, today's markets, the company, and more.
The global pandemic has fueled a surge in interest in financial information and an increased demand for the financial news, analysis and investment tools that Yahoo Finance provides its users. Moomoo Inc. has seen a similar increase in demand on its app, and will sponsor the live stream event to further its commitment to the investment community and connect its 12 million users to the only destination for investors and business professionals to hear directly from billionaire investor Warren Buffett.
"We are seeing a growing need for better investing tools and more in-depth data, for which the moomoo app is well positioned. By sponsoring one of the most anticipated events in the stock investing community, we want to help connect investors with one another and with the brightest minds in the investing community." said Leaf Li, CEO and Co-founder of Futu.
"Yahoo Finance is committed to providing the financial community with exclusive access to the Berkshire Hathaway Shareholders Meeting during this important time in our economy." said Andy Serwer, Editor-in-Chief at Yahoo Finance. "Our partnership with Moomoo Inc. will further our efforts to stream the meeting to a diverse audience of investors."
The meeting will take place remotely again this year, broadcast live exclusively by Yahoo Finance from Los Angeles, where Buffett will address shareholders. The schedule of live coverage is below, with special guests and interviews for the pre and post shows to be announced at a later date.
Yahoo Finance Livestream Programming Schedule:
12:30pm ET Yahoo Finance pre-show

1:30pm ET Shareholder Q&A with Warren Buffett, Charlie Munger, Ajit Jain, and Greg Abel

5:00pm ET Berkshire Hathaway business meeting

5:30pm ET Yahoo Finance post-show

6:00pm ET Livestream ends
The 2021 Berkshire Hathaway Shareholders Meeting will be streamed with 100% closed captioning this year and available in both English and Mandarin, with VOD replay available following the meeting. An audio replay of the meeting and accompanying interviews will also be available via podcast on iTunes and other podcast stores starting Monday, May 3rd.
For more information on the Berkshire Hathaway Live Stream, visit the event page on Yahoo Finance or add the event to your calendar. Follow the conversation on Twitter with @YahooFinance #YFBuffett, or on the Yahoo Finance Instagram, Tik Tok and Facebook pages.
Yahoo Finance is available on desktop and mobile web via finance.yahoo.com, the Yahoo Finance app, Android TV, Apple TV, Fire TV, Samsung TV+, Roku and is now available on linear broadcast via Fios.
MEDIA USAGE TERMS
FOR BROADCAST: Hi-res downloadable clips will be made available and distributed day-of. 
Only those clips provided directly by Yahoo Finance may be used on-air; clips may NOT be pulled for broadcast use from Yahoo Finance site.

Clips provided MUST appear in full; clips may NOT be re-cut, edited or altered in any way.

Clips MUST retain Yahoo Finance logo, and be accompanied by a verbal reference "Courtesy of Yahoo Finance" OR cited in text on screen.
FOR ONLINE: Embeddable VOD clips will be available at https://finance.yahoo.com/brklivestream/
Full live stream will be available on Yahoo Finance ONLY.

VOD clips may be embedded from Yahoo Finance; clips are not to be downloaded or posted elsewhere directly, and not to be altered or edited in any way.

Embeds must be accompanied by a mention and link back to Yahoo Finance.