The 5G fan experience is wide open
Learn how the next generation in wireless technology will transform people's favorite pastimes.
Full Transparency
More of our content is being permanently logged via blockchain technology starting [10.23.2020].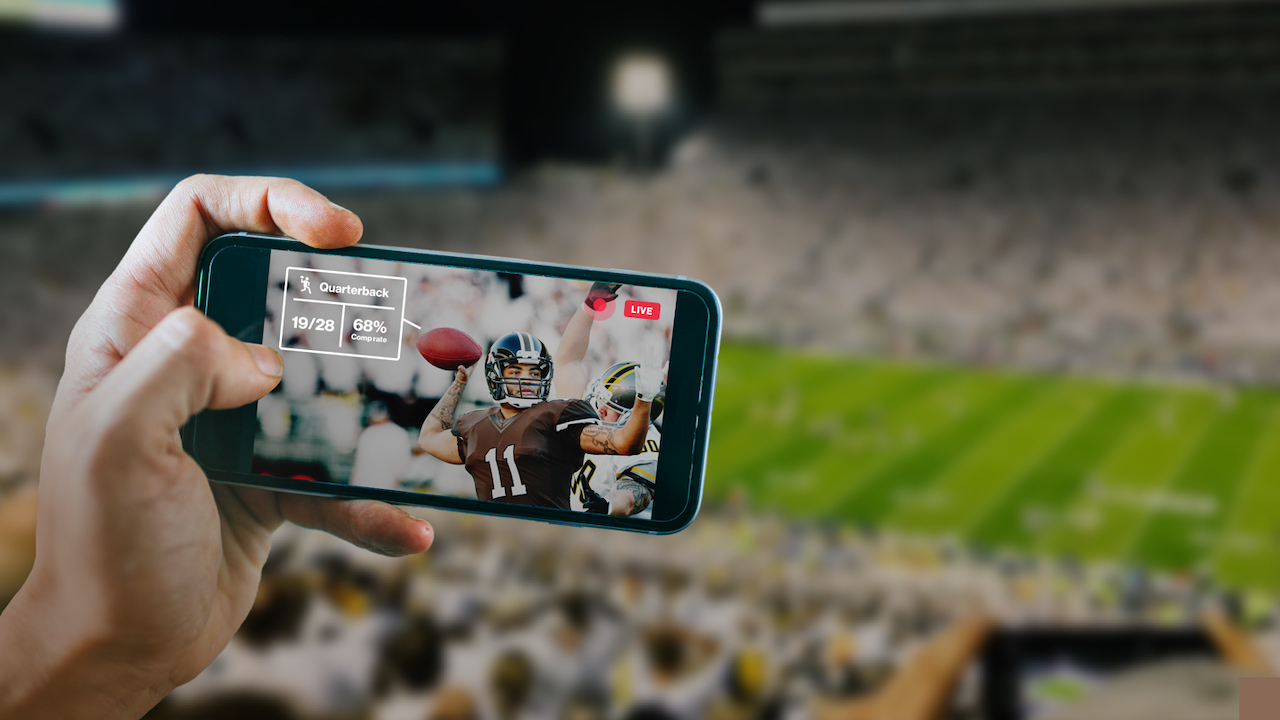 This is the first installment of a series about the Eight Currencies of 5G—Verizon's lens into the next generation of wireless technology. Unveiled to the world by Verizon CEO Hans Vestberg in his 2019 Consumer Electronics Show keynote address, the Eight Currencies of 5G will be vital to unlocking the promise of a Fourth Industrial Revolution.
Up today: understanding the benefits of low end-to-end latency and high reliability.

What it means to be a fan hasn't changed much over the years. From peanuts and popcorn to rooting for the home team, it's still the same old ball game. The appeal of community, fun, nostalgia and excitement spans the generations.
The viewing experience, however, can always be improved—especially when you're not lucky enough to be perched on the 50-yard-line at the big game. With more than 3.5 billion people around the world self-identifying as fans, sports is among the world's greatest aggregators of audiences, not to mention a $72 billion industry in the U.S. alone. And clearly, most fans aren't at the game.
The race to offer those audiences next-generation viewing opportunities will be a key driver to widespread adoption of augmented and virtual reality, and will attract billions in investments. But before that happens, the fan experience—whether in athletics, esports or live entertainment—needs a wireless network that's reliable and fast enough to make those potentially game-changing technologies untethered, affordable and scalable.
In other words, to truly knock the fan experience out of the park, audiences need a reliable 5G network like Verizon 5G Ultra Wideband—with its greater speed, lower latency and ability to accommodate significantly more connected devices than what's possible today over wireless.
Low latency = unreal action 
Despite recent strides in AR/VR technology, a next-level experience will demand ultra-low network latency, or the end-to-end travel time of data between the end user and the edge of the network. Today, the average latency on 4G LTE networks is 50 milliseconds, but the average VR headset wearer experiences nausea when latency exceeds 20 milliseconds. Consequently, if the movement of the video isn't matched to the movement of the user, that's a recipe for motion sickness.
5G, however, drops latency into the single-digit milliseconds—many times faster than the blink of an eye—ensuring a smooth viewing experience with no lag or jitter. The NBA has already begun exploring AR/VR integration, installing cameras in 29 arenas, which allows at-home VR viewers alternate court angles. But with 5G, the league can do so much more. Soon, those cameras could enable immersive experiences at scale, wherever a 5G network is in place. High-fidelity, super-high-definition virtual viewing parties are suddenly viable, allowing friends in different cities to catch the game—or the entire season—together.
"There's so much content that fandom isn't just about tuning in on Sunday nights anymore," says Christian Guirnalda, Director of Open Innovation and 5G Ecosystems at Verizon. "It's about getting emotionally involved. Fans today are different."
And the evolution is not limited to fans. The very notion of professional athletics is changing. Consider esports, a soon-to-be $1 billion industry with an active fanbase of 200 million—a core viewership that could soon eclipse those of professional basketball and football.
We're giving fans a sneak peek at how 5G will ultimately change the way spectators experience live events, whether inside or outside of the arena, at home or on the go.
- Brian Mecum, VP of Network Engineering at Verizon
While most multiplayer video games are played online, esports tournaments take place live—in close proximity to the centralized server to alleviate any lag that could put a player at a disadvantage. 5G, in combination with mobile edge computing, will upend the need for centralized competitions, allowing for a more level playing field and a larger number of concurrent players.
Eliminating the locational constraints of esports will open the floodgates to an already booming business.
Reliability = a network that doesn't drop the ball
When tens of thousands of fans squeeze shoulder-to-shoulder, connectivity—at least in the wireless sense—suffers. But with Verizon 5G Ultra Wideband, the spirit of competition doesn't have to apply to network bandwidth or stability.
In a 5G-enabled stadium outfitted with cameras, sensors and small cells, data can be captured, processed and relayed in real time. The tens of thousands of fans who make a trip to the venue will be served a remarkably improved overall experience: better traffic flow in the parking lot; info on the quickest path to seats, restrooms or concession stands; and lower chances of network traffic jams when they want to stream video from around the stadium.
With 5G, data can flow more freely in the arena. But what about data flowing out of the arena? From interactive broadcasts to rapidly updating graphical overlays to fantasy sports integration, we've only scratched the surface of the added value of real-time data, but it's a remarkably heavy lift.
For example, at the 2017 Super Bowl, fans, staff and vendors produced 12 terabytes of information—or 160 days' worth of nonstop, high-definition footage condensed into a roughly five-hour period. To make room for the data-intensive experiences that leagues and event programmers are designing today, a 5G network is essential.
"As 5G evolves, it will change the stadium experience and also give access to a whole new audience who previously may never have had the opportunity to watch live from the front row," says Brian Mecum, VP of Network Engineering at Verizon.
Turning fans into superfans 
The advantages of the Verizon 5G Ultra Wideband network's speed, low latency and reliability will extend beyond the playing field. Enabled by 5G and mobile edge compute, AR/VR firms can create immersive experiences for concerts and other live events. Imagine not only scoring virtual floor seats, but being pulled inside a music video or seeing the lyrics to your favorite songs floating through the air as you listen to them. Music has always been a transportive artform, and with 5G that quality will be dialed up to previously unimaginable levels.
"We're giving fans a sneak peek at how 5G will ultimately change the way spectators experience live events, whether inside or outside of the arena, at home or on the go," Mecum adds. And no matter where your loyalties lie, that's something to cheer about.