What is small cell technology?
Learn why this hardware can help tomorrow's bandwidth-hungry applications realize their potential.
Full Transparency
Our editorial transparency tool uses blockchain technology to permanently log all changes made to official releases after publication.
More of our content is being permanently logged via blockchain technology starting [10.23.2020].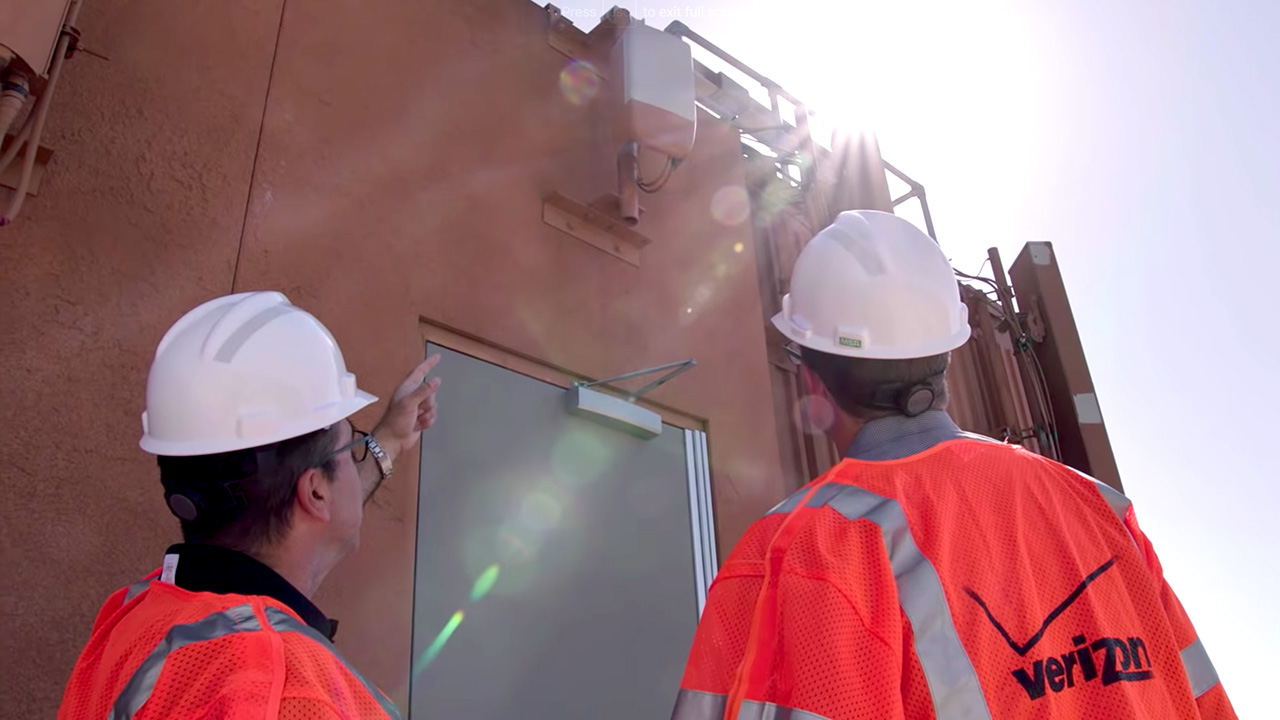 Small cells are a critical piece of Verizon's network plan—both for our existing 4G LTE network today and our 5G network of tomorrow. In addition to helping us enhance our 4G LTE coverage and capacity in locations where usage demands are highest—such as downtown areas, shopping centers and college campuses—their deployment on our 5G network will help unleash innovation on a massive scale, delivering superior coverage and signal penetration in even the densest urban areas.
Verizon has been investing heavily in small cells over the last several years to stay ahead of growing demand on our 4G LTE network, but this technology is also integral to laying the groundwork for our upcoming 5G network.
With data transfer rates 30 to 50 times faster than 4G and sub-millisecond latencies, 5G is the key ingredient for kicking off a Fourth Industrial Revolution. But for the revolution to take hold, a network has to be built to support it. Small cell technology will be key to that effort in towns and cities, and for transmitting signals over millimeter wave spectrum—the spectrum we'll be using to send massive amounts of data at high speed.
The advantages of small cells don't stop there. Learn why this hardware can help tomorrow's bandwidth-hungry applications live up to their potential.
How important is small cell technology for 5G?
At their core, small cells are wireless transmitters and receivers designed to provide network coverage to smaller areas. So while tall, high-power "macro" towers keep the network signal strong across large distances, small cells suit more densely developed environments like cities.
The ultimate goal of small cell technology is to improve the cellular experience for end users. It strengthens coverage and data transfer speeds where devices might otherwise compete for bandwidth. And small cells have been shown to extend handset battery life by reducing power draw, so devices can go longer between charges.
Every network provider wants to deliver 5G as soon as possible, but only Verizon has had the market foresight to act clearly and decisively on it. "We believe we've got more small cells than anyone else in the U.S.," says Nicki Palmer, chief network engineering officer and head of wireless networks at Verizon, "and it's serving customers well."
How small is small?
Building a network capable of delivering 5G may be complex, but small cell technology is a straightforward idea. Whereas most of today's cellular data travels between towers and antennas that may rise hundreds of feet, small cells are about the size of a picnic cooler or mini-fridge.
"The best way to serve an almost insatiable demand from our customers is to not build 200-foot macro [cell towers]," says Palmer. "It's to go low and tight, serving the demand as close to where it originates as possible. And that's how we've been building these networks."
We've been at the small cell game for years now.
Nicki Palmer, chief network engineering officer and head of wireless networks at Verizon
Mounted on street lights, utility poles, buildings and other structures, this tech helps deliver the media and information that users need—whether it's an HD movie or a 3D-rendered blueprint, where and when they need it. Small cell hardware is discrete and energy efficient. In fact, the technology is already up and running in many communities—blending seamlessly with the environment and helping deliver robust 4G LTE connectivity to customers who rely on this tech every day, even if they may never see it.
"We've been at the small cell game for years now," says Palmer. "We have small cell networks in 97 of the top 100 markets. That doesn't happen overnight. Some other carriers, frankly, have not invested in that direction. We have a very good start."
All this work has made Verizon America's largest and most reliable 4G LTE network—and it underpins everything we're doing to build a 5G-powered tomorrow.
What's next for small cell technology?
Small cell tech isn't just emerging. It's here and delivering better digital experiences today. But at Verizon we're driving a digital transformation, and we're not relying on any single piece of technology to get us there. "The important thing is to build the network that performs the best," says Verizon CEO Hans Vestberg.
Innovation typically comes in fits and starts. Over Verizon's 5G network it will arrive in a rush. We're building a network to meet the demands of technology that's still in its infancy, and new demands that have yet to be imagined. Cars that communicate with road infrastructure; drones that troubleshoot repairs on heavy industrial equipment miles away; real-time workplace collaboration that happens with nobody in the same room—this is the future that 5G promises, and that small cells will make possible.
Learn more about Verizon's plans for bringing 5G technology to our customers