5G Future Forum completes first-ever transatlantic real-time 5G holographic meeting using MATSUKO
Full Transparency
No Updates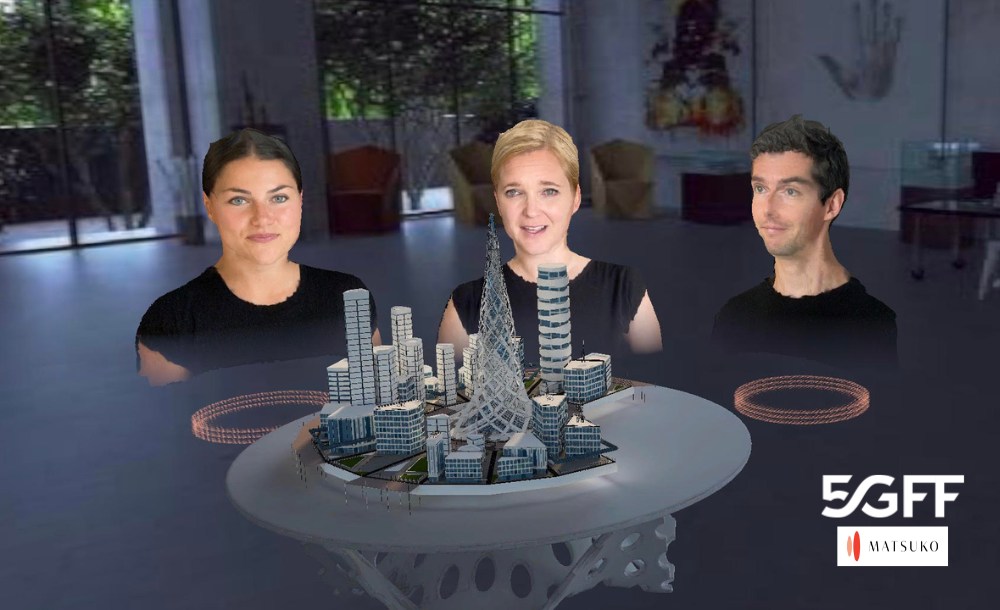 LAS VEGAS, NV – The 5G Future Forum (5GFF) and MATSUKO will lead the first-ever real-time transatlantic holographic collaborative meeting, connecting multiple people as holograms. The holograms will be connected from New York in the U.S. using Verizon's 5G network; Toronto, Canada, using Bell Canada's 5G network and from London, UK using Vodafone's 5G network. The first-of-its-kind demonstration will be available to see at Mobile World Congress Las Vegas in Booth #1533, located in GSMA's Open Gateway Zone.
"Edge Discovery Service APIs provide us a simple way to find the optimal Edge servers for our application," said Michael Szakala, DevOps Leader from MATSUKO. "We've seamlessly connected visionary operators like Bell, Verizon, Vodafone, pioneering a monumental leap in communication through the holographic call. By incorporating the API into the deployment process, it is very simple to ensure interoperability and a steady connection among the operators." Szakala also confirms the impact of elevated network capabilities stating, "it amplifies product performance, such as reduced latency, expanded bandwidth, which provides enhanced holographic experiences for our customers."
"This demonstration shows how Verizon via the 5GFF continues to drive Open API industry momentum with real-life use cases while also accelerating ease of use for developers," said John Nitti, SVP, Strategy, New Business and Partner Development for Verizon.
Giorgio Migliarina, Vodafone Group Director of Business Products and Services said: "Multi-party holographic calling can make people feel more connected and productive, whether collaborating across classrooms, offices, hospitals or at home. The smooth and natural movement of these holograms will become more prevalent with the growing availability of 5G and edge computing technology."
"Through its active participation in the 5GFF, Bell continues to support the developer community to access 5G MEC technologies and to ensure their solutions take full advantage of Bell's 5G network in Canada, and to globally interoperate," said Bell's Costa Pantazopoulos, VP Product. "This holographic video call demo illustrates how Bell - with partners Vodafone and Verizon - is innovating to make it easier for developers to leverage 5G capabilities to achieve their application goals."
Real human holograms, compared to avatars, can convey the individual's full range of emotions, and people can feel the real presence of their colleagues. Advances in connectivity, thanks to 5G and edge computing technology offered by telecom operators, make it possible to achieve smooth and natural movement of holograms, enabling up a range of possible use cases.
MATSUKO is the creator of the world's first real-time software-only solution for holographic presence using just a single camera to stream holograms in spatial computing (VR/AR). Their technology to stream holograms in real-time, creates the feeling that people are together and brings physical presence to remote communication.
The demonstration will be viewable at GSMA's Open Gateway Zone. The GSMA Open Gateway initiative, which launched at MWC Barcelona now has over 30 signatories from leading mobile network operators (MNOs), representing more than 60% of mobile connections worldwide.Open Gateway is a framework of common network Application Programmable Interfaces (APIs) designed to provide universal access to operator networks for developers and works closely with Linux Foundation's CAMARA that develops API specifications. 5GFF works closely with GSMA's Open Gateway and CAMARA, contributing to the joint vision of a global Open API ecosystem.
Throughout the day on September 27th, sessions will be held focused on developer engagement through workshops and gaining insight from industry pioneers. 5GFF will be participating in the "Why Create Future Ready Services" panel at 10:40 am PT. The Open Gateway Developer Challenge will also be announced, which will run to MWC Barcelona 2024.
In addition, KT, a member of 5GFF, will also demonstrate a HPC(High Performance Computing) application delivery using the 5GFF's Edge Discovery Service APIs based on the GSMA Open Gateway Federation Architecture among the aggregators and operators at the 5GFF booth.
As a 5GFF MEC Acceleration Program (MAP) member, MATSUKO is showcasing the benefit of 5GFF's Edge Discovery API to their application. They will play the role of partner and developer, sharing the impact of 5G, MEC, network APIs on their application and experience collaborating with 5GFF to other developers. The 5GFF is inviting ISVs globally who either currently use 5G MEC or have 5G MEC utilization in their roadmap to apply for the 5GFF MEC Acceleration Program (MAP) with the opportunity to closely interact with the world's leading telcos and shape the API development process. MAP is designed to expand and interconnect the global MEC ecosystem by partnering and engaging with developers. For more information, visit https://www.5gff.org/5g-mec-acceleration-program/
---
1 Based on total revenue and total combined customer connections