Blizzard of snaps, streams and shares forecast for Super Bowl LII
Verizon boosts network capacity by 500 percent in Minneapolis/Saint Paul for football fandom 
Full Transparency
Our editorial transparency tool uses blockchain technology to permanently log all changes made to official releases after publication.
More of our content is being permanently logged via blockchain technology starting [10.23.2020].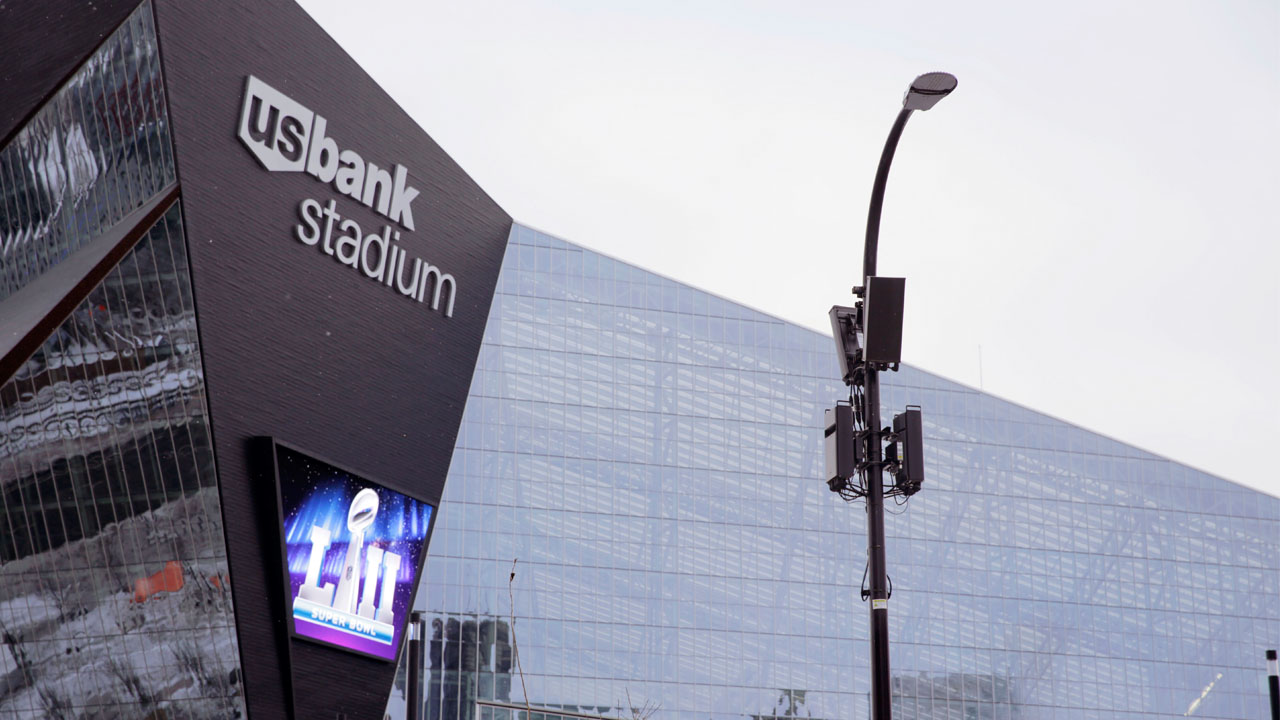 A "blizzard" of data usage is in the forecast for Super Bowl LII. To ensure you can have the best experience at football's biggest game, over the past two years, we've increased wireless data capacity by more than 500 percent, added LTE Advanced technology and permanent new infrastructure to the Verizon network in Minneapolis/Saint Paul. The permanent new network enhancements will boost performance in U.S. Bank Stadium and areas of anticipated high demand, including Super Bowl LIVE, Super Bowl Experience, popular tourist attractions, airports, hotels, venues and other special event locations throughout the Twin Cities area. 
Verizon's network enhancements for you include: 
24 new permanent cell sites 
230+ permanent small cell sites 
Doubling of network capacity on Nicollet Mall with a new small cell/design solution inside new bus shelters
LTE Advanced features added to the 4G LTE network for greater capacity and faster peak data speeds
48 percent more antennas added to Verizon's Distributed Antenna System (DAS) at the Stadium in 2017
A new neutral host DAS system at Mall of America® boosting Verizon's network capacity by 900 percent
A new neutral host DAS system at Minneapolis-Saint Paul International Airport adding new 4G LTE coverage in tunnels, boosting Verizon's network capacity throughout the airport by more than 1,000 percent 
"Minneapolis/Saint Paul is now a super-connected city with leading LTE Advanced network technology and the small cell densification necessary for next gen technologies," said Nicola Palmer, Chief Network Engineer and Head of Wireless Networks, Verizon. "Whether you are attending Super Bowl festivities or will be visiting the Twin Cities in the future, we've added permanent enhancements so our network is built for future growth." 
Handrail antennas in U.S. Bank Stadium
230+ small cells: target capacity where needed
If you are one of the one million visitors expected to enjoy the festivities in Minneapolis/Saint Paul, Verizon's small cells add the big capacity needed for more people to share their experiences. Small cells are designed to blend into the urban landscape, literally "hiding in plain sight" on street lights, traffic signals or utility poles, and provide 4G LTE coverage for a radius of approximately 1,000 feet.  Small cells bring the fiber connections and network "densification" needed to enable Smart Cities technology (like managing traffic flow) and the next generation network, 5G. As part of our Smart Communities work with the city of Minneapolis, we've also installed security cameras on street lights with our small cells in the downtown area to help the city ensure the best experience possible for fans and citizens. 
Super Bowl LIVE: unique bus shelter design 
For 10 days, Nicollet Mall in downtown Minneapolis will be the site of the free football festival Super Bowl LIVE, presented by Verizon. In addition to small cells serving the downtown area, Verizon doubled network capacity by adding new small cells inside the bus transit shelters along the Mall. This unique design solution will provide more capacity for the anticipated crowds during Super Bowl LIVE and serve you along the bus transit routes in the future. 
U.S. Bank stadium: state-of-the-art DAS system
For game day, Verizon built a neutral host state-of-the-art network system when the new tech-advanced U.S. Bank stadium opened in 2016 for the Minnesota Sports Facilities Authority. We added 48 percent more antennas in 2017 with innovative design solutions exclusively for your connectivity, including drink rail, handrail and under the seat antennas. 
The capacity will be needed – wireless data usage inside at 2017 Vikings regular season home games was double the fan usage compared to the 2016 season. At last year's Super Bowl game day, Verizon customers increased usage by 57 percent, consuming 11 terabytes of wireless data, with 45% of the stadium attendees using our network.
The stadium DAS system Verizon built is one of the largest in the U.S. and Verizon customers will be connected by more than 1,200 antennas distributed over more than 100 coverage zones. A similar outdoor stadium DAS provides coverage at the east entrance, light rail station and west plaza area. In the first indoor use at an NFL stadium, two Matsing Ball antennas (that appear like giant white disco balls) are installed 330 feet above the field on the ridge beam. They provide coverage by dividing the field into sectors, like slices of a pie, for Super Bowl photographers and staff, and for you at popular concerts with floor seating. 
Matsing Balls are a first in an NFL Stadium at U.S. Bank Stadium
Event ready throughout Twin Cities 
We improved coverage and capacity through DAS, in-building systems and small cells at 20 area hotels, team practice facilities and major highways serving the Twin Cities. A few key event locations include added capacity and coverage at the Minneapolis Convention Center – site of the NFL Experience and a new DAS system at the Minneapolis Armory concert venue. Capacity was also added at Xcel Energy Center/River Centre, Target Center, Mystic Lake's new Convention Center, and numerous shopping malls including the Mall of America.®
Real-Time network monitoring
We will field our own team of network engineers before and during Super Bowl LII to monitor and manage the network in real-time both from a command center and in U.S. Bank Stadium.  Engineers equipped with special test equipment will be walking events throughout the week providing real-time data on network performance. These walk-testers provide the flexibility for us to respond quickly and ensure the best experience for you. 
LTE Advanced technology: greater capacity and speeds
Behind the scenes, Verizon's network features the latest technology known as LTE Advanced that adds network capacity and increases speeds. The Minneapolis/Saint Paul area is one of the nearly 2,000 markets where Verizon has deployed carrier aggregation, and more than 560 markets with 4X4 MIMO and 256 QAM/64 QAM technologies.