For Deesha Hill, Job Satisfaction Includes Giving Back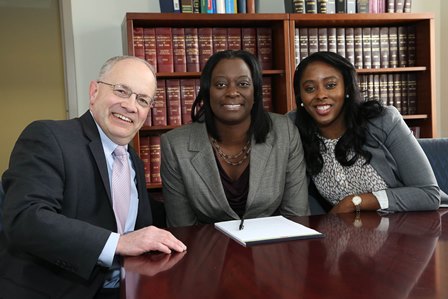 The women are battered and abused, their pain palpable as they tell their stories, haltingly, bravely.
"Your heart would break," says Deesha Hill, who dutifully listens to the women's accounts in her volunteer work as a Verizon lawyer, harrowing stories of unbelievable cruelty and abuse.
An assistant general counsel in Verizon's New York City office, Hill manages a team of volunteer lawyers to process visa applications for immigrant women, usually Spanish-speaking, fleeing intolerable violence and the abuser's threat of being deported and separated from their children for merely trying to break free.
As regional coordinator for Verizon's New York Legal Pro Bono Committee, Hill believes deeply that lawyers have an obligation to give back to the community.She is proud that Verizon shares that conviction and encourages employees to devote their time and talents to the public good. Last year, she notes, 64 percent of Verizon's legal department across the nation provided free pro bono and community service volunteer hours. Hill's work with immigrant domestic-violence victims is the most wrenching of her volunteer efforts, but is by no means all she does for the underserved.

In 2012 and 2014, she pitched in with 18 other Verizon attorneys and legal staff to build two Habitat for Humanity houses for returning war veterans.She's also an enthusiastic mentor, active in programs for middle-school and high-school students, including a group called Street Law.

"We adopt a high school in East Harlem and expose kids to what it's like to be a lawyer, what it's like to do advocacy and build an argument," Hill says. Many of these teenagers are on track to be the first in their families to get a high school diploma. "For some, I'm the first lawyer they've ever met."

With another organization, Legal Outreach, she teams with Verizon summer interns to devise programs for 7th graders. That's a pivotal age in for young children, she says, "the year they lose interest in school or decide to continue their academic track and reach for the stars."
The program uses law to inspire middle-schoolers to strive for academic success. "I really enjoy seeing the sparkle in a kid's eye, that moment that says, 'I got it!' " Hill says. "The next thing you know, they turn into Perry Mason."

She grew up in Dover, Delaware, to parents who regarded helping others as a way of life. "You had to volunteer," she says. "There wasn't a kid exception." And so she accompanied her mom to deliver turkeys at Thanksgiving. Later, as a student at the University of Pennsylvania, she tutored Philadelphia children at a battered-women's shelter.
Her community work has been recognized by proclamation of the New York City Council, Queens Legal Services and New York Metro Chapters of Omega Psi Phi Fraternity. In October,  (2014 she receives the prestigious Individual Pro Bono Award of the Association of Corporate Counsel when the 30,000-member international organization holds its annual convention in New Orleans.

She is also a member of several community-based servie organizations, including Delta Sigma Theta Sorority, the New York Junior League and the Diversity Pipeline Committee of the New York City Bar Association.

"Verizon is a great company that deserves a lot more credit for the things it does in the community," Hill says. "Nobody tells me I have to put in the hours that I do for volunteer work. It's just a huge part of the job satisfaction here."