Find Your Voice: Advice From Verizon's Working Mother of the Year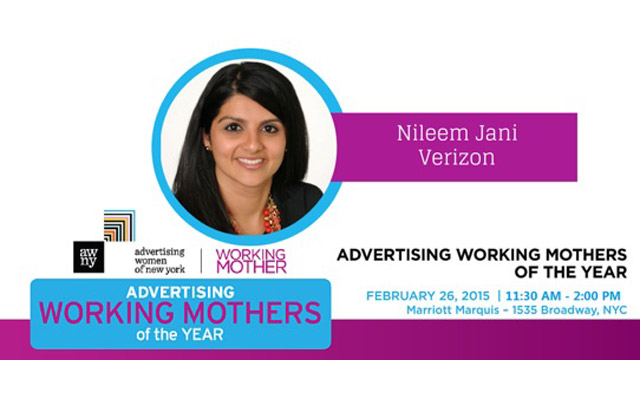 Nileem Jani, from Verizon's Product Innovation and New Businesses group, was named one of Advertising Women of New York and Working Mother Magazine's 2015 Working Mothers of the Year.
Jani is one of 20 women selected from a wide range of industries based on their commitment to balancing work and life, strength as role models and mentors in the workplace, and positive influence within their communities.
But as Jani explains it, managing her dual roles as product innovation and insight director  and as the mother of two small children isn't about balance. She prefers to look at it as work-life integration.
"I was a marketing consultant before I came to Verizon, and I lived a very modular life," she explained. "I traveled for the first year of my daughter's life, and I loved that I could easily switch the type of work I was doing based on the client, the industry, or the consumer." While she loved the work, the transient nature of the job didn't always mesh with her needs as a mom, and she considered other career options.
"Verizon was initially one of my clients, and I found so many challenges to get excited about," she said. "The work never felt mundane. It reminded me of what I loved about consulting, but in a larger organization that would also give my family and me the stability we were looking for."
Today Jani works with 30 external consultants who help her team come up with new product ideas and commercial models based on consumer behavior and need. To date, she has helped build business models and strategies for our soon-to-launch products, and continues to help the business identify commercial models for the Product Innovation and New Business group's strategic pillars.
She believes work-life integration is only possible by recognizing and communicating what is important at that particular moment in time. "I know that if I need to be offline for a few hours to be with my child or go to the doctor's office, I have the flexibility I need to do that and still meet my professional obligations on a schedule that works for me," she said.
Her advice for other working moms looking to achieve their own work-life integration? "It's about finding moments and feeling comfortable enough to be open about what you need, without feeling threatened or embarrassed about it. When I'm here at work, I know I need to be a strong voice at the table. Many of us already have that strong voice at home – you just have to be confident and use it."