FiOS1 Launches Safety Awareness Events for Long Island & NJ Residents
FiOS1 Launches Safety Awareness Events for Long Island & NJ Residents
Summer is a great time for fun in the sun and lasting memories.  But with those outdoor activities comes the need for increased awareness and caution to keep the summer safe for all to enjoy.
FiOS1 News – the local and community news station that serves FiOS TV customers on Long Island and in northern New Jersey – will be launching a unique initiative to engage viewers and to make safety the #1 priority.
Starting this Saturday the first FiOS1 Event, Make Safety #1 event will take place at the Farmingdale Baseball League field (66 Motor Ave, Farmingdale, NY 11735).  FiOS1 is partnering with local community organizations to provide information and raise awareness around safety including: boating, beach and sun safety, weather and emergency preparedness,  as well as family and cyber safety. 
 FiOS1 reporters will be on hand at a host of events, reporting live with partners from Nassau county government, the Red Cross, the US Coast Guard, and Auxiliary and local police departments.  The summer safety theme will be broadcast throughout the FiOS1 TV schedule, with special summer safety messages during newscasts, in weather forecasts and in interviews with local residents and businesses.  
All shows will include safety and preparedness tips during their broadcasts.  Award-winning original shows include FiOS1 News Now, Restaurant Hunter, Money & Main$treet, Heroes on Our Island, and Push Pause.
In addition to the this Saturday's event in Farmingdale ,Long Island, Verizon FiOS 1 reporters and promotional tents will be set up at the following Long Island  and New Jersey community events:
Long Island:
August 29 - Long Beach Boardwalk
October 12-13 - The Long Island Fall Festival (11 Prime Ave, Huntington, NY 11743)
October 19-20 - The Long Island Oysterfest in Oyster Bay
New Jersey
July 29 - The Jersey City Farmers Market - Grove Street Path Station, 325 Grove St, Jersey City, NJ 07302
August 22 - Asbury Park Boardwalk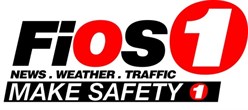 *FiOS1 is only available on Verizon's channel 1.