Inspiring A New Generation of Engineers Through Robotics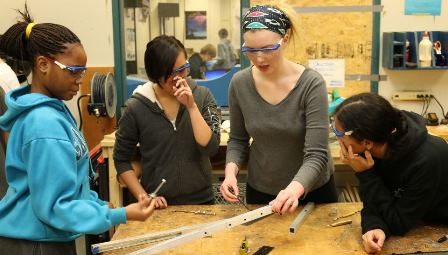 If you can't find senior engineer Dave Masters in his Verizon office, working to keep FiOS video up and running in cities in Florida to California, you might try his old high school. To the tune of 450 to 500 hours a year, he coaches at Chantilly Academy, a tech-oriented division of Chantilly High in Fairfax County, Virginia. The sport isn't football or basketball. It's robotics.
His teams have built robots that shoot baskets, toss Frisbees, catch and throw volleyballs over the net, play soccer, and pin the tail on the donkey. This year, the Chantilly Robotics squad, all decked out in black t-shirts and neon-green neckties, made it to the FIRST World Competition, in St. Louis.
That's not all. Chantilly Robotics students have become regulars at the bi-annual USA Science and Engineering Festival on the Washington Mall, playing escort to Bill Nye (the Science Guy), "Big Bang Theory" cast members and cable TV's "Mythbusters." They've met 50 astronauts, including John Glenn, and helped a filmmaker shoot "I Want To Be an Astronaut," a documentary about a former Chantilly Robotics kid (now at the Naval Academy). The movie is slated for a screening on the International Space Station.
Masters is one of five Chantilly mentors who teach the basics of electronics and shop tools — and then stand back as the kids pour into a workshop after school, designing and building funny-looking machines meant to outshine 2,700 other teams nationwide. He's usually the guy towing the constructed robot to a competition, the contraption wrapped up in a trailer hitched to the back of his pickup.
Masters is one of many Verizon employees who give back to the community with the company's encouragement; the Verizon Foundation donates $750 to Chantilly Robotics when Masters chalks up 50 hours of service. Some of his students even spoke this year before a congressional committee on STEM education.
"Someone asked, 'Why are the students falling asleep in science and math class, but dying to come in at 2 in the afternoon, and sometimes you have to kick them out at midnight, to work on robots?'" Masters said.
"It's simply because we provide an environment to allow the students to fail, and they learn from that," he explained, recalling various electrical fires, holes in the ceiling, dents in the drywall — or, as he called them, "learning experiences."