Make Way for Verizon's First Graduating Class From Girls Who Code
Make Way for Verizon's First Graduating Class From Girls Who Code
Verizon Partnered With Girls Who Code to Help Expand Girls' Interest and Involvement in STEM.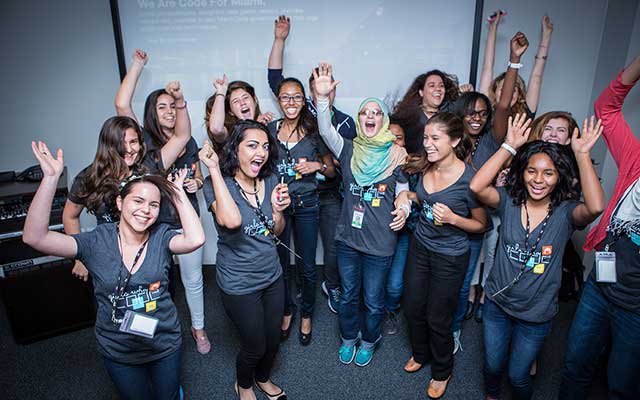 This summer, while many kids were enjoying their time off from school, 40 girls from South Florida High School were working hard — learning how to code, and more.
For seven weeks, the 11th and 12th grade girls participated in the computer science summer immersion program, offered by Girls Who Code, a national nonprofit organization focused on equipping women in underserved communities with computing skills.
It Takes Passion & Purpose
Funded by the Verizon Foundation, the summer immersion program took an innovative approach: pairing intensive instruction in robotics, Web design and mobile development, with career-focused mentorships from the industry's top female entrepreneurs and engineers.
After successfully completing the program, the girls were equipped with the skills and motivation needed to advance their careers and were also surprised with laptop computers provided by Samsung.
Step Up for STEM
Currently, women make up half the workforce but less than 25 percent of STEM (science, technology, engineering and math) jobs. We need to reverse this cultural trend by encouraging more girls to pursue technological fields at a younger age.
Through initiatives like Inspire Her Mind, Girls Who Code and more, Verizon is focused on closing the technology gender gap by inspiring girls to pursue education and careers in STEM fields.
The girls from South Florida High School are the first of many more graduates who will inspire other women to get involved with STEM and level the playing field.