Mix and match your unlimited plans
Starting June 18, get the Verizon Unlimited plan perfect for each member of your family all on the same account – and all on the network they deserve 
Full Transparency
Our editorial transparency tool uses blockchain technology to permanently log all changes made to official releases after publication.
More of our content is being permanently logged via blockchain technology starting [10.23.2020].
NEW YORK – The way you choose your family's unlimited data plan is about to get a serious upgrade because it's the end of the one-size-fits-all family plan. Starting June 18, you can mix and match different Verizon unlimited plans -- all on the same, easy-to-manage account.
"People have told us what they want from their unlimited plan, and the bottom line is that they don't like paying more for stuff they don't need," said Ronan Dunne, president of Verizon's wireless division. "Your kids may only need an unlimited plan to deliver the basics -- to call, text and stream without worrying about overages, while you might demand more from your unlimited plan with premium features like HD video and 4G LTE mobile hotspot. Now that you can mix and match, every person in your family gets the plan they need, without paying for things they don't -- all on the network they deserve."
With Verizon, you can mix and match three great unlimited plans to meet each of your family member's needs: Go Unlimited, Beyond Unlimited -- both of which haven't changed -- and a brand new plan, Above Unlimited, which includes added performance, features and global access. Above Unlimited includes  75 GB of premium 4G LTE data* along with HD video streaming,  20 GB of 4G LTE mobile hotspot, 5 TravelPass sessions per month and 500 GB of Verizon Cloud storage, all for $60/line per month for four lines.  
"All of our unlimited plans come with unlimited data, so we've moved beyond that and are focused on where, when and how families want to use things like HD video, high-speed international access and mobile hotspot - and that varies depending on the individual family member," Dunne added. "That's why we introduced the ability to mix and match, so you pay for what each member of your family needs and nothing they don't."
With this new ability to mix and match, buying unlimited is simple. First choose the number of lines you need, then pick from three unlimited plans.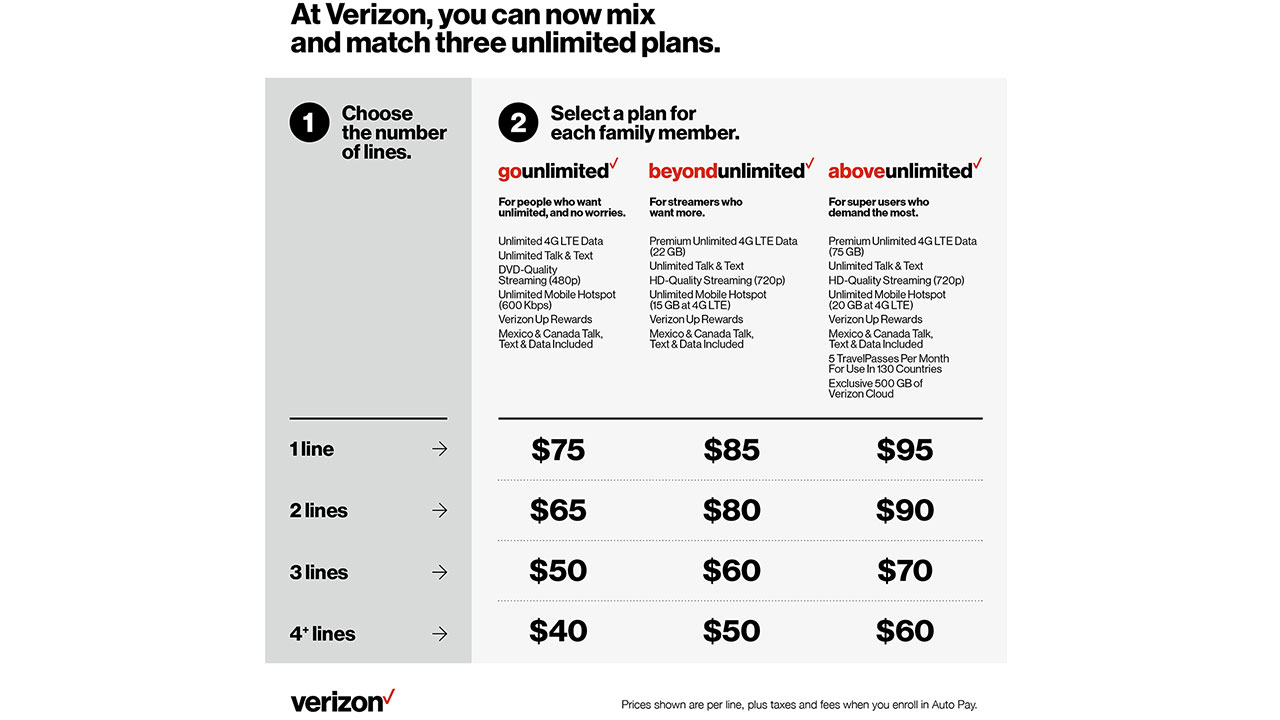 You can also add a Hum X, tablet or jetpack for $20 per month, or add a connected smartwatch for $10 per month. Managing your account is easy -- you can switch your plan at any time. Be sure to join Verizon Up through the MyVerizon app to earn access to once-in-a-lifetime experiences, VIP tickets to events and everyday rewards.
As usual, you can keep your current plan if you want.  No matter which plan you choose, you get the largest and most reliable 4G LTE network in America.
* In times of congestion, your data may be temporarily slower than other traffic (only after 22 GB/month on Beyond Unlimited and 75 GB/month on Above Unlimited).
---
Local market media contacts:
South Central: AL; AR; AZ; LA; MS; NM; TX; Florida Gulf Coasts; Southern Utah
Jeannine Brew
972.444.5233
jeannine.brew@verizonwireless.com
Twitter: @jeanninebrew

 

Northeast: CT; DE; MA; ME;  MD; NH; RI; NJ; NY; PA; RI; VT; Metro DC
Carolyn Schamberger
847.204.4282
Carolyn.Schamberger@vzw.com
Twitter: @cschamz

North Central: CO; IA; IL;  ID; KS
MO; MN; MT; NE; ND; SD; UT; WY
Meagan Dorsch
303.694.8990
Meagan.Dorsch@vzw.com 
Twitter: @meaganDPR
 

Pacific: AK; CA; HI; NV; OR; WA; Coeur d'Alene, Idaho
Heidi Flato
925.324.8692
Heidi.Flato@vzw.com
Twitter: @heidiflato

Great Lakes: IL; KY; MI; OH; Western PA; WI; WV
Carolyn Schamberger
847.204.4282
Carolyn.Schamberger@vzw.com
Twitter: @cschamz

 

Southeast: AL; GA; FL; NC; SC; TN; VA
Kate Jay
678.339.4828
Kate.Jay@vzw.com
Twitter: @KateHarrisJay